NEW ORLEANS — Adding a genetic risk score, mammographic density, and hormone levels — all biologic markers of risk — can significantly improve upon the current models for breast cancer risk prediction, according to data presented here at the American Association for Cancer Research (AACR) Annual Meeting 2016.
"Several prior studies have evaluated the added predictive value of a genetic risk score or mammography or both to improve upon the current Gail model, but none has used all three risk markers," presenter Xuehong Zhang, MD, ScD, assistant professor of medicine at Harvard Medical School, Boston, Massachusetts, told Medscape Medical News.
"We have shown that while each of the three biological markers can improve risk prediction, all three together improved the model the most," he added.
Dr Zhang was referring to the Gail and the Rosner- Colditz models, which have been validated and are currently used for predicting risk for breast cancer. They also are useful for making chemoprevention and screening recommendations.
The Gail model takes into account traditional risk factors, such as age, age at first menstrual period, age at first birth, history of breast cancer, and atypical hyperplasia on biopsy. The Rosner-Colditz model includes these factors plus body mass index, alcohol intake, and other well-known reproductive factors.
Dr Zhang and his colleagues conducted a nested case-control study within the Nurses' Health Study (NHS) and NHS II. Collectively, the investigation included 4006 case patients/7874 control patients for the Gail model, and 2665 case patients/5455 controls patients for the Rosner-Colditz model.
The genetic risk score was calculated on the basis of 67 single-nucleotide polymorphisms. Mammographic density was assessed among women who provided blood samples. Estrogen, testosterone, and prolactin levels were measured using prediagnostic plasma samples.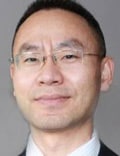 After stratifying the data by menopausal status, Dr Zhang and his colleagues determined how the three biologic risk factors improved upon risk prediction for developing invasive breast cancer over a 5-year period by measuring area under the curve (AUC). Risk for estrogen receptor–positive (ER+) disease was also determined.
Dr Zhang explained that the units of AUC span from 50 to 100, with 50 indicating that the model is able to predict risk as well as a coin toss would, and 100 indicating that the risk prediction model functions perfectly.
In both models, about 45% of women were premenopausal, 25% were postmenopausal and not using hormone therapy, and 30% were postmenopausal and using hormone therapy.
"The improvement in risk prediction was greatest in postmenopausal women not taking hormone therapy, the group where all three hormones could be measured and hence contribute to the model," Dr Zhang told Medscape Medical News.
For postmenopausal women not using hormone therapy, adding the three biologic risk factors improved the AUC from 55.2 to 66 (a 10.8-unit increase) for the Gail model and from 60.2 to 66.2 (a 6 -unit increase) for the Rosner-Colditz model.
Adding the three risk factors improved the prediction for risk of developing ER+ breast cancer by 11.7 units for the Gail model and 9.4 units for the Rosner-Colditz model.
"Most recent data from the US National Health and Nutrition Examination Survey indicate that over 90% of postmenopausal women are not on hormone therapy. Thus, our data for postmenopausal women not using hormone therapy would be applicable across the majority of postmenopausal women in the United States," he said.
He explained the potential significance of these data for clinical practice.
"Our study suggests that the addition of all three biologic markers of risk can significantly improve risk prediction and thus may help women and their healthcare providers in making decisions regarding use of screening and chemoprevention. However, these initial findings first need to be validated in an independent population," he added.
The study was funded by the National Institutes of Health. Dr Zhang has disclosed no relevant financial relationships.
American Association for Cancer Research (AACR) 2016 Annual Meeting: Abstract 2600, presented April 18, 2016.
Medscape Medical News © 2016 WebMD, LLC

Send comments and news tips to news@medscape.net.
Cite this: Adding Risk Markers Improves Breast Cancer Risk Prediction - Medscape - Apr 25, 2016.