FLORENCE, Italy — A cannabis compound may help reduce psychotic symptoms in patients with schizophrenia over and above the benefits derived from treatment with antipsychotic medications, new research suggests.
Results from the first randomized trial of cannabidiol as an adjunctive therapy in schizophrenia showed that compared with placebo, the compound significantly improved positive symptoms and symptom severity.
Cannabidiol, which was administered along with antipsychotic medication, was also associated with nonsignificant improvements in negative and overall symptoms, as well as functional and cognitive scores. Patients taking the drug were also nonsignificantly twice as likely to have a response as participants receiving placebo.
The findings were presented here at the Schizophrenia International Research Society (SIRS) 2016 Biennial Meeting.
Distinct Effects
Lead investigator Philip McGuire, MD, PhD, Department of Psychosis Studies, Institute of Psychiatry Psychology and Neuroscience, Kings College London, United Kingdom, who presented the findings, acknowledged that the improvements with cannabidiol were not dramatic.
However, he told Medscape Medical News: "The way I would look at it is that it's quite hard to see an effect in people who are already being treated with something else.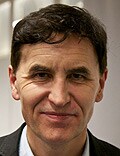 "I would guess that if you didn't have them on antipsychotics, the scope for an improvement would be even greater, because the baseline symptoms would be higher, so it should be easier to show a bigger change."
Noting the lengthy discussion of the data that followed his talk, Dr McGuire said: "Somebody in the audience pointed out that there was a previous trial which compared cannabidiol on its own with an antipsychotic and showed that cannabidiol had the same magnitude of effect as an antipsychotic. That shows that the [effect with] monotherapy is at least as big as an antipsychotic."
Cannabidiol has behavioral and neural effects distinct from those of tetrahydrocannabinol, and previous studies in both animals and humans have indicated that cannabidiol may have antipsychotic potential. A number of mechanisms of action hae been proposed, which, though not yet proven, do not include the dopamine pathway.
Dr McGuire and colleagues studied the efficacy and safety of cannabidiol in 88 patients aged 18 to 65 years with schizophrenia or a related psychotic disorder who were currently being treated with one antipsychotic medication.
The patients, who were from 15 sites in the United Kingdom, Romania, and Poland, needed to have demonstrated at least a partial response to treatment after a minimum of 4 weeks of therapy, which was defined as a Positive and Negative Syndrome Scale (PANSS) score of greater than 60.
The patients were randomly assigned in a double-blind fashion to cannabidiol 1000 mg/day oral solution, 500 mg twice daily, or matched placebo for 6 weeks and were assessed on intention-to- treat analysis.
There was a significant reduction in PANSS positive scale scores with cannabidiol vs placebo, at a mean reduction of -3.1 vs -1.8 at the end of treatment (P = .0188).
Patients given cannabidiol also had greater reduction compared with those given placebo in scores on the PANSS total scale (-11.4 vs -8.4) and the PANSS general scale (-5.3 vs -4.0), although the differences did not reach significance (P = .1332 and P = .1963, respectively).
Nondopaminergic Target
With a response defined as an improvement in PANSS total scores between baseline and the end of treatment of ≥20%, the team found that cannabidiol was associated with an increased likelihood of a response compared with placebo, although this again did not reach significance (odds ratio = 2.62; P = .0896).
The researchers also observed greater reductions in PANSS negative scale scores and in scores on the Scale for the Assessment of Negative Symptoms with cannabidiol. Again, these differences did not reach significance (P = .9647 and 0.1167, respectively).
There were, however, significant improvements in Clinical Global Impression (CGI) Severity scores with cannabidiol between baseline and the end of treatment vs placebo (P = .0443), as well as in CGI Improvement scores (P = .0182).
There were nonsignificant improvements with cannabidiol vs placebo on the Brief Assessment of Cognition in Schizophrenia Composite score by the end of treatment (P = .0677) and on the Global Assessment of Functioning scale (P = .0839).
The researchers report that there was a similar incidence of treatment-emergent adverse events among patients receiving cannabidiol and those receiving placebo, at 34.9% and 35.6%. The majority of events were mild. One patient in each group withdrew because of an adverse event.
Irrespective of the specific compounds examined in the current study, Dr McGuire felt that one of the most interesting aspects of the study is that it highlights the potential of using multiple pathways or mechanisms to improve psychosis outcomes.
"For me, that's one of the big findings. What this shows is that, even when you have as much dopamine blockade as you can get, there is still scope, if you target another transmitter system, for additional improvements over and above the effect you're getting from conventional treatment," he said.
"It suggests that there's a nondopaminergic therapeutic target that can be helpful; its tricky with CBD [cannabidiol], because we don't know exactly how it works, but it's clearly not dopamine."
Dr McGuire added that a lot of "disappointing results" from trials had been presented at the conference, "so I think that there's a real need to come up with alternative, new classes of treatments, because antipsychotics have been around for a long time."
Encouraging Findings
Commenting on the findings for Medscape Medical News, Barbara A. Cornblatt, PhD, investigator, Center for Psychiatric Neuroscience, the Feinstein Institute for Medical Research, Manhasset, New York, said that Dr McGuire's results are "very interesting."
"Given the difficulties in demonstrating benefits of adjunctive treatments in general, the improvement in positive symptoms and global clinical impression, as well as trends for cognitive and functional improvement, certainly are encouraging of the continued study of cannabidiol," she said.
Dr Cornblatt said that this study overlaps in a potentially interesting way with her own research into the effects of cannabis use on adolescents and young adults at risk for psychosis, which has shown that "cannabis use often appears associated with better cognition and social functioning, with no negative clinical impact.
"Considered along with the cannabidiol results, these findings suggest that nondopaminergic treatment may be a new pathway to explore in future research," she concluded.
The research was funded by GW Pharmaceuticals, which manufactured the study drug. The investigators and Dr Cornblatt have disclosed no relevant financial relationships.
Schizophrenia International Research Society (SIRS) 2016 Biennial Meeting: Presented April 5, 2016.
Medscape Medical News © 2016 WebMD, LLC

Send comments and news tips to news@medscape.net.
Cite this: Cannabis Compound May Augment Antipsychotic Meds - Medscape - Apr 21, 2016.