VANCOUVER — A spoon that was developed to compensate for tremor in the hands of those with Parkinson's disease (PD) or essential tremor (ET) may also prove a useful clinical tool for the neurologist.
The battery-operated Liftware (Verily Life Sciences) utensil senses and corrects hand movements to render life a bit easier for patients whose tremor makes eating a challenge.
"It moves the spoon in the opposite direction and compensates for the tremor," explained lead author, Svjetlana Miocinovic, MD, movement disorders fellow, Department of Neurology, University of California at San Francisco.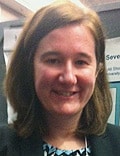 A previous study, published in Movement Disorders in 2014 and reported by Medscape Medical News at that time, showed that the spoon is very effective in canceling out the tremor. A new study, presented by Dr Miocinovic here at the American Academy of Neurology (AAN) 2016 Annual Meeting, showed that the spoon's assessment of tremors is similar to that of a neurologist.
The utensil includes a 3-axis accelerometer, a 3-axis gyroscope, and a computer for real-time tremor cancellation. It has a spoon and a fork attachment.
The disadvantages of clinical tremor ratings are that they require expertise, they're subjective, and they're not carried out that often.
"In recent years, there has been broad interest in developing devices" like this one, said Dr Miocinovic. "The unique advantage of this spoon is that it's lightweight, it's very easy to use, and it provides a direct benefit to the user."
The study showed how effective it can be. It included 13 participants (9 men and 4 women), mean age of 69 years. Eight patients had PD and 5 had ET.
Each patient carried out five trials of two tasks — transporting food between a bowl and the mouth and transferring food between two bowls — using an ordinary spoon and the Liftware spoon.
Movement disorder neurologists, blinded to whether the tremor-cancellation technology was on or off, reviewed randomized video segments of each trial. They used a modified Fahn-Tolosa-Marin (FTM) tremor rating scale (0 - 4) to assess the tremors.
A machine-learning model that estimates tremor severity using features of the recorded accelerometer and gyroscope signals was trained on the average neurologist ratings and then evaluated.
"The way you can use this signal from the accelerometer is that you can extract the power and the tremor frequency, you can feed it into a linear regression model, and you can train the model to give you a score from 0 to 4 that matches the neurologist score," explained Dr Miocinovic.
In the study, the average neurologist score was 1.6 for PD and 2.6 for ET and was similar whether the device was on or off. The average model score was 1.5 for PD and 2.7 for ET. The mean absolute difference between spoon algorithm and average neurologist ratings was 0.35, while the mean absolute difference between the neurologist ratings was 0.38.
"We are basically showing that the spoon is just at good as a neurologist in determining whether it's a mild tremor, a moderate tremor, or a severe tremor," said Dr Miocinovic.
Researchers would like the spoon to be used to track patients over time to see how they improve on treatment, she said. Asked whether the spoon can correct severe tremors, Dr Miocinovic said it's best used by patients who have tremors of mild to moderate severity.
Anupam Pathak, the hardware engineer who invented the utensil, said the tool is already on the market (it costs $195). Like an electric toothbrush, it sits on a cradle for recharging; otherwise, batteries last 2 to 3 days.
The company is developing new devices to detect other movement disorders, including ataxia and chorea, he said.
Exciting Tool
Asked to comment, session coordinator, Farrah Mateen, MD, PhD, assistant professor, neurology, Massachusetts General Hospital and Harvard Medical School, Boston, said the tremor spoon is exciting because it might be used as a diagnostic tool as well as a therapeutic device.
"It has the potential to analyze the severity of a tremor, which would be important because neurologists don't always assess a tremor at every visit, and they may not see this worsening over time, whereas a machine is with you every day, potentially several times a day, and could show a change clinically," said Dr Mateen.
"And the therapeutic component is really exciting for people with essential tremor because we know it's one of the most common neurological disorders."
Verily Life Sciences funded study. The authors have disclosed no relevant financial relationships.
American Academy of Neurology (AAN) 2016 Annual Meeting. Abstract I8.003. Presented April 18, 2016.
Medscape Medical News © 2016 WebMD, LLC

Send comments and news tips to news@medscape.net.
Cite this: Computerized Spoon as Good as Neurologists at Rating Tremor - Medscape - Apr 19, 2016.