NEW ORLEANS ― For the first time, treatment with genetically engineered T-cells has used CD4 T-cells instead of the CD8 T-cells, which are used in the chimeric antigen receptor (CAR) T-cell approach. Early data suggest that this CD4 T-cell approach has activity against solid tumors, whereas the CAR T-cell approach so far has achieved dramatic success in hematologic malignancies.
In the new approach, CD4 T-cells were genetically engineered to target MAGE-A3, a protein found on many tumor cells. The treatment was found to be safe in patients with metastatic cancers, according to data from a phase 1 clinical study presented here at the American Association for Cancer Research (AACR) 2016 Annual Meeting.
"This is the first trial testing an immunotherapy using genetically engineered CD4 T-cells," senior author Steven A. Rosenberg, MD, PhD, chief of the Surgery Branch at the National Cancer Institute (NCI), told Medscape Medical News.
Most approaches use CD8 T-cells. Although CD8 T-cells are known be cytotoxic and CD4 T-cells are normally considered helper cells, CD4 T-cells can induce tumor regression, he said.
Louis M. Weiner, MD, director of the Lombardi Comprehensive Cancer Center at Georgetown University, in Washington, DC, indicated that in contrast with CAR T-cells, these CD4 T-cells target proteins on solid tumors. "CAR T-cells are not tumor specific and do not target solid tumors," he said.
Engineering CD4 Cells
Immunotherapy with engineered CD4 T-cells was personalized for each patient whose tumors had not responded to or had recurred following treatment with least one standard therapy. The immunotherapy was specific for patients in whom a specific human leukocyte antigen (HLA) — HLA-DPB1*0401 — was found to be expressed on their cells and whose tumors expressed MAGE-A3.
MAGE-A3 belongs to a class of proteins expressed during fetal development. The expression is lost in normal adult tissue but is reexpressed on tumor cells, explained presenter Yong-Chen William Lu, PhD, a research fellow in the Surgery Branch of the NCI.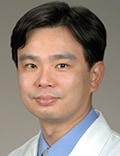 Targeting MAGE-A3 is relevant, because it is frequently expressed in a variety of cancers, such as melanoma and urothelial, esophageal, and cervical cancers, he pointed out.
Researchers purified CD4 T-cells from the peripheral blood of patients. Next, the CD4 T-cells were genetically engineered with a retrovirus carrying the T-cell receptor (TCR) gene that recognizes MAGE-A3. The modified cells were grown ex vivo and were transferred back into the patient.
Clinical Results
Dr Lu presented data for 14 patients enrolled into the study: eight patients received cell doses from 10 million to 30 billion cells, and six patients received up to 100 billion cells.
This was similar to a phase 1 dose-finding study, except the researchers were seeking to determine the maximum number of genetically engineered CD4 T-cells that a patient could safely receive.
One patient with metastatic cervical cancer, another with metastatic esophageal cancer, and a third with metastatic urothelial cancer experienced partial objective responses. At 15 months, the response is ongoing in the patient with cervical cancer; after 7 months of treatment, the response was durable in the patient with urothelial cancer; and a response lasting 4 months was reported for the patient with esophageal cancer.
Dr Lu said that a phase 2 trial has been initiated to study the clinical responses of this T-cell receptor therapy in different types of metastatic cancers.
In his discussion of the paper, Michel Sadelain, MD, of the Memorial Sloan Kettering Cancer Center, New York City, said, "Although therapy with CD4 cells has been evaluated using endogenous receptor, this is the first study using genetically engineered CD4 T-cells."
Although the study showed that therapy with genetically engineered T-cells is safe and efficacious at least in three patients, the mechanism of cytotoxicity remains unclear, Dr Sadelain indicated.
Comparison With CAR T-cells
CAR T-cells act in much the same way. CARs are chimeric antigen receptors that have an antigen-recognition domain of an antibody (the V region) and a "business end," which activates T-cells. In this case, CD8 T-cells from the patients are used to genetically engineer T-cells ex vivo. In the majority of cases, dramatic responses have been seen in hematologic malignancies.
CARs, directed against self-proteins, result in on-target, off-tumor effects, Gregory L. Beatty, MD, PhD, assistant professor of medicine at the University of Pennsylvania, in Philadelphia, indicated when he reported the first success story of CAR T-cells in a solid pancreatic cancer tumor.
Side effects of therapy with CD4 T-cells targeting MAGE-A3 were different and similar to side effects of chemotherapy, because patients received a lymphodepleting regimen of cyclophosphamide and fludabarine. Toxicities included high fever, which was experienced by the majority of patients (12/14). The fever lasted 1 to 2 weeks and was easily manageable.
High levels of the cytokine interleukin-6 (IL-6) were detected in the serum of all patients after treatment. However, the elevation in IL-6 levels was not considered to be a cytokine release syndrome, because no side effects occurred that correlated with the syndrome, Dr Liu indicated.
He also indicated that future studies are planned that will employ genetically engineered CD4 T-cells in combination with programmed cell death protein 1–blocking antibodies.
This study was funded by Intramural Research Program of the National Institutes of Health. The NCI's research and development of T-cell receptor therapy targeting MAGE-A3 are supported in part under a cooperative research and development agreement between the NCI and Kite Pharma, Inc. Kite has an exclusive, worldwide license with the NIH for intellectual property relating to retrovirally transduced HLA-DPB1*0401 and HLA A1 T-cell receptor therapy targeting MAGE-A3 antigen. Dr Lu and Dr Rosenberg have disclosed no relevant financial relationships.
American Association for Cancer Research (AACR) 2016 Annual Meeting: Abstract CT003, presented April 17, 2016.
Medscape Medical News © 2016 WebMD, LLC

Send comments and news tips to news@medscape.net.
Cite this: CD4 T-cell Immunotherapy Shows Activity in Solid Tumors - Medscape - Apr 18, 2016.