NEW ORLEANS — Long-term data on immunotherapy in melanoma continues to show that with the newer agents, more people are living longer. Whereas in the preimmunotherapy era, overall survival (OS) of patients with advanced metastatic melanoma was measured in months, now it is being measured in years.
The latest data, presented here at the American Association for Cancer Research (AACR) 2016 Annual Meeting, show that about a third of patients (34%) are still alive 5 years after receiving nivolumab (Opdivo, Bristol-Myers Squibb Company) monotherapy for heavily pretreated advanced melanoma.
These are the longest-term data available to date for immunotherapy that targets cell programmed death (PD) signaling, and they look better than the data previously reported for ipilimumab (Yervoy, Bristol-Myers Squibb Company), an immunotherapy that works differently from nivolumab, by targeting CTLA-4. About 20% to 22% of patients receiving ipilimumab have long-term responses, with some patients living for up to 10 years.
For both immunotherapies, the survival curves plateau at around 3 to 4 years, and patients who are responding at that point continue to respond, often with no further treatment.
This durability of response is the most important take-home point, commented Louis Weiner, MD, director of the Georgetown Lombardi Comprehensive Cancer Center, in Washington, DC. He was not involved in the trials and moderated an AACR press conference at which the new data were presented.
"What distinguishes immunotherapy at this point when it is effective from every other form of cancer treatment is the durability of the benefit ― the people who have good responses really seem to be protected against the disease returning in many cases, not every case, but many cases," Dr Weiner said. "This is a marked distinction from our other therapies, such as chemotherapy and targeted therapy approaches, where you can see more rapid development of resistant disease.
"So the memory of the immune system and the adaptability of the immune response to pick off resistant disease that is trying to develop is a really important take-home point, and this is very compelling evidence to suggest that this may be the case," he said.
Data Now Out to 5 Years
The new data on nivolumab (abstract CT001) come from a long-term follow-up (minimum of 45 months) of 107 patients who participated in a phase 1 trial (CA209-003). These patients had advanced disease and had been heavily pretreated (most had undergone two prior therapies, including interleukin-2 therapy, in about 46% patients, but none had undergone prior PD or CTLA4 immunotherapy).
All patients received treatment with nivolumab monotherapy for 96 weeks. Various doses were used because this was a phase 1 dose-finding study. Eventually, a dose of 3 mg/kg IV administered every 2 weeks was chosen.
The survival curve plateaus at around 48 weeks, with about a third of patients (34%) showing durable, long-lasting response.
"The results show durable and long-term benefit from nivolumab monotherapy," concluded lead author Stephen Hodi, MD, director of the Melanoma Center at the Dana-Farber Cancer Institute and associate professor of medicine at the Ludwig Center, Harvard Medical School, in Boston, Massachusetts.
Most patients received only one course of immunotherapy. Five patients underwent a second treatment with nivolumab after they experiened disease progression after being off treatment for more than 100 days. For all 5 patients, disease control was achieved again. In one patient, a renal metastasis removed. These responses on re-treatment were also durable and showed long-term benefit from immunotherapy, Dr Hodi commented.
He noted that re-treatment with nivolumab was part of the clinical trial design. In clinical practice, such patients now have other options, such as treatment with a combination of nivolumab and ipilimumab or treatment with the other available PD inhibitor, pembrolizumab (Keytruda, Merck Sharp & Dohme Corp). However, which drug to use when is not clear yet, Dr Hodi said. At present, testing for PD-ligand expression is not a "decision point" when considering these agents, because some patients with low levels of this biomarker do respond to PD immunotherapies, he added.
The 5-year OS rate of 34% with nivolumab is more than double what can be expected in this patient population ― data from the National Cancer Institute's SEER database show a 5-year OS rate of 16.6% for patients with metastatic melanoma diagnosed from 2005 to 2011.
It is also a vast improvement on what had been seen before. In the preimmunotherapy era, patients with advanced metastatic melanoma were treated with chemotherapy and interferon, and survival was measured in months, Dr Hodi previously told Medscape Medical News.
He has also spoken previously of how the immune system, primed by the immunotherapy, adapts to hold the cancer in check. Sometimes the tumor is still visible on scans, but it does not progress, and the immune system keeps the cancer under control, often without the need for further therapy.
The new survival data are "very positive," commented Jedd Wolchok, MD, PhD, from Memorial Sloan Kettering Cancer Center, New York City, who acted as a discussant. He said that survival tails with both immunotherapies start at about 3 years, but the tail for nivolumab is higher than that for ipilimumab, with more patients living longer.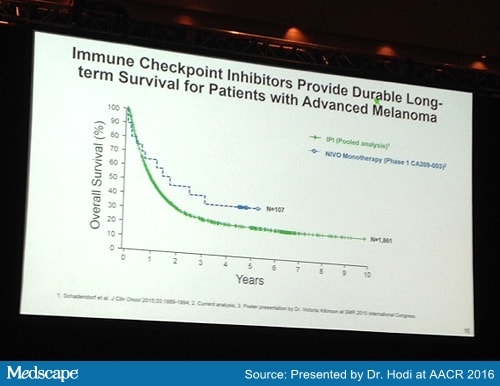 Some of these responses are being maintained for 2 to 3 years with no further treatment, he noted. And the few patients who were re-treated showed durable responses, which suggests that treatment can be stopped and then reinstated when necessary. This led him to question whether persistent dosing was necessary.
The data show evidence of immune system memory, he said, and wondered: "Could this memory last a lifetime?"
New Data With Combination Therapy
Also at the meeting, new data on OS for the combination of nivolumab and ipilimumab were presented for the first time by Michael Postow, MD, from the Memorial Sloan Kettering Cancer Center (abstract CT002).
These data come from the phase 2 checkmate 069 trial, in which 95 patients received the combination, and 47 received nivolumab alone. Previously, superior response rates and progression-free survival had been reported for the combination. Now, OS has also been shown to be superior.
An exploratory analysis shows the OS rate at 2 years to be 69% with the combination vs 53% with nivolumab alone in patients with BRAF wild-type melanoma.
Discussing the presentation, Padmanee Sharma, MD, from the University of Texas MD Anderson Cancer Center, in Hosuton, compared this 2-year OS of 69% achieved with the combination therapy against data from previous studies, which showed a 2-year OS of 54% with ipilimumab alone and of 57% with nivolumab alone.
However, she noted that with the combination, the rate of adverse events was higher, with grade 3/4 toxicity reported in 55% of patients receiving the combination vs 22% receiving nivolumab alone.
Dr Sharma also emphasized the fact that the new survival data on the combination come from an exploratory endpoint. She said it was important to wait for the results from the phase 3 Checkmate 067 trial, for which OS is a primary endpoint. That trial has three arms ― the combination therapy vs ipilimumab alone vs nivolumab alone. That trial will give a better idea of how the agents compare with one another, she said.
There are still many questions about how best to use these therapies, she commented, noting that another PD inhibitor, pembrolizumab, is also available. There is still much work to do to determine which agents to use when in order to "maximize survival and minimize toxicities."
But the new data continue to confirm long-term benefits for patients receiving immunotherapies.
"As oncologists, we are familiar with increasing survival by a few months," commented Dr Sharma, but patients are now experiencing durable responses and are living for years.
Human Face of Durable Response
In the audience for the presentations was a melanoma survivor, T. J. Sharpe. When he was diagnosed with stage 4 melanoma nearly 4 years ago, just after his son was born, his prognosis looked bleak. The oncologist who treated him at that time suggested that he had 1 year, maybe 2 remaining. Yet he is alive and looks fit and well. Indeed, he completed a triathlon just a month ago.
In an interview with Medscape Medical News, Sharpe, who is 40 years old, said that this was his second encounter with melanoma. He was diagnosed 15 years ago with stage 1 disease, which was surgically removed. He received no further treatment. This time around, however, the disease was of stage 4. He was initially treated with tumor-infiltrating lymphocytes and ipilimumab, but the disease progressed. He enrolled in a clinical trial of pembrolizumab in April 2013. Since then, there has been almost a complete remission. Two spots have appeared on a CT scan but not on a PET scan, and he says his doctors consider him to be close to having "no evidence of disease." His oncologist said, "I feel really good about this."
Sharpe says he feels good and considers himself to be cancer free at this point. He continues to participate in the pembrolizumab clinical trial and receives a dose every 3 weeks. He undergoes blood testing and meets with his oncologist on a regular basis as part of the trial, but the rest of the time he is getting on with his life.
He says he has experienced few side effects. "After the initial few doses, there was immune system reaction, and now there is just fatigue, which I have learned to live with it, making sure that I get enough rest."
He says he looks after himself, maintains a positive attitude, and looks forward to the future. He visualizes attending his children's graduations. He is very taken with the idea that the drug is acting on the immune system and not directly on the cancer itself. As a pharmacist explained to him: "You are using immune system to best cancer," and he says he intends to do "everything in my power to make sure my immune system is working as well as possible."
The CheckMate trials are funded by Bristol-Myers Squibb. Dr Hodi serves as a nonpaid consultant for Bristol-Myers Squibb.
American Association for Cancer Research (AACR) 2016 Annual Meeting: Abstracts CT001 and CT002, both presented April 18, 2016.
Medscape Medical News © 2016 WebMD, LLC

Send comments and news tips to news@medscape.net.
Cite this: More Patients Living Longer: Latest Immunotherapy Data - Medscape - Apr 18, 2016.