Did you know that more than 40 people with type 1 diabetes already are using an artificial pancreas system every day? They are not participants in a study funded by the National Institutes of Health, nor are they using a commercial device approved by the US Food and Drug Administration (FDA). Rather, they are relying on "closed loop" systems that they built themselves.
Take a moment to let that sink in.
These home-built systems incorporate diabetes devices and components that are readily available, linked by open-source software that is based on the Open Artificial Pancreas System, or OpenAPS.
Writing this column has been especially challenging, because each time I sat down at the computer to start, I realized that the story had already grown, leaving me out of date. First, usage of the system spiked up. Then it was discussed on stage with President Obama at a summit for the White House Precision Medicine Initiative in February. Next, it was described in the New York Times . I don't know if the pace of crowdsourced, patient-driven innovation is actually faster than typical medical innovation, but given the media interest in this story and the rapidly growing excitement within the type 1 diabetes community, it sure feels like it.
For years and years, this community has heard that we are "just a few years away" from having an FDA-approved artificial pancreas. Who can blame them for getting tired of this message and wanting to take matters into their own hands?
A few introductory points about OpenAPS:
It was developed in 2014 by Dana Lewis (who has had type 1 diabetes since she was 14 years old) and her now-husband, Scott Leibrand, when they assembled a closed-loop system using a Raspberry Pi mini-computer, a Medtronic insulin pump with a Carelink USB, and a Dexcom continuous glucose monitoring (CGM) system, along with dozens of lines of software code.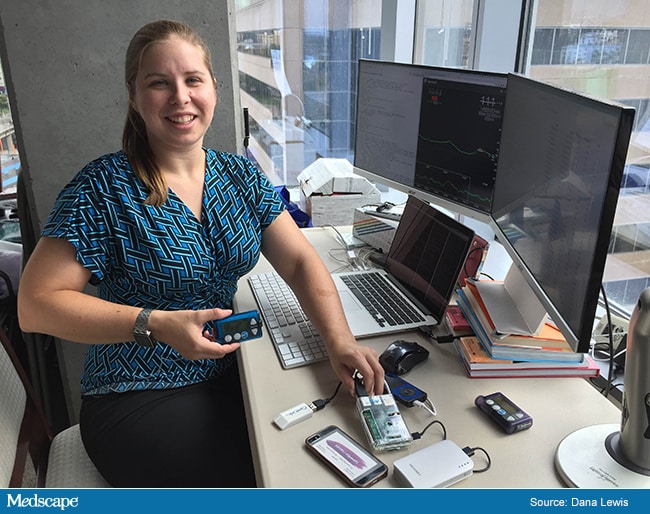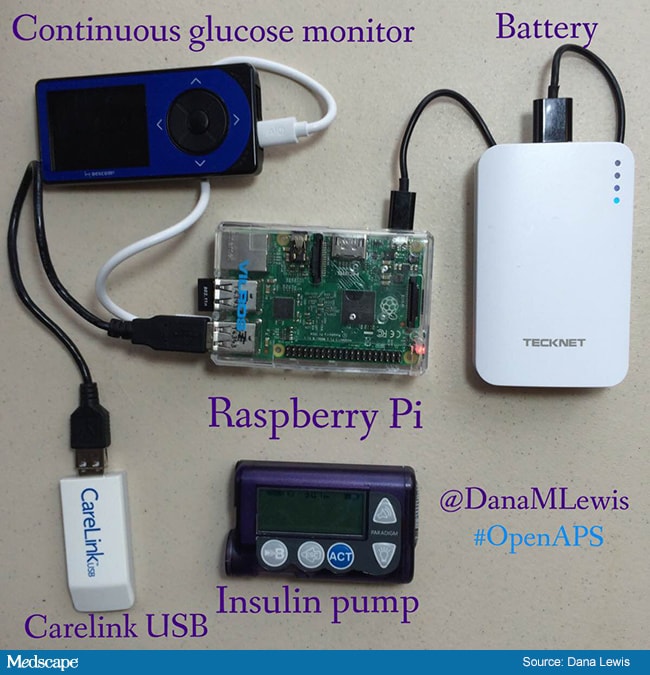 In early 2015, once the system was working well for Dana, they shared the reference design and made the code open-source, enabling others with technical ability to replicate the system for themselves.

More than 40 people now use some form of OpenAPS worldwide.

They are part of a larger online community that rallies around the Twitter hashtag #WeAreNotWaitingand includes the Nightscout project, which allows real-time access to CGM data.

Dana, OpenAPS, and the entire #WeAreNotWaiting community were discussed recently at the White House Precision Medicine Initiative summit. Below is a tweeted photo from Dana, where she is showing her OpenAPS system at the White House event.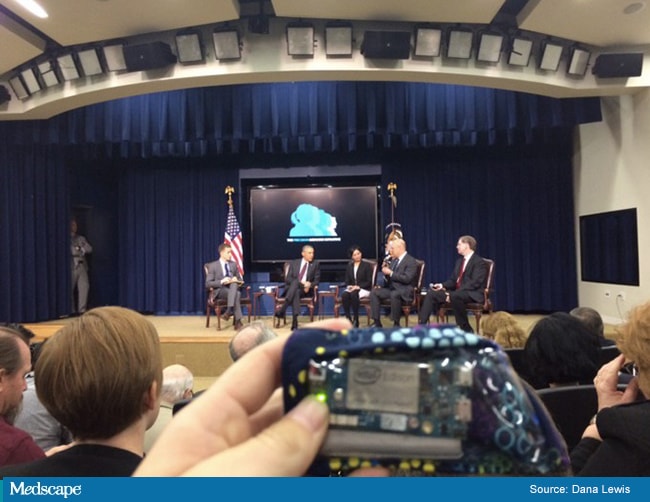 Medscape Diabetes © 2016 WebMD, LLC

Any views expressed above are the author's own and do not necessarily reflect the views of WebMD or Medscape.
Cite this: Diabetes Patients Design Their Own 'Artificial Pancreas' - Medscape - Apr 21, 2016.