'Doctor, Don't Give Up on Me!'
What makes physicians unique in our society is that they deal in matters of life and death, with a mission to save lives.
But when, if ever, should this mission wind down? Should a doctor back off from aggressive medical care when patients appear to be nearing death's door? Who should make this decision? The doctor? The patient? The patient's family, if the patient isn't able to? Society, because providing "heroic" care consumes costly—and finite—resources that might be more rationally or humanely used elsewhere?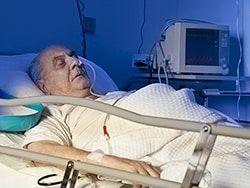 What if a patient does not have—or has even explicitly refused—a do-not-resuscitate (DNR) order, even though he may be in his 80s and immobilized by, say, a stroke, or she may appear to be in a persistently vegetative state? Should the doctor overrule the patient's or the family's wishes to prolong the patient's life on the basis the doctor's views about the remaining value of that life—or lack of it?
A recent Medscape article explored the ethical, philosophical, legal, and economic implications of such difficult issues. It pointed out that although many doctors today believe they are overtreating patients at the brink of death, a significant minority of patients don't want their doctors to give up on them, and sometimes they are not as near the end as their doctors initially thought.
The article cited several cases—a woman in her 80s in cardiac arrest, an infant with severe hematoma, and a young man on life support after a totally debilitating stroke—who were given terminal prognoses but whose families refused to give up on them, and who not only survived their ordeals but then thrived.
The article pointed out that the use of DNRs varied widely among doctors from one hospital to another; that doctors often had good reasons to push for a DNR (for example, cardiopulmonary resuscitation in cardiac or respiratory arrest in a frail, elderly patient can break ribs and often doesn't work); but that families also had good reasons to fear a DNR (which can set loved ones up for poorer care).
Doctors often overrule patients' wishes on DNRs, the article reported, and many doctors take a patient's nonverbal assent to a DNR (by simply not disagreeing, the patient is taken to agree), raising ethical and possibly legal questions about whether physicians are obligated to provide care when care is considered futile. This in turn raises the question, considered futile by whom? A small physiologic improvement might seem sufficiently beneficial to the patient, for example, although not to the doctor.
Nor are doctors always on the side of withdrawing care. Many doctors are on record as defending a patient's right to live when it is the family that wants to pull the plug. One legal scholar divides states into "red light," "yellow light," and "green light" categories based on how much control they give doctors over futility decisions. Texas, the only green-light state, permits clinicians to stop life-sustaining care without consent, as long as they stay within medical standards and allow disputes to be decided by a hospital ethics committee. Yellow-light states offer doctors some rights. Red-light states offer few, if any, rights.
The article prompted dozens of physicians to offer comments. Many doctors were sympathetic to patients' desire to cling to life for as long as possible, but quite a few took the opposite view: that death was a normal part of life and should be accepted—even embraced—with dignity.
"All patients deserve the last say. After all, it's their life," an internist observed. And we all get only one. I've seen many miracles."
"As a critical care doc, I tend to take on hopeless cases and feel great when I can give somebody a few more weeks or months with their kids or grandkids," a pulmonologist commented. "The only downside to pushing is the increased resources it requires. Unless, of course, we are causing suffering in the process. But patients are not statistics, and there is a reason computers don't do medicine. If the computers were left to it, they wouldn't treat anybody, since statistically we are all going to die."
"Having directed a critical care unit for 10 years, I have assumed the care of many so-called 'hopeless' cases that some doctors gave up on because they were extremely difficult, and the doctors did not have the time and were not appropriately reimbursed," an internist recounted, "yet the patients recovered after months or even a year after being given 'no chance.'"
"As an internal medicine resident, I was under pressure to withhold care in several instances," a psychiatrist recalled. "I was assigned to 'address code status,' which meant getting the patient's husband to agree to a DNR order. He very eloquently explained that if he were to agree to this, when his wife died, he would feel that he had killed the woman he had loved for over a half-century, and the guilt would be unbearable. I have always approached agreeing to forgo resuscitation—or not—as NO WRONG CHOICE. Even if the patient is catastrophically ill, if they don't want to give up, they will die when it's time."
"Early on, I came to realize quickly that 'quality of life' is a moving target and only up to the patient to define," an oncologist commented. "We can ask, but we simply cannot determine what is or is not someone else's quality of life. Think twice or three times the next time you see some unfortunate patient and say to yourself that they have no quality of life. They might disagree with you. A lot."
"As a med student, I exhibited the attitude of not giving up on some patients, only to receive scolding from residents and attending physicians for not knowing the statistics," a pathologist remarked. "So much for that!"
"The healthcare profession is caught between a rock and a hard place," a doctor wrote. "There are great arguments on both sides of the issue of enough healthcare vs not enough. Sadly, we have abandoned common sense. As an emergency physician, it is, at times, extremely distressing to see who we are called to resuscitate. I get that there is the occasional patient who fits into a gray zone, where things could go either way. However, who is best suited to make the difficult decision of when enough care is enough, if not healthcare providers? Should Washington, insurance companies, or philosophers make that call?"
"I wish somewhere in this article the concept of a 'good' death was addressed," an internist wrote. "When is death acceptable, and how can we make it a good experience? Like it or not, death is a natural part of life, and we owe it to our patients to not be the source of their suffering when a natural death is at hand. Saving life and delaying death are different sides of the same coin."
"The main concerns are how will the patient live, is that a life they would want, and would they risk/accept all the burdens of treatment to try to live that life?" an internist maintained. "Then, as a society, we can decide if we should expend the resources it would take to make the attempt. It seems insane to deny preventive care for all people but offer extremely expensive and usually/eventually futile treatments to a small number of people. The free-market solution would be for patients to buy 'heroic-care' insurance. Faced with the cost of such a plan, I very much doubt many people would elect to pay for such care."
"We do, in fact, live in a real, tangible world where resources are indeed NOT unlimited," an anesthesiologist avowed. "Sometimes what may seem like 'heroic' measures for a patient—even at the patient's own behest—are simply waste. This mentality has so thoroughly infected Western society that we do not even blink at the massive amount of time, material, waste byproducts, chemicals, etc., that we are futilely throwing at death. What ever happened to dying gracefully?"
"To quote Jimmy Buffett: 'I'd rather die while I'm living than live when I'm dead,'" a pediatrician opined. "In America today, people actually think that death is an option. Those with good insurance or loads of money can live much longer. People today fear death. We need to fix this thought process. Then maybe people would accept reality and die with dignity.'"
Medscape Family Medicine © 2016 WebMD, LLC

Any views expressed above are the author's own and do not necessarily reflect the views of WebMD or Medscape.
Cite this: Neil Chesanow. Should a Doctor Decide When a Patient Has Had Enough Care? - Medscape - May 18, 2016.