The number of adults with diabetes has reached almost 450 million worldwide, and low- and middle-income countries have experienced the fastest increases, according to new calculations released to coincide with the WHO's World Health Day on April 7, for which the theme this year is "Beat Diabetes."
"[Since 1980, age-standardized diabetes prevalence] more than doubled in men and increased by 60% in women worldwide….This rise in prevalence has been compounded by population growth and aging, nearly quadrupling the number of adults with diabetes over these 35 years," write Majid Ezzati, PhD, from Imperial College London, United Kingdom, and colleagues, all with the NCD Risk Factor Collaboration (NCD-RisC), in their paper published online April 6 in the Lancet.
The research did not differentiate between type 1 and type 2 diabetes, but most cases (85%–95%) of adult diabetes are type 2, so the observed rise is likely to be due to increases in type 2 diabetes, say the scientists.
And this is inextricably linked to the staggering rise in obesity worldwide, featured most recently in another Lancet publication last weekend, also by NCD-RisC with Dr Ezzati as corresponding author, indicating that obesity is now more common than underweight worldwide, as reported by Medscape Medical News.
Almost One in 10 Men Has Diabetes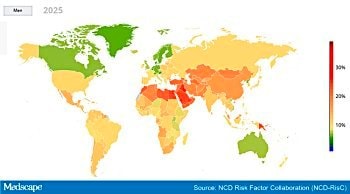 The new study provides the most complete estimate of worldwide adult diabetes prevalence to date, and in conjunction, the WHO has also issued its first "Global Report on Diabetes," detailing the magnitude of the problem, the causes, and current responses to it.
More men now have diabetes then women, representing a shift from 1980, when it was the other way around. The highest prevalences of diabetes are currently found in Oceania, the Middle East, and North Africa. In these regions, diabetes prevalence is now five to 10 times higher than in Western and Northern Europe, which have the lowest prevalence rates.
In 2011, the United Nations High-Level Meeting on Non-Communicable Diseases called for a halting of adult diabetes prevalence at the 2010 levels by 2025. But if current rates continue as they are, men have less than a 1% chance and women have just a 1% chance of meeting this goal, the new study estimates.
The researchers used pooled data from 751 studies covering 4,372,000 adults in 146 countries, representing a sample of 90% of the world's population in 2014, to calculate trends in diabetes prevalence.
Studies were included if they evaluated diabetes using at least one biomarker (fasting plasma glucose, 2-hour oral glucose tolerance test [OGTT], or HbA1c). Researchers defined diabetes as a fasting plasma glucose of 7.0 mmol/L or higher, a history of being diagnosed with diabetes, or use of insulin or an oral hypoglycemic medication.
Results were adjusted to account for increasing incidence of diabetes with age, or age-standardized diabetes prevalence.
Between 1980 and 2014, diabetes cases in adults skyrocketed from 108 million to 422 million. Over the same time, global diabetes prevalence increased in women from 5.0% to 7.9%, while diabetes prevalence in men jumped from 4.3% to 9.0%.
If current trends continue, over 700 million people will be afflicted with diabetes worldwide by 2025, with 10.4% of women and 12.8% of men affected.
Pacific Island Nations, Asia, North Africa and Middle East Badly Affected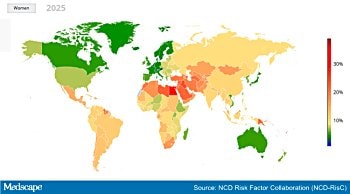 In 2014, 50% of adults with diabetes worldwide lived in five countries: China, India, the United States, Brazil, and Indonesia.
The study estimates that age-adjusted prevalence of diabetes has more than doubled for men in India and China (3.7% to 9.1% in India; 3.5% to 9.9% in China) and increased by 50% among women in China (5.0% to 7.6%) and 80% among women in India (4.6% to 8.3%).
Pakistan, Mexico, Egypt, and Indonesia are all now in the top 10 countries with the largest number of adults with diabetes. Age-adjusted prevalence of diabetes doubled in Pakistan, Mexico, and Indonesia for both women and men and nearly tripled in Egypt for both genders.
And in the United States, age-adjusted prevalence of diabetes increased by 50% in women (4.3% to 6.4%) and by 80% in men (4.7% to 8.2%). (These statistics conflict somewhat with the latest numbers from the US Centers for Disease Control and Prevention, which released data in December suggesting that the incidence of diabetes may actually be declining in the United States)
Northwestern European countries had the lowest rates, with age-adjusted prevalence less than 4% in women and 5% to 6% in men in Switzerland, Austria, Denmark, Belgium and the Netherlands.
By region, the Pacific Islands have the highest diabetes rates in the world, with Polynesia and Micronesia experiencing the greatest increases in diabetes prevalence, reaching over 20% in women and men.
Melanesia, the Middle East and North Africa followed with prevalence rates of about 15% each.
The American Samoa Story
Of the Pacific Island nations, American Samoa had the highest national prevalence of diabetes in 2014, with over 30% of Samoan men and women affected, and the country is also the one where women have the highest mean body mass index (BMI) in the world, notes Stephen McGarvey, PhD, of Brown University, Providence, Rhode Island, an anthropologist with extensive research experience on Samoa, who contributed to both the Lancet papers on diabetes and obesity.
"The Samoans started early and went to very high levels…but there are some other nations, or even parts of nations, whose rate of change recently has [also] been very rapid," Dr McGarvey observes in a press release from his institution.
Dr McGarvey cites the "nutrition transition" — a move away from traditional diet to a more Westernized diet characterized by high-calorie, high-fat processed and prepared foods — as playing a large role in what has happened in American Samoa and elsewhere in the developing world.
Also, modernization has meant travel by car and bus has replaced walking, and work has become less physically demanding and more sedentary, he adds.
Targeting Obesity Is the Key to Preventing Diabetes
In an editorial in the Lancet accompanying the global diabetes article, Etienne Krug, MD, MPH, director of the department of management of noncommunicable diseases, disability, violence and injury prevention, WHO, Geneva, Switzerland, says: "The news is not good. With diabetes in the World Health Day spotlight, the question is, how will the world and its leaders respond to the alarm?"
Targeting and reducing obesity is a major issue that needs to be addressed worldwide, he stresses, noting, "If we are to halt the rise in diabetes, we need to focus on prevention. We need to make sure we halt the rise in overweight and obesity."
Tackling obesity will require societywide efforts, taxation measures, working with the private sector for better food labeling, improving education about the contents of food and the importance of physical activity, and urban planning that promotes walking and cycling safely to school and work.
Also important is the promotion of breast feeding and encouragement in healthier eating at a very young age, for establishing good habits.
"In addition to prevention, we also need to limit the consequences of diabetes," he stresses, calling for better and earlier diagnosis and access to treatment.
For example, three-quarters of low-income countries do not have adequate access to insulin, as indicated in the WHO 2016 Global Diabetes report, Dr Krug explains.
And the work by Dr Ezzati and colleagues estimates the direct annual costs of diabetes worldwide to be approximately $825 billion in 2014. Almost 60% of the costs were borne by low- and middle-income countries, where much of the treatment is paid for out of pocket.
"Diabetes management should be part of overall noncommunicable disease management and incorporated into the package of essential services included in universal health coverage," Dr Krug asserts in his editorial.
"The prevalence estimates provided by NCD­-RisC sound the alarm for large­-scale, effective action to reduce the health and economic impact of diabetes. Improvements in prevention and management, together with better surveillance, should be prioritized in response to this call," he concludes.
Dr Ezzati reports no relevant financial relationships. Disclosures for the coauthors are listed in the article. Dr Krug reports no relevant financial relationships.
Medscape Medical News © 2016  WebMD, LLC

Send comments and news tips to news@medscape.net.
Cite this: Type 2 Diabetes Rates Quadruple Worldwide Since 1980 - Medscape - Apr 07, 2016.