CHICAGO, IL — Not only is transcatheter aortic-valve replacement (TAVR) with the Sapien 3 (Edwards Lifesciences) associated with low rates of mortality 12 months later in older intermediate-risk patients with severe aortic stenosis, the procedure is highly statistically superior to surgical valve replacement, according to new research[1].
At a late-breaking clinical-trial session here at the American College of Cardiology (ACC) 2016 Scientific Sessions, lead author Dr Vinod H Thourani (Emory University School of Medicine, Atlanta, GA) presented an analysis of patient populations from two prospective trials, which was simultaneously published in the Lancet.
First, the investigators examined data on the 1077 intermediate-risk patients who underwent TAVR from the PARTNER 2 SAPIEN 3 observational study. They found that among these patients, 7.4% died within 1 year of implantation, stroke of any kind occurred in 4.6%, disabling stroke in 2.3%, and moderate or severe regurgitation occurred in 2%. In addition, only 1% underwent aortic valve reintervention.
Next, these patients were compared with 944 intermediate-risk participants from the randomized PARTNER 2 trial who underwent surgery (PARTNER 2A). Prespecified propensity-score analysis showed that the patients undergoing Sapien 3 TAVR had a significantly lower incidence of the primary composite end point of mortality, stroke, and moderate/severe aortic regurgitation (AR) vs those undergoing surgery (noninferiority pooled weighted difference, -9.2%; P<0.001).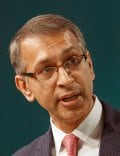 Thourani told heartwire from Medscape he does both procedures in his practice. And, because he's seen what the Sapien 3 does anecdotally, he wasn't surprised that it was noninferior. "But I was surprised that the results between the two were so powerful."
"This will be the most exciting thing at this meeting," Dr Spencer B King, editor in chief of JACC: Cardiovascular Interventions (Emory Healthcare), said to heartwire . "We've been seeing this gradual creeping toward lower-risk patients, although these weren't super low-risk since they were older than 80 years. Still, the improvement was dramatic."
King added that, at least in the intermediate term, using this procedure in this population "is pretty well nailed. I would predict that open surgery will not be done very much in these kinds of patients in the future."
Lower-Risk Patients, Longer-Term Data
Although TAVR is the "established treatment" for high-risk patients with severe aortic stenosis, not as much is known about its use in lower-risk patients—or in longer-term data, note the investigators.
A recent study published in the European Heart Journal showed a 4% moderate or severe paravalvular regurgitation rate for intermediate-risk patients 30 days after Sapien 3 TAVR and a 1% all-cause mortality rate[2].
As reported by heartwire , PARTNER 2 results, presented the day before Thourani's presentation here at the ACC meeting, showed that the composite end point of all-cause mortality or disabling stroke occurred in fewer of the intermediate-risk patients undergoing TAVR, albeit with the balloon-expandable Sapien XT valve, vs the surgical group (19.3% vs 21.1%, respectively) in the intention-to-treat population.
In the current analysis, the researchers sought to examine 1-year outcomes from TAVR using the balloon-expandable Sapien 3 valve and then compare those with surgery results in similar intermediate-risk patients.
Between February and September 2014, the SAPIEN 3 observational study enrolled patients (62% men; mean age 81.9 years) from 51 centers in the US and Canada. Of those receiving TAVR with the Sapien 3 valve, 88% had the procedure through transfemoral access. All-cause mortality for the subgroup receiving transfemoral TAVR was 6.5%.
In addition, 12% of the full group of TAVR patients had implantation of a new pacemaker by the 1-year follow-up and 11% had procedure- or valve-related rehospitalization. Only 0.8% had endocarditis. As for benefits, 94% of the NYHA class 1 or 2 patients had significantly improved cardiac symptoms.
Also, "the improvements in mean aortic-valve areas and gradients after TAVR seen at 30 days were maintained at 1 year (valve areas 1.7 cm2 and gradient 11.4 mm)," report the investigators.
Propensity Scores
The surgery population from PARTNER 2A (55% men; mean age 81.6 years) was enrolled at 57 US and Canadian sites from December 2011 and November 2013.
The pooled weighted proportion difference of -9.2% (95% CI -13.0 to -5.4) favoring TAVR over surgery was below the noninferiority margin of 7.5%. TAVR was also superior to surgery in the individual components of mortality and stroke (P<0.001 and P=0.004, respectively).
On the other hand, for the outcome of moderate or severe aortic regurgitation, surgery was superior to TAVR (P=0.02). Still, this higher rate in TAVR patients did not affect mortality.
Unadjusted cardiovascular death at 1 year occurred in 4.5% vs 8.1% for the TAVR and surgery groups, respectively; and all-cause death and disabling stroke combined occurred in 8.4% vs 16.6%.
Finally, "important differences between TAVR and surgery for each end point are observed in the first several months, with the curves then remaining parallel," note the researchers.
"Best Observed Outcomes"
Thourani noted that not only did the overall results show noninferiority for the primary end point in TAVR, they showed superiority for all but AR.
"In the over 3000 intermediate-risk patients we have presented in the last 2 days, we've shown that there is strong evidence" that in this population, Sapien 3 TAVR vs surgery "improves clinical outcomes and is the preferred therapy," he said.
"We have to ask: do we think this is a move forward for the betterment of patients? And I would say the answer is a definitive yes," said Thourani.
During a press conference, official discussant Dr David Kandzari (Piedmont Heart Institute, Atlanta, GA) called the trial "terrific" with impactful findings.
"Results from this clinical trial really open the door to two very broad pathways: expanding [TAVR] to intermediate-risk patients and paving the way even further with greater reassurance toward two large ongoing trials in low-risk patients," said Kandzari.
He noted that there could be some debate over the fact that this study used propensity scores and wasn't a randomized clinical trial, but the results "are clinically meaningful and some of the best observed outcomes we've ever witnessed."
King later noted to heartwire that "the $64,000 question now is: what happens in 10 years or 20 years? Most of these people are at a pretty advanced age. So the real question is about low-risk patients; and low risk means young people," he said. "But it looks good right now."
The studies were funded by Edwards Lifesciences. Thourani reports being a consultant for Edwards, Sorin Medical, St Jude Medical, and DirectFlow. Disclosures for the coauthors are listed in the article.
Heartwire from Medscape © 2016 Medscape, LLC

Cite this: Sapien 3 TAVR Superior to Surgery in Intermediate-Risk Aortic-Stenosis Patients, Says Study - Medscape - Apr 05, 2016.