CHICAGO, IL ( updated ) — Six-month treatment with the proprotein convertase subtilisin/kexin type 9 (PCSK9) inhibitor evolocumab (Repatha, Amgen) can dramatically reduce LDL-cholesterol levels in patients with both uncontrolled LDL-C levels and statin intolerance, new research suggests[1].
The two-stage Goal Achievement After Utilizing an Anti-PCSK9 Antibody in Statin Intolerant Subjects 3 (GAUSS-3) trial began with all participants randomized to either atorvastatin 20 mg or placebo for 10 weeks and then, after a 2-week washout, switched treatment for an additional 10 weeks to determine whether they really did have statin intolerance. A total of 43% reported having intolerably painful muscle symptoms while taking the statin but not the placebo.
However, 27% reported symptoms with the placebo but not atorvastatin, and 10% reported symptoms with both treatments, "demonstrating the importance of patient perceptions on inability to tolerate statins," write the investigators, led by Dr Steven E Nissen (Cleveland Clinic, OH), who called this the "nocebo effect."
Next, 218 of the participants who reported adverse muscle symptoms while taking atorvastatin during phase 1 moved on to the study's 24-week phase 2 and were randomized 2:1 to injectable evolocumab 420 mg/month plus oral placebo vs oral ezetimibe 10 mg/day plus injectable placebo. The evolocumab group had a more than 50% mean reduction in LDL-C levels from baseline to the average of weeks 22 and 24 and from baseline to week 24 (co–primary end points) vs the ezetimibe group.
During this second phase of the trial, muscle-related events were reported by 21% and 29% of the evolocumab and ezetimibe groups, respectively, but only 0.7% vs 7% discontinued use of the treatment because of muscle symptoms.
"This is important because it means we have established that you can use PCSK9 inhibitors successfully in people with well-documented statin intolerance. And that has regulatory and practice implications," Nissen told heartwire from Medscape.
He presented the study results here at the American College of Cardiology (ACC) 2016 Scientific Sessions today, with simultaneous publication in the Journal of the American Medical Association.
"Controversial Issue"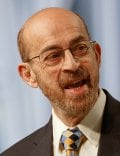 In 2014, as reported by heartwire , Amgen announced that statin-intolerant patients in the GAUSS-2 trial had significantly lowered LDL-C levels after receiving evolocumab for 12 weeks. Last month, the pharmaceutical company announced that the longer-term GAUSS-3 trial also had positive primary-outcome news—but released few details.
"The whole issue of statin intolerance has been intensely controversial. Every clinician will say that typically 5% to 10% of patients they try to treat with statins will complain of muscle pain. And these patients will refuse to take a statin," said Nissen.
The controversy comes because in randomized control trials, the incidence of statin-intolerance–related muscle ache has been fairly low, he said. "So what's going on? Is this in fact a real disorder? The only way to find out was to do a study like GAUSS."
A total of 491 patients (50.1% women; mean age 60.7 years) were enrolled between December 2013 and November 2014. Of these, 35% had CHD, 57% had hypertension, and the mean LDL-C level at baseline was 212.3 mg/dL. Also, 82% were intolerant in the past of at least three statins.
After phase 1, 199 of those who reported muscle symptoms while taking the statin moved on to phase 2, as did 19 additional patients with elevated creatinine kinase who entered the study directly at phase 2. In this phase, 73 of the participants received ezetimibe vs 145 who received evolocumab. The mean level of LDL-C at this baseline point was 219.9 mg/dL.
The mean LDL-C level at 22 and 24 weeks after treatment was 103.6 mg/dL for the evolocumab group vs 183.0 mg/dL for the ezetimibe group (mean % change from baseline: -54.5% vs -16.7%, respectively; P<0.001). At 24 weeks only, the mean % change was -52.8% vs -16.7% (P<0.001).
"From my perspective, it confirms that you can use PCSK9 inhibitors very successfully in these patients," said Nissen. These medications "work in the liver instead of the muscles. And because of their different mechanism, they were a logical choice as an alternative therapy for patients who couldn't tolerate statins."
When asked for comment, Dr Eugenia Gianos, a co–clinical director of the Center for Prevention with CVD at NYU Langone Medical Center, said that the main results weren't very surprising. "The PCSK9 trials have all been extremely positive in terms of the efficacy. And the safety for both drugs in this trial was quite good," she said.
"What I found to be interesting was their very clever run-in phase where they crossed them over to the alternative drug," said Gianos. "But it was also interesting that 25% had muscle symptoms while on the placebo alone, which shows that it's a complicated disease process," she added.
"I think it's difficult to tease out and describe, even as a patient, your symptoms when most people have some degree of muscle aches. When they start a different medication and they're expecting to have symptoms, it's not surprising that it would be difficult to quantitate."
Questions Remain
In an accompanying editorial[2], Dr David D Waters (San Francisco General Hospital, CA) and colleagues write that "balancing the symptoms of muscle aches in a patient in need of cholesterol-lowering medication with the clinical-trial proven benefits of statins for reducing cardiovascular events . . . can be a difficult clinical challenge."
They add that although the findings from GAUSS-3 "are illuminating," several questions are still unanswered, including whether PCSK9 inhibitors should really be used in statin-intolerant patients. The editorialists note that these inhibitors are not approved for this type of use and although some long-term outcome trials have started, no study has yet shown an association between the treatment and lower CV events.
In addition, they point out that one-fifth of the GAUSS-3 participants had muscle symptoms even while taking evolocumab and that costs for PCSK9 inhibitors are approximately an astounding $14,000.
Still, Waters et al point out that someone who has a high risk for a CV event and intolerable muscle ache even with a low-dose statin "should be considered a candidate for this treatment." However, "less than 1% of all 'statin-intolerant' patients might belong in this group."
Statins' legacy is commendable, they note. But whether PSCK9 inhibitors will join their ranks "will not be known for many years."
Hard to Identify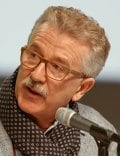 "This was a very important experiment trying to progress the gestalt of statin intolerance," said panel member Dr John JP Kastelein (Academic Medical Center of the University of Amsterdam, Netherlands) after the presentation of GAUSS-3 at a late-breaking clinical-trial session.
However, he asked if the trial's first phase provided enough evidence to prove that this condition really exists. Nissen answered with a definitive "yes" but said that whether the number of patients experiencing symptoms while on a statin "is 40% or 60% or some other number, this is the best we could do to answer this question."
He added that it's a difficult condition to identify because there are no biomarkers. "All we have is a good medical history. We don't have any tools other than being very good clinicians."
"This was a trial of expectations," noted panelist Jane A Linderbaum (Mayo Clinic Rochester, MN). "And the results show us that we need to really talk with all of our statin-intolerant patients."
At a press conference, discussant Dr Frederick Masoudi (University of Colorado Anshultz Medical Campus, Denver) agreed that statin intolerance is "a vast clinical problem," in large part because there's no diagnostic test available.
He pointed out that although more than 40% of the trial patients reported having muscle aches while taking statins in the first phase, "using the 'glass-half-full' analogy, you could say that 60% didn't have statin intolerance"—even though they had tried and failed to tolerate at least two statins previously. "This shows that it pays to be patient."
More "Nocebo" Questions
Later, when asked about the so-called "nocebo effect" of patients reporting symptoms while on placebo, Nissen told heartwire he think it's a relatively common occurrence in clinical practice. "But the problem we have is: How do we tell?" he asked.
"When a patient tells us they can't tolerate a statin, how do we know if it's a real problem? We've documented that in some fraction of patients, it is a real problem. And we've given the regulators something to sink their teeth into: that this is not all a psychosomatic illness," said Nissen.
To clinicians, he recommended that for patients who say they have an intolerance or who are scared of statins to start them on a low dose "and then do a very slow uptitration and try to get them to tolerate it. Then, if you can't get them there, at least we've given some alternatives."
The study was funded by Amgen. Nissen reports receiving grants from Amgen, Pfizer, Esperion, Lilly, AstraZeneca, the Medicines Company, Takeda, Orexigen, Novo Nordisk, and Novartis. Disclosures for the coauthors are listed in the article. Waters reports receiving personal fees from Sanofi, Pfizer, Resverlogix, the Medicines Company, CSL, and Varicel. Disclosures for the other editorialists are in the article.
Heartwire from Medscape © 2016  Medscape, LLC

Cite this: GAUSS-3: Evolocumab Cuts LDL-C in Statin-Intolerant Patients - Medscape - Apr 03, 2016.