CHICAGO, IL ( updated ) — Transcatheter aortic-valve replacement (TAVR) is a reasonable alternative to surgical aortic-valve replacement (AVR) in intermediate-risk patients and may be superior when using a transfemoral approach, the second Placement of Aortic Transcatheter Valves (PARTNER 2) trial suggests[1].
At 2 years, the primary composite end point of all-cause death or disabling stroke occurred in 19.3% with TAVR and 21.1% with surgery in the intention-to-treat population (hazard ratio [HR] 0.89; P=0.25).
TAVR met the threshold for noninferiority in the intention-to-treat (P=0001) and as-treated analyses (P<0.001), study author Dr Craig R Smith (Columbia University, New York, NY) said during a late-breaking session at the American College of Cardiology (ACC) 2016 Scientific Sessions; the study was simultaneously published online in the New England Journal of Medicine.
The data are based on 2032 patients with severe symptomatic aortic stenosis who underwent TAVR with the balloon-expandable Sapien XT valve (Edwards Lifesciences) or surgery between December 2011 and November 2013. The mean age was 81 years at the time of implantation.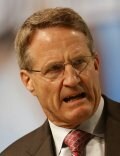 Patients were considered to be at intermediate risk after clinical assessment by a multidisciplinary heart team at 57 centers. The mean Society of Thoracic Surgeons score was 5.8%, with 81.3% having a score between 4% and 8%.
There is already considerable creep of TAVR into such intermediate-risk patients, but one practical impact of the study may be to change labeling so TAVR is considered more appropriate in these patients, Smith said during a press briefing.
"That may not sound like much because obviously people are achieving that anyway, getting into the registries, but it will avoid a lot of evaluation gymnastics trying to justify a risk assessment in a particular patient," he added.
"This is a very positive day for transcatheter aortic valve and for patients," Dr Roxana Mehran (Icahn School of Medicine, Mt Sinai, NY) told heartwire from Medscape. These devices have to be used off-label now in these intermediate-risk patients in the US, and now there are data that "show definitely in a great comparative study like this that you are no different if you had surgery or TAVR."
In an accompanying editorial[2], Dr Neil E Moat (Royal Brompton Hospital, London, UK) agreed with the authors that the patients were at the high end of the intermediate-risk category but said, "There is a consistent message emerging from the three large trials published to date involving patients at high ("intermediate") and very high risk; transcatheter aortic-valve replacement is noninferior to surgery in terms of early and midterm mortality and is likely to be superior if the patient has vascular anatomy and vessels that are healthy enough to be treated with the use of a transfemoral approach."
In the transfemoral-access group, the all-cause death or stroke rate was significantly lower with TAVR than surgery (HR 0.79; P=0.05).
The difference just squeaks below 0.05 in the as-treated analysis, and while prespecified, was not powered for this, Smith said. This has prompted much discussion over whether it is fair to claim superiority, "but it's 76% of the cohort, and it was at least borderline significant, so it suggests TAVR may have a significant advantage over surgery in the intermediate-risk cohort," he added.
The study's most striking finding was the low stroke rate, particularly given recent concerns about thrombus with transcatheter valves, invited panelist Dr Jeroen Bax (Leiden University Medical Center, the Netherlands) said during a discussion of the results.
In the TAVR and surgery groups any stroke was reported in 5.5% vs 6.1% at 30 days and in 9.5% and 8.9% at 2 years, respectively. Disabling stroked had occurred in 6.2% and 6.4%, respectively, by 2 years.
"This relatively low rate of stroke in both groups doesn't suggest there is a pandemic of leaflet thrombosis going on in these patients," Smith quipped.
Among the secondary end points, the TAVR group had lower rates than the surgery group at 2 years of life-threatening or disabling bleeding (17.3% vs 47%), acute kidney injury (3.8% vs 6.2%), and new-onset atrial fibrillation (11.3% vs 27.3%).
Hospital stays were also shorter with TAVR vs surgery (6 days vs 9 days), and ICU days were cut in half (2 days vs 4 days).
Press briefing moderator Dr Valentin Fuster (Mt. Sinai Heart, New York, NY) said of the study, "This is unbelievable, fantastic," but questioned the high rate of bleeding in the surgery group. Smith answered that this driven almost entirely by the fact that transfusion, for good or bad, was a part of the end point.
TAVR was inferior to surgery, however, with regard to frequency and severity of paravalvular aortic regurgitation at 30 days, 1 year, and 2 years (P<0.001 for all).
At 30 days, 22.5% of TAVR patients had mild regurgitation (MR), while 3.7% had moderate or severe MR. Patients with moderate or severe regurgitation at 30 days had higher mortality during the 2-year follow-up than those with no or trace regurgitation (P<0.001).
Major vascular complications were also significantly more frequent with TAVR at 30 days, 1 year, and 2 years.
Mehran commented that it would be a misinterpretation to say the cohort is not intermediate risk and that the finding in the transfemoral-access group bodes well for lower-risk patients.
"It seems to me that if you move into the lower-risk [patients] you might start to see a benefit and superiority with the transcatheter approach, because when you go to the lower-risk patient population you're going to have better access sites, so they're going to be mostly transfemoral. They might be even better candidates."
As for TAVR's future in other aortic-stenosis diseases, Smith told reporters the low-output, low-gradient aortic-incompetence population would be a good target right now but that it will take significant improvements in technology before TAVR could be used for pure aortic incompetence.
Use in bicuspid valves might come quickly, but because of their wide range of anatomies, Smith said, "It would be unwise to treat all bicuspid valves with TAVR, but how we tell them apart I'm not entirely sure. because we don't have an imaging modality right now that diagnoses bicuspids 100% of the time."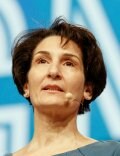 Finally, ACC program committee chair Dr Athena Poppas (Cardiovascular Institute at Rhode Island Hospital, East Providence, RI) told heartwire that the PARTNER 2 results reinforce what is already known about TAVR but also urged caution as TAVR continues its migration to lower-risk patients and inexperienced centers.
"The challenge is to be sure that you're bringing them to the heart team and that you're being thoughtful about educating patients about their risk and that we really don't know what long-term durability is," she said.
Smith said a trial in low-risk patients with 10 to 15 years of follow-up is unlikely but that small trials comparing TAVR with surgery will provide early efficacy results. At the same time, the knowledge base will continue to be backfilled with data as next-generation valves become available, much as PARTNER 2 is providing data on the Sapien XT valve, which has already been replaced by the third-generation Sapien 3 valve.
Edwards Lifesciences funded the study. Smith reports travel reimbursement from Edwards; disclosures for the coauthors are listed in the article. Moat reports personal fees from Medtronic, Abbott, Tendyne, Edwards, Direct Flow Medical, and Mitralign. Poppas reports no relevant financial relationships. Mehran reports consultant fees/honoraria from Abbott Vascular, AstraZeneca, Biosensors, Boston Scientific, Covidien, Johnson & Johnson, the Medicines Company, Merck Osprey, Regado; other fees from WebMD and Wiley Blackwell Publishing; and research/research grants from Lilly/DSI and Stentys. Bax and Fuster report no relevant financial relationships.
Heartwire from Medscape © 2016

Cite this: PARTNER 2 Backs TAVR Use in Intermediate-Risk Patients With Severe Aortic Stenosis - Medscape - Apr 02, 2016.