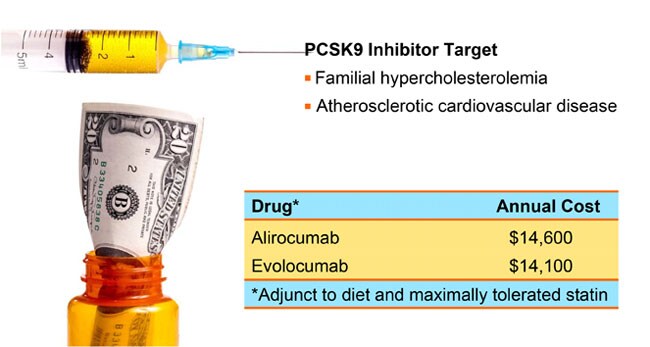 CHICAGO — The first of the PCSK9 inhibitors has entered the market in the United States, and the price tags have physicians questioning who should pay top dollar for these biologics, which have still unproven effects on morbidity and mortality, and who should pass.
"We clearly have a lot to learn about PCSK9 inhibitors," Craig Beavers, PharmD, from the University of Kentucky in Lexington, told heartwire from Medscape before his talk at the American College of Cardiology 2016 Scientific Sessions.
"There are no outcomes data yet," said Dr Beavers, "and there are no long-term safety data, so the hesitations people are expressing are appropriate."
Proprotein convertase subtilisin kexin type 9 inhibitors are a new class of lipid-lowering medication administered as monthly or bimonthly injections. The drugs were successful in reducing low-density-lipoprotein (LDL) cholesterol levels in phase 3 trials, such as the ODYSSEY COMBO II study and GAUSS-2.
Alirocumab (Praluent, Sanofi and Regeneron) was approved by the US Food and Drug Administration (FDA) in July 2015, and evolocumab (Repatha, Amgen) was approved in August 2015. A third drug, bococizumab, is currently in phase 3 trials.
Cholesterol Lowering
PCSK9 inhibitors are indicated for adults with heterozygous familial hypercholesterolemia or clinical atherosclerotic cardiovascular disease who require additional lowering of LDL cholesterol. The monoclonal antibodies are intended as an adjunct to diet and maximally tolerated statin therapy.
In the United States, the annual wholesale acquisition cost for treatment is around $14,000, so these drugs will not be used to treat "the wide range of patients with elevated LDL cholesterol," Merle Myerson, MD, from Columbia University in New York City, explained in her primer on PCSK9 inhibitors on theheart.org on Medscape. However, "concern remains about the cost to be borne by patients, insurance, and the public, given that the morbidity and mortality benefits have not been determined."
Hepatitis C therapy can be very costly, but patients generally take just one course of treatment. In contrast, "PCSK9 inhibitors must be taken for a lifetime," said Dr Myerson.
Drug makers are charging about half the price in Europe as they are in the United States.
"There are many reasons for varying price points around the globe, but I do think these drugs are priced out of reach here in the United States and need to be priced lower," Dr Beavers said. "I don't know the right number, but the cost doesn't seem to reflect the benefit in outcomes."
Drug makers, in response to an FDA request, are monitoring neurocognitive adverse effects and assessing cognitive function in a subset of participants in ongoing long-term studies. These safety studies will also provide information about injection-site reactions and the development of antidrug antibodies.
Table. Adverse Events
Alirocumab vs Placebo
Evolocumab vs Placebo
Event
Alirocumab, % (n = 2476)
Placebo, % (n = 1276)
Evolocumab, % (n = 599)
Placebo, % (n = 302)
Nasopharyngitis
11.3
11.1
10.5
9.6
Injection-site reaction
7.2
5.1
5.7
5.0
Influenza
5.7
4.6
7.5
6.3
Urinary tract infection
4.8
4.6
4.5
3.6
Diarrhea
4.7
4.4
3.0
2.6
Respiratory infection
4.3
3.8
9.3
6.3
Myalgia
4.2
3.4
4.0
3.0
Musculoskeletal pain
3.1
2.4
3.3
3.0
Sinusitis
3.0
2.7
4.2
3.0
Cough
2.5
2.1
4.5
3.6
"These drugs will require more than a quick prescription," Dr Beavers emphasized. "Patients will need to be trained in how to administer the injections, and they will need access to specialty pharmacies."
And not every pharmacy will be equipped, he cautioned. "These drugs should be considered a last resort, after many other steps have been taken."
Dr Beavers has disclosed no relevant financial relationships. Dr Myerson has financial ties with Kowa Pharmaceutical, Amgen, and Gilead Sciences.
Follow Allison Shelley on Twitter @allishelley
American College of Cardiology (ACC) 2016 Scientific Sessions. Special Topics Symposium Session 103. Presentation April 2, 2016.
Medscape Medical News © 2016 WebMD, LLC

Send comments and news tips to news@medscape.net.
Cite this: Pricey PCSK9 Inhibitors Require Careful Patient Selection - Medscape - Apr 01, 2016.