Why the Focus on Opioids for Pain Management?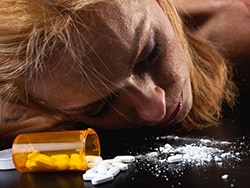 Why did the emphasis on pain management in the 1990s result in a focus on opioid prescriptions? One reason may have been aggressive marketing efforts by opioid drug makers. For example, from 1996 to 2001, Purdue Pharma held more than 40 pain management conferences for healthcare providers to promote the use of its new OxyContin® extended-release formula of oxycodone. Sales surged from $45 million in 1996 to $1.1 billion a year in 2000—an increase of well over 2000%.[13,14]
"We were told way back in the '90s that these drugs were safe, that they wouldn't hurt people, and that it was imperative to control pain," Dr Kalliainen recalls.
Then, in 2007, Purdue admitted it had misled doctors into thinking OxyContin was less easily abused than other drugs in its class. It agreed to pay $600 million in fines and other fees to the Justice Department.[15]
Something else has changed in the culture as well, says Dr Kalliainen. Patients seem to be in as much emotional pain as physical pain. "I've been in practice for 16 years now, and there's been a huge increase in free-floating anxiety in patients," she says.
US physicians often that find writing a prescription for an opioid is the most convenient way to respond to their patients' demands, Dr Kallianen says. As a resident in the 1990s, she remembers being told by the attending physician to write prescriptions for 60 or 70 opioid tablets for nearly every surgery patient. "You started a whole generation of physicians who are out there saying, 'Write them for 60 [tablets] so they don't call in.'"
One reason the practice has persisted is that surgeons often don't know what effect their prescriptions are having, says Dr Kalliainen. "We don't see somebody dying of an overdose or becoming addicted. We don't know if somebody is coming in and stealing their medications from their medicine cabinet and then having a problem. All the negative effects are away from our direct vision. So we're not taking as much responsibility."
But research shows that once they have received opioid drugs, many patients can't stop using them. One study found that 8.2% of patients who took opioids for the first time after total knee arthroplasty were still using them 6 months later,[16] despite weak evidence that the drugs are effective for chronic pain management.[17]
Among people already abusing drugs, some studies suggest that the opioids serve as a bridge between other substances and heroin.[18] Even when patients don't abuse the opioids themselves, the drugs prescribed to them may end up in the hands of people who do. Surveys of people who abuse opioids show that as many as 23.8% obtained the drugs from clinicians, and 53% obtained them from friends or relatives, most of whom obtained them from clinicians.[19]
"It's not like these are stolen off the truck," says Brent J. Morris, MD, a shoulder and elbow surgeon at the Shoulder Center of Kentucky in Lexington, who has published extensively on opioid prescribing patterns. "Certainly, physicians play a role in this."
Medscape Orthopedics © 2016 WebMD, LLC

Any views expressed above are the author's own and do not necessarily reflect the views of WebMD or Medscape.
Cite this: The Opioid Crisis: Anatomy of a Doctor-Driven Epidemic - Medscape - Apr 01, 2016.