Much Confusion About "No-Touch" Visits
Like many physicians, you may have read something about telemedicine but are still wary of its role in your life as a physician; you may be concerned that some of your patients may be diagnosed and treated by a doctor in a remote location over the phone or via videoconferencing in no-touch visits. Let's take a look at what's going on.
More than 90% of hospital executives say that they are currently building or implementing telemedicine programs.[1] Payers appreciate the anticipated savings, and patients look forward to the tenfold decrease in waiting time when compared with an office visit.[2]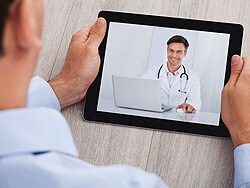 At the same time, doctors are asking how they can ensure good outcomes without physically examining their patients. "Telemedicine visits may be fine for low acuity and self-limited issues, but sometimes more is needed," says Michael Brabeck, MD, associate professor of medicine at New York University School of Medicine and winner of the 2012 Leonard Tow Humanism in Medicine Award. "There are many subtle factors that contribute to a rapport between the physician and patient. For instance, physically touching the patient or direct eye contact, which promote the therapeutic mission, may not be available with a remote AV connection."
The Potential to Revolutionize Access to Care
The American Telemedicine Association (ATA) defines telemedicine, or telehealth, as "the use of medical information exchanged from one site to another via electronic communications to improve a patient's clinical health status."[3] More simply, telemedicine is any telecommunications tool that allows remote diagnosis and treatment of patients.
Examples of telemedicine include: saying "take two aspirin and call me in the morning" over the phone; emailing a dermatologist a photo of a suspicious mole; conducting a video chat between a primary care doctor and her patient; patching a pediatric cardiologist in to a remote outpatient clinic; and alerting a dialysis patient with body-worn sensors that can detect rising potassium or urea levels.
The bottom line is that while there will always be a need for hands-on visits, many say that in many circumstances, the quality of care for telemedicine patients can be as good as an in-person visit while providing increased access. One question is, of course: How do you know which are the right circumstances? Yet if video visits mean that a patient will be able to have a doctor visit that he might otherwise not have, does that benefit not outweigh any potential detriments?
Medscape Business of Medicine © 2016 WebMD, LLC

Any views expressed above are the author's own and do not necessarily reflect the views of WebMD or Medscape.
Cite this: James M. Lebret. Is a Video Doctor Visit Good or Bad Medicine? - Medscape - May 04, 2016.