LOS ANGELES — Carotid stenting was noninferior to endarterectomy in asymptomatic patients younger than age 80 years with significant carotid stenosis in the ACT 1 study.
Presenting the study here at the International Stroke Conference (ICS) 2016, Lawrence Wechsler, MD, University of Pittsburgh Medical Center, Pennsylvania, said, "We have shown two main findings: that carotid stenting is no worse than endarterectomy in terms of the primary composite endpoint — death, stroke or MI at 30 days and 1 year ipsilateral stroke — and that at 5 years there was no difference in stroke/death. We conclude that the two procedures are essentially equal for this population."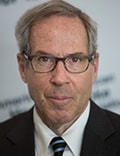 The Asymptomatic Carotid Trial 1 (ACT 1) study was also published online February 17 in the New England Journal of Medicine today to coincide with its presentation at the meeting.
Dr Wechsler explained that carotid endarterectomy is a well-established surgical procedure that has been shown in several previous trials to be superior to medical therapy. "This study had a noninferiority design to try and establish whether carotid stenting could be considered similarly safe and effective to endarterectomy and we found this to be the case."
The big question, however, is whether either intervention would be better than contemporary intensive medical therapy alone, and this cannot be answered by the current study, which did not include a medical therapy group.
Dr Wechsler explained that medical therapy has been evolving and has become more aggressive during the study. "So we don't know how either interventional approach compares with the new standard of medical therapy." This is being investigated in other trials, including the Carotid Revascularization Endarterectomy versus Stenting Trial (CREST)-2.
The issue of carotid stenting vs endarterectomy has been a long and controversial one, with concerns centering on the stenting process dislodging pieces of plaque, which could travel to the brain and cause periprocedural stroke. Although early major stroke did not differ between the two groups in the ACT 1 trial, there was a numeric increase in minor stroke.
Dr Wechsler said that this was offset to some degree by a lower "composite morbidity" in the stenting group, which included such outcomes as nerve injury and bleeding. "This is information that patients and physicians have to take and use to make the decision as to which procedure would be best on an individual basis," he said.
Is Either Procedure Necessary?
Commenting for Medscape Medical News, Kyra Becker, MD, chairman of the ISC 2016 program committee and professor of neurology and neurological surgery at the University of Washington, Seattle, said, "This study suggests that if a clinician wants to intervene in asymptomatic patients, then both approaches are viable options.
"But the bottom line for me is the question of whether either procedure is necessary," Dr Becker said. "A lot of people are questioning whether that now we are treating these patients with more powerful medical therapy, including statins and new antiplatelets, we may not need to intervene at all in asymptomatic patients."
She added that for symptomatic patients, the benefit of revascularization is much more clear-cut, and that the choice between endarterectomy and stenting in these patients seems fairly equivalent based on data from the CREST-1 trial. Latest data from this study are being presented at the ISC meeting tomorrow.
AHA/ASA spokesperson Ralph Sacco, MD, chairman of neurology, Olemberg Family Chair in Neurological Disorders, Miller Professor of Neurology, Epidemiology and Public Health Sciences, Human Genetics, and Neurosurgery, and executive director of the Evelyn McKnight Brain Institute at the Miller School of Medicine, University of Miami, Florida, concurred with Dr Becker's view.
"We don't know whether either revascularization approach would be better than intensive medical therapy in asymptomatic patients. Each clinician and patient has to discuss the various options together. If they do not have a strong preference, then I would advise them to enroll for the CREST 2 trial."
The ACT I study randomly assigned 1453 patients from 2005 to 2013 to carotid stenting (n = 1089) or endarterectomy (n = 364). The goal was originally to enroll 1658 patients, but the study was halted early because of slow enrollment.
The stent used was the Xact stent and Emboshield protection device, both made by Abbott Vascular, which funded the study.
Patients had to be younger than age 80 years and to have had no symptoms for at least 180 days. They were at standard medical and anatomic risk for surgery and had a stenosis of at least 70% by ultrasonography or angiography.
Baseline data showed that the average age at enrollment was 67.8 years and patients had a mean stenosis of 73%.
The primary endpoint — stroke/myocardial infarction/death within 30 days of procedure and ipsilateral stroke between 31 days and 1 year — fulfilled the noninferiority criteria. The upper limit of the one-sided 95% confidence interval for the difference was 2.27%, which was below the prespecified 3–percentage point noninferiority margin.
Table 1. ACT 1: Primary Endpoint
| | | | | | |
| --- | --- | --- | --- | --- | --- |
| Endpoint | Stenting (n = 1089) (%) | Endarterectomy (n = 364) (%) | Difference (percentage points) | Upper Limit of 95% Confidence Interval | P Value for Noninferiority |
| Primary endpoint | 3.8 ± 0.59 | 3.4 ± 0.98 | 0.4 | 2.27 | .01 |
Short-term results showed similar rates of major stroke and death, but there was a numeric increase in minor stroke.
Table 2. ACT 1: 30-Day Endpoints
Endpoints
Stenting (%)
Endarterectomy (%)
P Value
Stroke, myocardial infarction, death
3.3
2.6
.60
Stroke, death
2.9
1.7
.33
Major stroke, death
0.6
0.6
1.00
Major stroke
0.5
0.3
1.00
Minor stroke
2.4
1.1
.20
Composite morbiditya
2.8
4.7
.13

aComposite morbidity = cranial nerve injury, peripheral nerve injury, vascular injury, noncerebral bleeding, endarterectomy. or puncture site bleeding.
Dr Wechsler said the 5-year outcomes looked "virtually identical."
Table 3. ACT 1: Five-Year Outcomes
| | | | |
| --- | --- | --- | --- |
| Endpoint | Stenting (%) | Endarterectomy (%) | P Value |
| 31-d to 5-y freedom from ipsilateral stroke | 97.8 | 97.3 | .51 |
| 5-y freedom from stroke | 93.1 | 94.7 | .44 |
| 5-y freedom from clinically driven revascularization | 98.4 | 96.7 | .05 |
| 5-y survival | 87.1 | 89.4 | .21 |
Commenting on the study for Medscape Medical News, Martin Brown, MD, University College London, United Kingdom, who headed up the ICSS study (which suggested endarterectomy was preferable to stenting in symptomatic patients), said he would still favor endarterectomy in asymptomatic patients after ACT 1 because of the periprocedural stroke risk.
"It is notable that ACT 1 had impressively low rates of procedural stroke and death within 30 days of treatment in patients with asymptomatic stenosis," he said. "Nevertheless, the rate of stroke within 30 days was higher after stenting than after endarterectomy by a similar proportion to that seen in other trials. As in other trials, the excess was mainly minor stroke. The difference does not reach statistical significance, but this reflects the small number of events.
"My take on this would be that because there is a small excess of procedural stroke with stenting, endarterectomy should remain the treatment of choice for carotid revascularization, where this is required, unless there are clinical features to suggest that stenting will have the same procedural risk — for example, in patients under the age of 70 — or features suggesting that endarterectomy will have increased risk."
He also noted that that ACT 1 publication did not include any data to show whether the strong effect of age on the risk for carotid stenting shown in other trials was also seen in this study.
Dr Brown reiterated the view that "improvements in medical therapy may well render any form of revascularization unnecessary and potentially harmful in patients with asymptomatic stenosis."
He emphasized that it was therefore important that current trials aiming to look at this issue, including CREST-2 and ECST-2, should continue to recruit patients as fast as possible.
The study was funded by Abbott Vascular. Dr Wechsler receives compensation from Abbott Vascular for ACT I steering committee activities and from Silk Road Medical for scientific advisory board services.
N Engl J Med. Published online February 17, 2016. Abstract
International Stroke Conference (ISC) 2016. Abstract LB25. Presented February 17, 2016.
Medscape Medical News © 2016 WebMD, LLC

Send comments and news tips to news@medscape.net.
Cite this: ACT 1: Stenting, Surgery Similar in Asymptomatic Carotid Stenosis - Medscape - Feb 17, 2016.