Researchers have uncovered further evidence of amyloid plaques in the brains of relatively young patients with traumatic brain injury (TBI).
They further show that the distribution of amyloid plaque in TBI survivors overlaps that in patients with Alzheimer's disease (AD) but also involves the cerebellum, an area of the brain not typically involved in AD, at least early on.
The results offer new insights into how head injuries are linked to neurodegenerative problems, said study author David J. Sharp, PhD, Department of Medicine, Imperial College, London, United Kingdom.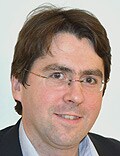 "We show that although similar to AD, there is a different distribution of amyloid in TBI," Dr Sharp told Medscape Medical News. "This suggests that we can begin to disentangle these neurodegenerative presentations and separate the problems that are triggered by TBI from those that are related to AD."
The cross-sectional study was published online February 3 in Neurology.
The study included nine patients with moderate to severe TBI without dementia, mean age of 44.1 years, whose injury had occurred 11 months to 17 years previously. Their injuries were due to a traffic accident, a fall, or an assault.
Researchers assessed these patients with the amyloid tracer C-Pittsburgh compound B (C-PiB) using positron emission tomography (PET), structural (MRI), and diffusion tensor imaging (DTI). They also underwent a neuropsychological examination.
The study also included 10 patients with probable AD, mean age of 67.3 years, and 9 healthy age-matched controls (mean age, 62.3 years), who underwent PiB PET imaging.
Researchers used other controls for additional comparisons: 15 age-matched controls (mean age, 37.3 years) who underwent neuropsychological assessment, and another group of 11 age-matched controls (mean age, 40.9 years) who underwent structural MRI and DTI.
None of the patients had a diagnosis of post-traumatic stress or anxiety disorder.
Imaging revealed that four of the patients with TBI had no structural abnormalities, while the other five had focal lesions, with damage in the frontal or temporal lobes. One patient had undergone a parieto-temporal lobotomy after the TBI.
Hidden Disability
Compared with controls, patients with TBI had impairments in neuropsychological performance. They had significantly poorer responses across a range of tasks, including tests of attention, information processing, speed, and cognitive flexibility.
Dr Sharp described such patients with TBI as having "a kind of hidden disability." Even though their problems might not be immediately obvious, he said, "they often have major problems with memory and concentration and the ability to plan and organize their lives."
Researchers compared the spatial distribution and extent of amyloid pathology among patients with TBI and AD, and healthy controls. Both the TBI and AD groups had plaques in the posterior cingulate cortex (PCC), which is typically affected very early in patients with AD, said Dr Sharp. (In AD, β-amyloid [Aβ] deposition usually begins in the inferior frontal and cingulate association cortex and extends into other cortical regions).
The patients with TBI — but not those with AD — had increased amyloid in the cerebellum. The hippocampus and cerebellum aren't usually involved until much later in AD. "This suggests that it's not exactly the same process in TBI as in Alzheimer's disease," said Dr Sharp.
The PCC amyloid burden appeared to increase with time, suggesting that there's a progressive neurodegenerative process going on, said Dr Sharp.
"When more time had elapsed since the injury, there was more amyloid accumulation, which would fit with a kind of progressive process that involves gradual accumulation of amyloid pathology."
Age didn't correlate with neuropathology. "It wasn't simply that the older people had more amyloid," said Dr Sharp. "The whole thing wasn't just explained by age; it was really to do with the injury itself and how long since the injury."
Axonal damage at the time of a traumatic brain injury may act as a kind of trigger for Aβ production and accumulation of amyloid pathology. "TBI might also accelerate an aging process and our results may reflect this change in aging trajectory, particularly considering that the increased 11C-PiB binding after TBI was observed in comparison to a much older aged control group," write the authors.
Researchers also found an association between the extent of white matter (WM) damage and C-PiB binding in the PCC following a TBI. This relationship was seen in the cingulum bundles, which connect to the PCC, but not in cortico-spinal tract, which is not directly connected to the PCC.
This, said the authors, suggests a "more specific link." They noted that misfolded proteins, including Aβ, can "move from neuron to neuron via prion-like transsynaptic spread."
"The implication for TBI is that the WM may be both a source of Aβ and a conduit for Aβ diffusion," they write.
Whereas in the past, a traumatic brain injury was considered a kind of "static insult" after which a patient recovered or stayed relatively stable, this and other research is contributing to "changing our view" of the fallout from the injury, said Dr Sharp.
Now, researchers believe that "the injury can trigger off a kind of cascade of processes that can extend over a long period and include the development of these neurodegenerative proteins in the brain."
He and his colleagues have noted that the brains of young patients with TBI atrophy to a similar degree as is seen in AD and other neurodegenerative diseases. "If you are a 30-year-old and have a bad head injury, your brain is going to start shrinking at about 2% a year because of that injury," said Dr Sharp.
A normal brain doesn't start shrinking until a person reaches his 60s or 70s, "so a 2% loss of volume is very worrying," he added.
One useful feature in studying a TBI is that the time of the injury is known, said Dr Sharp. "Because we know that, and if we think the injury is triggering a process that progresses for a long time, we can potentially intervene very early on with something that will stop the progression."
He and his team are already working on that. For example, they are using an anti-inflammatory drug following a brain injury "as a way to try to alter the trajectory in these patients."
Results "Thought-Provoking"
In an accompany editorial, Ansgar J. Furst, PhD, Departments of Psychiatry and Behavioral Sciences and of Neurology and Neurological Sciences, Stanford University, California, and Erin D. Bigler, PhD, Department of Psychology, Brigham Young University, Provo, Utah, called the study "rare," "exciting," and "thought-provoking."
However, they write, the possibility that Aβ accumulates immediately after injury and slowly spreads from neuron to neuron in a "prion like transsynaptic mechanism" to the PCC needs to be confirmed using longitudinal data.
"Although exciting, the results from the study should be generally treated as preliminary."
The explanation from the authors about how Aβ spreads in patients with TBI is interesting but may turn out to be "too simplistic," they said.
The authors "nicely demonstrate" the use of neuro-imaging biomarkers to examine different pathologies across different groups, but it's not clear what the findings mean for the clinic, they note.
"It remains to be seen whether the increased PiB uptake in young chronic TBI, especially at the mild end of the TBI spectrum, does indeed constitute very early signs of AD pathology or whether Aβ plaques mean something completely different in this context. The different cerebellum uptake would suggest a different pathology."
Dr Sharp receives personal and research support from the National Institute for Health Research and the Medical Research Council (UK). Dr Furst and Dr Bigler have disclosed no relevant financial relationships.
Neurology. Published online February 3, 2016. Abstract Editorial
Medscape Medical News © 2016 WebMD, LLC

Send comments and news tips to news@medscape.net.
Cite this: Amyloid Pattern in TBI Different Than in Alzheimer's - Medscape - Feb 05, 2016.