Many Types of Bad News
No normal person likes to deliver bad news even once, let alone repeatedly. What sets medicine apart from most other professions is that it's an unavoidable part of the job. This doesn't mean that doctors ever get used to telling patients that their lives are about to change for the worse. Most never do. They recoil from it.
"Doctors go into medicine to help people do better," says oncologist Anthony L. Back, MD, a professor at the University of Washington and the Fred Hutchinson Cancer Research Center in Seattle and coauthor of Mastering Communication With Seriously Ill Patients: Balancing Honesty With Empathy and Hope (Cambridge). "They don't like making people feel bad. When they give bad news, patients look glum, start to cry, or start to withdraw, and the doctors think instinctively, 'I have done not a good thing for this patient. I have made them depressed. Now what do I do?'"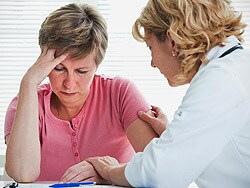 Oncologists wrestle with this burden more than most other doctors. One survey of oncologists found that 60% of the respondents delivered bad news to patients 5-20 times per month, and 14% did it more than 20 times per month.[1]
But primary care doctors deliver their fair share of life-shattering news. "Bad news is stereotypically associated with a terminal diagnosis," notes family physician Gregg K. VandeKieft, MD, medical director for palliative care at Providence St. Peter Hospital in Renton, Washington.[2] "But family physicians encounter many situations that involve imparting bad news; for example, a pregnant woman's ultrasound verifies a fetal demise, a middle-aged woman's magnetic resonance imaging scan confirms the clinical suspicion of multiple sclerosis, or an adolescent's polydipsia and weight loss prove to be the onset of diabetes."
In addition to breaking bad news about health problems endemic to primary care, many primary care doctors find themselves having to impart bad news to patients whom they referred to specialists for testing—either because the specialists avoided doing it themselves or offered explanations so full of medical terminology that the patients didn't understand what they were being told.
"Patients don't get much communication from many of the specialists I send them to," concedes Bradley P. Fox, MD, a family physician in Erie, Pennsylvania, no doubt speaking for many of his primary care colleagues. "A lot of times, patients will come to me to debrief them on what happened with the specialist."
"Some of this may not truly be that patients didn't get those explanations," says breast cancer specialist Kathy D. Miller, MD, associate professor of medicine at Indiana University School of Medicine in Indianapolis. "They may actually have gotten an explanation the first time, but the initial physician may not have recognized that the patient's eyes had already glazed over. The doctor is still talking, but the patient is no longer hearing you" because he or she is in shock.
When the news is bad, Dr Miller says, a patient may need to hear an explanation several times, from more than one doctor, before the information starts to sink in. The doctor who finally gets through is often the one with whom the patient has the longest-term and most trusting relationship: the primary care physician.
The experience is made more traumatic for both doctor and patient by the fact that few doctors are trained to deliver bad news in a compassionate, constructive way. "The reality is that getting important news from a doctor your patient trusts can be very empowering to patients," Dr Back says. Here are some tips for how to deliver that news in a way that's most beneficial for your patient.
Medscape Business of Medicine © 2016 WebMD, LLC

Any views expressed above are the author's own and do not necessarily reflect the views of WebMD or Medscape.
Cite this: Neil Chesanow. Delivering 'Bad' vs 'Serious' News to Patients - Medscape - Jan 27, 2016.