Introduction
This year's Medscape Lifestyle Report covers two important aspects of a physician's personal life that could affect care of patients: burnout and bias. Over 15,800 physicians from over 25 specialties responded, providing some surprising responses relating to these issues. The survey also asked physicians about marijuana use and prescribing; political and religious leanings; and whether they were healthy, wealthy, and happy.
Physician Burnout: Rising or Falling?
This year's Medscape survey, echoing other recent national surveys,[1,2] strongly suggests that burnout among US physicians has reached a critical level. Burnout is generally defined as loss of enthusiasm for work, depersonalization, and a low sense of personal accomplishment. Burnout now even has its own code (Z73.0) in the 10th edition of the International Classification of Diseases (ICD-10), which defines it as a "state of vital exhaustion."[3] Some experts have suggested that burnout might be an illness in its own right, but research suggests that it is probably a form of depression, rather than a distinct disorder.[4,5]
Percentage of Physicians Reporting Burnout
A survey published this year in the Mayo Clinic Proceedings[1] on all physicians compared burnout between 2011 and 2014 and observed an increase in the percentage of physicians reporting at least one burnout symptom, from 45.5% to 54.4%. This year's Medscape lifestyle survey supported these findings, reporting higher burnout rates for the great majority of specialties this year even compared with last (Figure 1).

The highest percentages of burnout occurred in critical care, urology, and emergency medicine, all at 55%. In last year's report, critical care and emergency medicine were in the top two spots, with only slightly lower burnout percentages (53% and 52%, respectively), and urologists were in 10th place, at 47%. Higher burnout rates among emergency medicine physicians[6,7] and intensivists[8,9] have been noted in the literature as well. The effect of this higher rate on these professions compared with others is unclear. In one of the studies, the projected attrition rate among emergency medicine physicians was no greater than in other specialties.[7] Emergency medicine physicians, however, are toward the bottom in burnout severity scores in this year's Medscape report (see below); in contrast, intensivists reported the highest severity rating, which might have a larger long-term effect on these specialists.
This year, family medicine and internal medicine, in fourth and fifth places, followed the top three closely, with 54% reporting burnout. In 2015, these primary care physicians were third and fourth, at 50%—still within the top five, but with a lower burnout percentage than this year.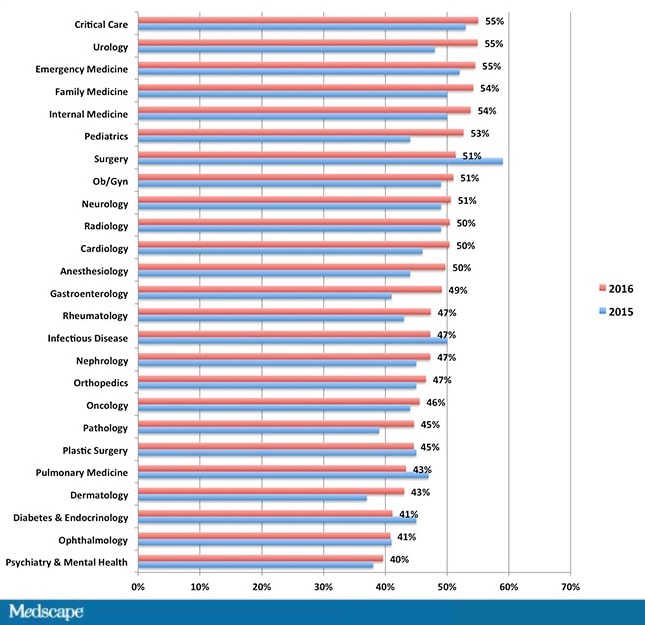 Figure 1. Physician Burnout: 2015 vs 2016
Medscape Business of Medicine © 2016 WebMD, LLC

Any views expressed above are the author's own and do not necessarily reflect the views of WebMD or Medscape.
Cite this: Carol Peckham. Bias and Burnout: Evil Twins - Medscape - Jan 12, 2016.