SAN ANTONIO — Any negative surgical margin, no matter how narrow, is a good thing for patients with invasive breast cancer who undergo breast-conserving surgery, results from a massive study show.
The incidence of ipsilateral breast tumor recurrence (IBTR) was similar in 11,900 Danish women who underwent initial breast-conserving surgery or re-excision, whether they had wide negative margins (2 to 4 mm) or narrow negative margins (0 to <1 mm).
However, a final positive margin of any width was associated with a 2.5-fold risk for IBTR, reported Anne Bodilsen, MD, a PhD candidate at Aarhus University Hospital in Denmark.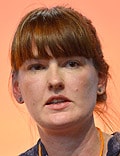 "The increased risk for [IBTR with] re-excision was just for the patients who had residual tumor left," she said here at the San Antonio Breast Cancer Symposium 2015. Notably, negative-margin width did not translate into differences in overall survival.
The authors assessed the association between margin width and IBTR, determined the factors that might be associated with residual disease after re-excision, and determined the effects of re-excision on IBTR.
Their cohort involved women 17 to 75 years of age who were treated with breast-conserving surgery for unilateral invasive breast cancer. They were followed for a median of 4.9 years; the longest follow-up was 9.0 years.
The risk for IBTR in the overall cohort was 2.4% at 5 years and 5.9% at 9 years.
Table 1. Hazard Ratio for Ipsilateral Breast Tumor Recurrence
| | |
| --- | --- |
| Tumor Size | Hazard Ratio |
| 0 mm | 2.52 |
| 0 to <1 mm | 1.40 |
| 1 to <3 mm | 1.40 |
| 3 to <5 mm | 0.79 |
There were no significant differences in IBTR among any patient with negative margins, no matter how close a shave their tumors had.
After adjustment for age and tumor characteristics, the risk for IBTR was higher in patients 40 years and younger than in patients 41 to 49 years (HR, 5.11 vs 3.17; P < .001).
Women who underwent re-excision were also at higher risk for recurrence (HR, 1.54; P = .002), but, as Dr Bodilsen noted, the difference was accounted for by women whose surgeons did not obtain negative margins at the final surgery.
Factors that reduced the risk for IBTR included chemotherapy (HR, 0.45, P <.001) and estrogen receptor (ER)-positive disease (P < .001). Women with ER-positive disease who received endocrine therapy had a slightly lower risk for IBTR than those who did not receive endocrine therapy, but the difference was not significant.
In all, 17% of patients underwent repeat surgery, 11% underwent re-excision, and 6% underwent mastectomy. Of these patients, 20% had residual disease in resected tissue — 23% with invasive carcinoma, 63% with ductal carcinoma in situ (DCIS), and 14% with both.
Table 2. IBTR Rates for Patients Who Underwent Re-Excision
| | |
| --- | --- |
| Residual Disease | Hazard Ratio |
| None after the second surgery | 1.21 |
| Residual DCIS | 2.58 |
| Residual invasive disease without DCIS | 2.97 |
For patients with residual disease after re-excision, the rates for IBTR were significant.
An analysis of overall survival by surgical procedure and residual findings, however, showed that there were no significant differences between any of the combinations.
A surgeon told Medscape Medical News that the Danish study confirms the importance of clear margins for the prevention of IBTR.
"The data clearly show that positive margins are associated with a higher recurrence rate," said Anees B. Chagpar, MD, MPH, from the Breast Center at Smilow Cancer Hospital at the Yale–New Haven Hospital in Connecticut. She was the lead author on a randomized controlled trial of cavity shave margins for breast-conserving surgery (N Engl J Med. 2015;373:503-510).
"Some have questioned whether that is still the case in the current era with nearly ubiquitous systemic therapy and radiation therapy, but these data in nearly 12,000 patients demonstrate that," she said.
Dr Chagpar noted that some patients considered to have negative margins in the United States were considered in the Danish study to have residual disease.
"In about 12% of patients, you will find disease in that cavity shave margin. Even if your original lumpectomy margin is negative, you will find additional disease," she said.
In the trial Dr Chagpar was involved in, 235 breast cancer patients underwent partial mastectomy with or without additional shaving of the surgical cavity. Randomization occurred intraoperatively after the surgeons had performed the partial mastectomy. They defined positive margins as "tumor touching the edge of the specimen that was removed in the case of invasive cancer, and tumor that was within 1 mm of the edge of the specimen removed in the case of ductal carcinoma in situ."
Dr Chagpar's team found that cavity shaving halved the rates of positive margins and re-excision, thereby reducing the risk for IBTR in these patients.
The margin-width study was sponsored by the Danish Breast Cancer Group, with support from the government of Denmark. Dr Bodilsen and Dr Chagpar have disclosed no relevant financial relationships.
San Antonio Breast Cancer Symposium (SABCS) 2015: Abstract S2-01. Presented December 9, 2015.
Medscape Medical News © 2015 WebMD, LLC

Send comments and news tips to news@medscape.net.
Cite this: Narrow Is Okay If Breast Cancer Margin Is Negative - Medscape - Dec 10, 2015.