Case Presentation
A 43-year-old woman presents for right-breast reconstruction 12 months after undergoing mastectomy, sentinel lymph node biopsy, and immediate reconstruction with a tissue expander by an outside physician. She states that she has completed her chemotherapy/radiation, with her last treatment taking place 6 months ago.
The patient is happy with her current right breast size, after serial expansion over the past 5 months. She is now having difficulty with clothing owing to severe breast asymmetry. She is requesting completion of her right breast reconstruction and a symmetry procedure of her left breast. The patient has no other significant medical history.
Physical Examination and Diagnosis
The patient has a well-healed right-sided mastectomy scar with tissue expander in situ, with minimal postradiation skin changes. Her right tissue expansion volume is confirmed at 450 cc. Her left breast is large and pendulous, and demonstrates grade 3 advanced ptosis with the nipple-areolar complex (NAC) below the inframammary fold and at the level of maximum breast projection (Figure 1).
The patient's body mass index is 32 kg/m2. The options for breast reconstruction are discussed with the patient, including autologous vs implant-based reconstruction. The patient expresses her concerns about surgical scarring and prefers completing implant-based reconstruction. She is counseled on the remaining stages involved in the expander-implant reconstruction, including implant exchange and capsulotomy/capsulectomy, symmetry procedure of the contralateral breast, and NAC reconstruction.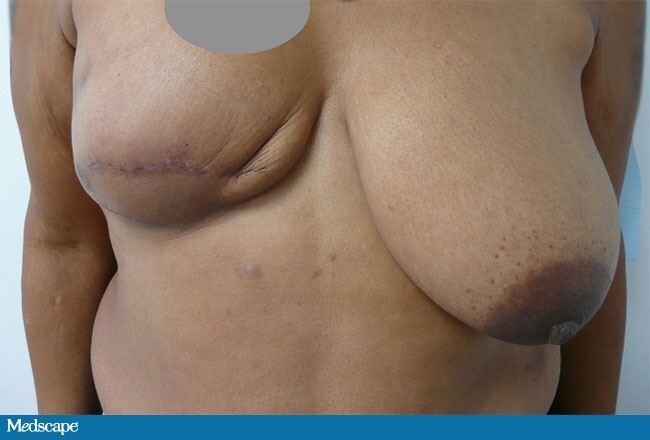 Management Plan and Surgical Considerations
Preoperative planning before any breast reconstruction requires evaluation of the patient in an upright position. Attention must be given to breast ptosis, projection, and location of the inframammary fold. The patient must be informed of all risks and potential complications of implant-based surgery, including malposition, infection, implant exposure, capsular contracture, wound healing problems, and potential need for further symmetry procedures.
In this patient's case, the right-sided tissue expander will be exchanged for a permanent implant after appropriate capsulotomy/capsulectomy, the NAC will be reconstructed on the right, and the left NAC will be modified during a subsequent breast reduction/symmetry procedure. It is important to allow an appropriate interval for healing in between these staged procedures.
The base width and height of the intact right tissue expander is confirmed with a review of the operative reports. During the next stage of reconstruction, her right-breast tissue expander is removed, appropriate capsulotomies/capsulectomies are performed, and a permanent 450-cc round smooth silicone implant is placed.
The patient is followed postoperatively and at 8 weeks is noted to have a well-healed incision. She is requesting in her next surgical stage to have her right NAC reconstruction at the same time as her left-breast symmetry procedure.
In planning for our next surgical stage, a decision is made to reconstruct the right nipple with a local C-V flap, and provide areolar skin through grafting from her contralateral nipple during reduction. Her left breast is simultaneously reduced in a Wise-pattern, inferior-pedicle technique. Care is taken to properly pad and protect her right-sided NAC reconstruction to provide for optimal healing.
Follow-up
The patient was seen for follow-up 6 months later, after completing a staged right-breast reconstruction with tissue expander to implant, NAC reconstruction, and a left-breast symmetry procedure. Her breasts appear symmetrical, and she is extremely satisfied with her results and claims she is finally able to wear a bra without padding.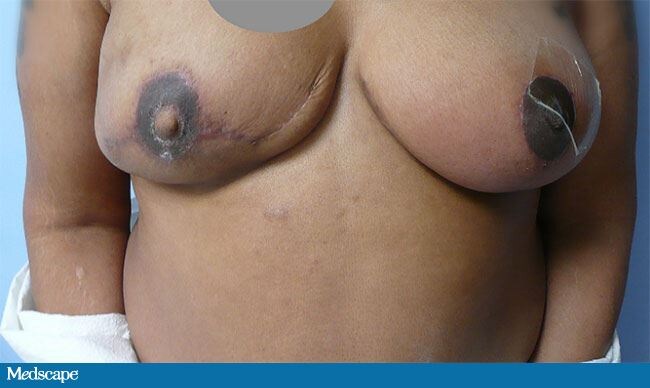 Medscape Plastic Surgery © 2015  WebMD, LLC

Any views expressed above are the author's own and do not necessarily reflect the views of WebMD or Medscape.
Cite this: Aditya Sood, Mark S. Granick. Expander-Implant Delayed Breast Reconstruction - Medscape - Dec 14, 2015.