CHICAGO — CT imaging and 3-dimensional printing were used to help plan one of the most complicated surgical separations of conjoined twins to date.
Although other teams have printed models of skeletons or of particular organs, the complexity of this model is one of a kind, said Rajesh Krishnamurthy, MD, chief of radiology research and cardiac imaging at Texas Children's Hospital in Houston.
"This is the first time we've tried to represent the entire anatomy of the babies in a single model," he told Medscape Medical News. The model involved skeletal, cardiovascular, blood vessels, gastrointestinal, and gynecologic structures.
Dr Krishnamurthy described the procedure during a news conference here at the Radiological Society of North America 2015 Annual Meeting.
The twins, Knatalye Hope and Adeline Faith Mata, were born on April 11, 2014. They were connected from the chest to the pelvis, but had separate brains and hearts.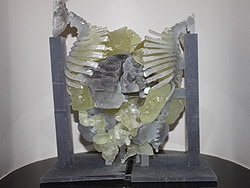 "We didn't start out saying we wanted to make this amazing 3D print," Dr Krishnamurthy explained. "But once we had all the pieces of information, we realized it is now feasible with technology to do a print that incorporated all of that."
The team started imaging for the model when the twins were about 5 months old.
The radiologists used a technique called target mode prospective ECG gating to freeze the motion of the hearts and the lungs on the images. They were then able to get a detailed view of the cardiovascular anatomy while keeping exposure to radiation low.
Intravenous contrast was separately administered to both girls, but oral contrast was administered to only one of them. The model was able to show how blood would flow to each organ in each girl.
From the first imaging session, the model took about 3 weeks to complete, which included a week of manufacturing at a Dallas company. The cost for materials and printing time was about $4000, Dr Krishnamurthy reported. Different colors and textures were used to represent bones, organs, and blood vessels.
The model was designed to be taken apart along the surgical lines of separation. Doctors could remove single parts and look at the underlying anatomy.
26-Hour Surgery
The central model was essential in offering a common reference point in planning meetings, said Dr Krishnamurthy. The 26-hour surgery was completed on February 17 by 12 surgeons, six anesthesiologists, and eight nurses.
Both girls are thriving, and they are getting follow-up orthopedic care, he said.
The information a model like this adds is invaluable for surgical teams and for patient and family comprehension, Dr Krishnamurthy said.
"We were able to use it to explain the procedure to the parents and the team members. I can tell you that the mom, after she saw the model, said, 'For the first time, I really understand what's going to happen to my babies.' This was after 3 months," he said.
"In the future, this will be a standard process for every conjoined twin separation," he predicted.
Video courtesy of Texas Children's Hospital.
Radiological Society of North Amserica (RSNA) 2015 Annual Meeting: Abstract SSM20-01. Presented December 2, 2015.
Medscape Medical News © 2015

Cite this: CT and 3D Printing Help Teams Separate Conjoined Twins - Medscape - Dec 02, 2015.