Obesity and stress are the two main drivers of early puberty in girls, and early puberty comes with physical and psychologic repercussions, said Louise Greenspan, MD, a pediatric endocrinologist at Kaiser Permanente in San Francisco.
Girls who hit puberty early are "at higher risk of being depressed, developing an eating disorder, abusing drugs, and engaging in sexual behavior earlier," Dr Greenspan told attendees at TEDMED 2015 in Palm Springs, California.
And as adults, those girls have a higher risk for breast cancer and heart disease, she added.
The decrease in the average age of puberty has been very gradual, but probably started in the 1980s, she told Medscape Medical News.
Puberty refers to breast budding and pubic hair; it does not begin, as is popularly thought, with the first period.
"We used to say that breast development and pubic hair should not start before age 8. What we know now is that 15% of girls at age 7 are showing breast development," Dr Greenspan reported.
On average, the first period happens about age 12, she pointed out.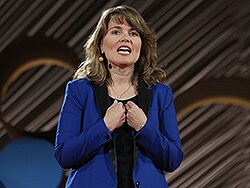 Girls from racial and ethnic groups with the highest rates of obesity are most at risk for early puberty, according to research Dr Greenspan was involved in (Pediatrics. 2013;132:1019-1027). In that study, black girls showed breast budding at an average age of 8.75 years, Hispanic girls at an average age of 9.25 years, and white and Asian girls at an average age of 9.75 years.
Body fat makes estrogens, which are the same kind of hormone that are normally released from the ovaries during puberty. When there is more body fat, there are higher levels of estrogen, which leads to breast budding.
In the United States, the rate of children 6 to 11 years of age who are obese increased from 7% in 1980 to nearly 18% in 2012, according to a report from the Centers for Disease Control and Prevention. And during the same period, the rate of adolescents 12 to 19 years of age who were obese increased from 5% to nearly 21%.
High Stress Also a Culprit
What we know now is that 15% of girls at age 7 are showing breast development.
Stress is a factor in early puberty, Dr Greenspan explained. Other risk factors are early sexual abuse and toxic levels of family arguments and neighborhood violence.
"Most notably, a girl who grows up without her biological father is twice as likely to get her period before age 12 as a girl who lives with her biological father," she said.
Dr Greenspan said this is likely the result of the continual low-grade stress that families without a father have to deal with.
"The theory of an evolutionary application is that your body may try to get to its reproductive age sooner because it thinks you're going to die sooner," she said.
People are too quick to blame the endocrine-disrupting chemicals commonly found in plastics and pesticides for early puberty, she added.
These chemicals can mimic hormones in the body, and some mimic hormones that are important regulators of puberty, particularly estrogen. But it is almost impossible to eliminate endocrine-disrupting chemicals from our environment, and there is no single smoking gun, she explained.
Although she is concerned about the harmful effects of these chemicals, Dr Greenspan noted that "a much more effective public health intervention would be to try to tame the obesity epidemic and put some greater social infrastructure in place to buffer children from the stresses of poverty."
Dr Greenspan is coauthor of a book entitled The New Puberty.
TEDMED 2015. Presented November 20, 2015.
Medscape Medical News © 2015 WebMD, LLC

Send comments and news tips to news@medscape.net.
Cite this: Obesity and Stress May Push Girls' Puberty Earlier - Medscape - Nov 23, 2015.