A brief checklist may help determine whether Lewy body pathology is contributing to dementia, new research suggests.
The new tool could go a long way to finding answers for patients and families, who now wait up to 18 months to get a correct diagnosis, according to the test's developer, James E. Galvin, MD, associate dean for clinical research, Florida Atlantic University, Boca Raton.
Recent disclosure by Susan Schneider, wife of comedian Robin Williams, who was diagnosed with depression and Parkinson's disease (PD) before committing suicide last year, that he had signs on autopsy of Lewy body dementia (LBD) has put the disease squarely in the public eye.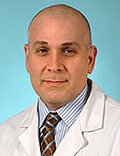 LBD includes both dementia with Lewy bodies (DLB) and Parkinson's disease dementia. The new test, called the Lewy body composite risk score (LBCRS), was derived from clinical features in autopsy-verified cases of healthy controls, Alzheimer's disease (AD), DLB, and PD with and without dementia.
It was recently tested and validated in a cohort of 256 patients, the results of which were published in the September issue of Alzheimer's & Dementia: Diagnosis, Assessment & Disease Monitoring.
Core Criteria
Core diagnostic criteria for LBD include progressive dementia; Parkinson features; visual hallucinations; positive fluctuations (spontaneous changes in alertness, attention, and concentration) and rapid-eye-movement sleep behavior disorder (eg, acting out dreams).
The problem, says Dr Galvin, is that some of these symptoms, for example sleep behavior disorder, are difficult to "operationalize" and apply in clinical practice. That's why he developed the tool, which takes about 3 minutes to complete.
The test consists of 10 yes-or-no questions: 4 covering motor symptoms (slow movements, rigidity or stiffness, balance problems with or without falls, and a resting tremor) and 6 covering nonmotor symptoms (excessive daytime sleepiness, episodes of illogical thinking, frequent staring spells, visual hallucinations, acting out dreams, and orthostatic hypotension).
The test is scored on a continuous scale with a range of 0 to 10. "You simply check present or not present and add up the number of yeses, and three or more yeses suggests that Lewy bodies are the underlying cause of the dementing process," said Dr Galvin.
Table. LBCRS Components
Please rate the following physical findings being present or absent for the past 6 months and symptoms as being present or absent for at least 3 times over the past 6 months. Does the patient…
Yes
No
Have slowness in initiating and maintaining movement or have frequent hesitations or pauses during movement?
Have rigidity (with or without cogwheeling) on passive range of motion in any of the 4 extremities?
Have a loss of postural stability (balance) with or without frequent falls?
Have a tremor at rest in any of the 4 extremities or head?
Have excessive daytime sleepiness and/or seem drowsy and lethargic when awake?
Have episodes of illogical thinking or incoherent, random thoughts?
Have frequent staring spells or periods of blank looks?
Have visual hallucinations (see things not really there)?
Appear to act out his/her dreams (kick, punch, thrash, shout or scream)?
Have orthostatic hypotension or other signs of autonomic insufficiency?
Total

Copyright 2015 The Lewy Body Composite Risk Score, James E. Galvin
For the validation study, participants were drawn from a consecutive series of referrals to a dementia specialty practice at NYU Medical Center from September 2013 to December 2014. This "real-world" clinic sample included participants of both sexes and various levels of education; comorbidities; behavioral, affective, and motor symptoms; and diagnoses.
The LBCRS was completed after a comprehensive evaluation that included the clinical dementia rating and its sum boxes, as well as gold standard measures of cognition, motor symptoms, function, and behavior. Caregivers completed evaluations to determine the presence and severity of noncognitive symptoms observed in the patient and their effects on the caregiver.
On the basis of receiver-operating characteristic curves from this validation study, scores differentiate with cutoffs of 0 to 2 for non-Lewy body cases and 3 to -10 for probable Lewy body cases.
Dementia Discrimination
Using the cutoff of 3 or greater, the LBCRS was able to discriminate DLB from AD, with an area under the curve (AUC) of 0.94 (95% confidence interval, 0.90 - 0.97; P < .001), sensitivity of 94.2%, specificity of 78.2%, positive likelihood ratio of 4.1, and negative likelihood ratio of 0.08.
"These data support LBCRS should greatly facilitate differentiating between the two most common dementia etiologies," Dr Galvin writes.
The tool was also able to discriminate DLB from any dementia, with an AUC of 0.94, sensitivity of 97.9%, specificity of 86.1%, positive likelihood ratio of 7.0, and negative likelihood ratio of 0.02.
Such a test might speed up a diagnosis of DLB and spare families a lot of strain and patients possible harm. An earlier study showed that these patients "had to see multiple doctors over multiple visits and 50% of the time they got a wrong diagnosis that eventually had to be corrected," said Dr Galvin.
He added that half of the wrong diagnoses weren't harmful, but the other half could have been. For example, some patients were diagnosed with a psychiatric disorder, such as schizophrenia "even though they were in their 70s and 80s," and were put on the antipsychotic haloperidol, which is "potentially harmful and possibly fatal in this population," he said.
Some patients were never given a diagnosis at all, even after seeing multiple doctors. "People were wondering what was going on and nobody was there to help them," said Dr Galvin.
The new tool could be used in the research setting, helping to establish inclusion and exclusion criteria, he said.
Robin Williams
Although he was never Robin Williams' healthcare provider and never examined him, Dr Galvin did see the autopsy report confirming DLB and knows something about the circumstances surrounding the actor's death.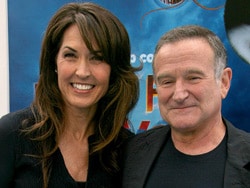 Williams didn't know he had DLB. He had been diagnosed with depression and then PD, was experiencing sleep disturbances and confusion, and was about to undergo additional testing, according to Dr Galvin.
It's "probable" that had the new tool been available, it "would have assisted in establishing the diagnosis" in this case, he said.
"If you try to diagnose each of those individual symptoms, it's going to be really difficult, but if you think about it from this checklist perspective, he had the slowness in movement; he had some of the stiffness; he had periods where he seemed to have illogical or incoherent thoughts; he had blank looks; he was having sleep disturbances. That's five questions, so there would have been five yeses; statistically that would have helped make the diagnosis."
But would it have saved his life? "While Lewy body dementia itself doesn't increase the risk for suicide, if you have someone who is not correctly diagnosed or isn't completely diagnosed and they don't know what's going on, they can make decisions that can be harmful to themselves," said Dr Galvin.
Shortly after Williams' widow discussed her husband's illness publicly on Good Morning America earlier this month, calls came in to the Atlanta offices of the Lewy Body Dementia Association (LBDA) from multiple other media requesting interviews. This reportedly caused the website (www.lbda.org) to temporarily crash, the association noted in a release issued November 4.
"The LBDA has diligently shared this and other news about LBD for years to educate the healthcare community and families, but awareness has been slow in coming," said Michael Koehler, president of LBDA's board of directors in the association's statement. "Because Robin Williams was such a universally beloved actor and comedian, Susan Williams' story has a significant impact in expanding awareness."
LBD affects more than 1.3 million Americans but is less common than AD. "For every person with Lewy body dementia, there are probably five with AD," said Dr Galvin.
But as with AD, the prevalence of LBD is expected to rise with the aging population.
An international meeting of Lewy body dementia experts is to take place in Fort Lauderdale, Florida, December 2–4.
Test Promising
For a comment, Medscape Medical News asked Douglas Galasko, MD, from the University of California at San Diego (UCSD). Dr Galasko is director of the UCSD Alzheimer's Disease Research Center, a member of the Alzheimer's Disease Cooperative Study, a consortium of medical centers that conducts clinical trials in AD and, in clinical practice, provides expert evaluation and comprehensive care for patients with memory and cognitive disorders, including DLB.
Dr Galvin has assembled questions about symptoms and neurologic signs that are frequently found in DLB into a brief questionnaire, commented Dr Galasko.
"The study is well designed and the properties of the questionnaire have been analyzed in depth," he said. "Initial testing looks quite promising, with a cutoff point that is sensitive and accurate and can be achieved through various combinations of findings. "
The tool, said Dr Galasko, could be adapted for use in the initial screen of someone with cognitive symptoms or for use in a movement disorders clinic.
This project was supported by grants from the National Institutes of Health, the New York State Department of Health, the Morris and Alma Schapiro Fund, and the Michael J. Fox Foundation. Dr Galvin serves as an investigator in clinical trials sponsored by the National Institutes of Health, Merck, Eli Lilly, Takeda, Zinfandel, Neuronix, Lundbeck, and Medivante and receives licensing fees from Novartis, Pfizer, and Eisai for co-creation of the AD8 dementia screening tool. The LBCRS is a copyrighted instrument of Dr Galvin.
Alzheimers Dementia. 2015;1:316-324. Abstract
Medscape Medical News © 2015 WebMD, LLC

Send comments and news tips to news@medscape.net.
Cite this: Three-Minute Test for Lewy Body Dementia - Medscape - Nov 16, 2015.