ORLANDO, FL — Transvenous pacemaker leads pose a number of potential challenges and risks, including serious infection, so several alternative strategies—such as subcutaneous leads in the case of implantable defibrillators and, more recently, leadless pacemakers—are taking hold. In a large, prospective trial with historical controls, the Micra Transcatheter Pacemaker System (Micra TPS, Medtronic) appeared to perform as safely and effectively as standard pacemaker systems and may have an edge by avoiding some complications associated with transvenous leads[1].
Both the Micra and the similarly featured Nanostim (St Jude Medical), currently undergoing scrutiny in a large prospective study[2], are limited in functionality compared with the transvenous pacemaker systems that dominate clinical practice. But some proponents say that isn't their main point; rather, they see them as a baby step toward an era in which most pacemaker implants are free of the complexities and potential hazards of conventional lead systems.
Both the Micra and the Nanostim are investigational in the US but approved in Europe; with the current Micra TPS study, there is now large-trial, peer-reviewed evidence for solid performance from both devices.
In the current analysis based on the Micra TPS Global Clinical Trial, for example, the rate of successful implantation was 99% and major complications were seen in 4% of the approximately 700 patients. The major complication rate in the propensity-matched historical controls was almost twice that, at 7.4% (P=0.001).
The Micra was also associated with about 40% as many hospitalizations, an 88% drop in rate of "system revisions," and no cases of pneumothorax or dislodgments from its anchored position within the right ventricle, usually at the apex.
An interim report on an early 160-patient series from the Micra cohort was presented at a meeting earlier this year and reported then by heartwire from Medscape.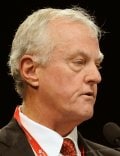 Dr Dwight W Reynolds (University of Oklahoma HSC, Oklahoma City, OK), presenting the study here at the American Heart Association (AHA) 2015 Scientific Sessions, was quite bullish on the technology, calling the leadless pacing device "a potentially disruptive therapy."
"The concept of transcatheter leadless pacing has been a vision for the past 35 years, and it looks as though we're finally getting there," according to Reynolds, who is also lead author on the New England Journal of Medicine publication of the study, released to coincide with his AHA presentation.
"While the study has been very successful for the patient population it was designed to be implanted in, we have to recognize that it was a highly select population," observed Dr Sanjay Dixit (University of Pennsylvania, Philadelphia), the invited discussant after Reynolds' presentation. The clinical need for single-chamber pacing is limited, and the study excluded some common comorbidities, he said.
Also, ventricular perforation complicated the implantation procedure in 11 patients (1.6%), observed Dixit. Whereas 11 cases appears to be few in a study of this size, and though it was comparable to the controls, "based on our own anecdotal experience in implanting pacemakers, it seems to be somewhat high to have that level of cardiac perforation, and maybe that's something that can be improved on."
An editorial accompanying the Reynolds et al paper discussed the current state of catheter-delivered, leadless pacemakers and analyzed the current Micra analysis in the context of the ongoing Nanostim study, LEADLESS II[3]. Nanostim has also been associated with perforations.
"The short-term performance of the leadless pacemakers (at 6 months), including the persistence of good thresholds and sensing, proved to be excellent in both studies," according to the editorial from Dr Mark S Link (Tufts Medical Center, Boston, MA). They showed similar complication rates compared with historical, primarily dual-chamber pacemaker controls, he observed.
"These two studies demonstrate that leadless pacing is feasible and relatively safe, at least in the short term. Whether the long-term results will show that these devices remain safe and effective over time and that these leadless devices are as durable as transvenous pacemakers remains to be seen."
The Micra study enrolled 744 patients from across the globe—North America, Europe, Asia, and Australia—who met class I or II guideline indications, had not before received a pacemaker or defibrillator implant, and were considered good candidates for VVI pacing.
Micra implantation was attempted in 725 patients (mean age 76, 58% male) and was successful in in 719. The main indications were persistent or permanent atrial tachycardia (64%), sinus node dysfunction (17.5%), or atrioventricular block (14.8%).
Transcatheter access was from the femoral vein and the device was anchored to the right ventricular endocardium at the apex in 66%, septum in 33%, and the right ventricular outflow tract in 1%; procedure time averaged 28 minutes.
Over a mean follow-up of 4.4 months, 96.0% of 725 patients displayed the primary safety end point of freedom from system-related major complications (death, permanent loss of therapy, hospitalization, prolonged hospitalization, or system revision), significantly higher (P<0.0001) than the performance goal of >90%. There were no dislodgments and no systemic infections.
Of the 297 patients evaluated for the 6-month efficacy end point, demonstration of low and stable pacing capture thresholds (≤2 V and no increase of >1.5 V relative to levels at implantation) was achieved by 98.3%, significantly more (P<0.0001) than the 89% performance goal.
In the 725 patients at 6 months, there were 28 major complications in 25 patients, including cardiac perforation in 1.6% and AV fistula or pseudoaneurysm in 0.7%. Others occurring at rates of about 0.1% each included deep vein thrombosis, pulmonary embolism, acute MI, pacemaker syndrome, and syncope.
Compared with the prespecified control cohort of 2667 patients from six clinical trials of available transvenous pacemaker devices, the hazard ratio (HR) for major complications was halved for those receiving the Micra, 0.49 (95% CI 0.33–0.75, P=0.001). The significant reduction held for most analyzed subgroups, including by age, sex, and whether or not the patient had diabetes, atrial fibrillation, hypertension, chronic obstructive pulmonary disease, left bundle branch block, or valve disease.
"Although these new devices will probably be associated with a lower overall risk of infection, infections will occur, and the removal of an infected leadless device may prove to be challenging," according to Link in his editorial. The long-term risk of dislodgement isn't known and is a "potential concern," he writes.
"Even if their long-term efficacy and safety are established, the current generation of leadless devices is unlikely to supplant traditional lead-containing transvenous pacemakers for most indications."
Confined to VVI pacing, writes Link, "these leadless pacemakers will have limited usefulness in the treatment of the majority of pacemaker recipients, including patients with sinus-node dysfunction or heart block, and they will have no role in the treatment of patients with heart failure who need left ventricular resynchronization to improve cardiac output."
Still, Link says the Micra and Nanostim "have encouraging short-term results that show the promise of leadless pacing."
The Micra study was supported by Medtronic. Reynolds discloses receiving research grants from Medtronic and Biotronik, serving with the speaker's bureau for Medtronic and the Sorin Group, and consulting or serving on an advisory board for Medtronic. Disclosures for the coauthors are listed on the journal website. Link has reported he has no relevant financial relationships.
Heartwire from Medscape © 2015  Medscape, LLC

Cite this: Micra Leadless Pacemaker Upholds Promise in Prospective Study - Medscape - Nov 16, 2015.