Telling Patients No Isn't So Easy
"The art of leadership is saying no, not saying yes," said former British prime minister Tony Blair. "It is very easy to say yes."
Primary care physicians (PCPs) know this all too well.
"Studies, medical societies, and position papers are unanimous in their condemnation of inappropriate antibiotic prescriptions for an uncomplicated URI, but not a single voice tells us HOW to do that," complained Dike Drummond, MD, a family doctor in the Seattle area, in his blog The Happy MD.[1]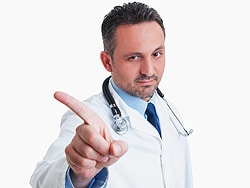 Indeed, a survey of 150 members of a state medical society (it was unnamed)—with over half of the participating doctors reporting that their compensation was linked to patient satisfaction ratings—found that almost half believed that pressure to obtain better scores promoted inappropriate care, including unnecessary antibiotic and opioid prescriptions, tests, procedures, and hospital admissions.[2]
A study of 192 PCPs sought to estimate the effect of patient requests for medications on physician prescribing behavior.[3] Participants viewed two video-based scenarios: one of an undiagnosed "patient" with symptoms strongly suggesting sciatica, the other of a "patient" with already diagnosed chronic knee osteoarthritis (OA). Half of the patients with sciatica symptoms requested oxycodone; half requested something to help with pain. Half of the knee OA patients requested celecoxib; half made a general request for pain medication.
The results showed that more physicians gave oxycodone to those patients who requested it, compared with 1% of those making no specific request.[3] "In both scenarios, activated patient requests for a medication substantially affected physician-prescribing decisions, despite the drawbacks of the requested medications," the researchers concluded.[3]
"The prioritization of the subjective experience of pain has been reinforced by the modern practice of regularly assessing patient satisfaction," Anna Lembke, MD, a psychiatrist at Stanford University Medical Center, observed in the New England Journal of Medicine.[4] Patient rating websites have become very popular and may have a large influence, and doctors who don't accede to patient requests may be rated poorly, ultimately affecting their reimbursement and job security.
But it isn't just patients seeking narcotics for pain or antibiotics for viral infections who are putting doctors in the awkward, discomfiting, sometimes untenable position of saying "no." Some patients demand expensive imaging tests that aren't indicated. Others want diet pills when they aren't overweight. Some want drugs that they see advertised on TV whether or not they are indicated and with no idea of the cost, which may be substantial. Some want appointments that aren't necessary and can't easily be accommodated in a doctor's busy schedule.
How do you tell such patients "no" in a nice way that minimizes your risk of being trashed online, receiving a low score on a patient survey, or inciting the patient to switch physicians? Let's take a look.
Medscape Business of Medicine © 2016 WebMD, LLC

Any views expressed above are the author's own and do not necessarily reflect the views of WebMD or Medscape.
Cite this: Neil Chesanow. 10 Ways to Say No to Patients -- and Still Keep Them Smiling - Medscape - Feb 17, 2016.