Three months of clopidogrel given on top of aspirin was associated with a reduced frequency of migraine in patients who had undergone transcatheter closure of an atrial septal defect (ASD) in the CANOA study[1].
The study, was presented at this week's American Heart Association (AHA) 2015 Scientific Sessions by Dr Josep Rodés-Cabau (Quebec Heart and Lung Institute, QC).
He commented to heartwire from Medscape: "We found that the addition of clopidogrel to aspirin following transcatheter ASD closure resulted in a significant reduction in migraine."
He noted that while some centers are already using clopidogrel on top of aspirin in these patients, others are just using aspirin alone. "We believe that with these results clopidogrel should now be given routinely as well as aspirin after ASD closure," Rodés-Cabau added.
He explained that migraine is a well-known complication of ASD closure. Previous preliminary retrospective reports have suggested a reduction in migraine with clopidogrel in this population, but there have not been any definite data. "This study provides now provides that definitive data."
For the study, which was published online in the Journal of the American Medical Association to coincide with its AHA presentation, 171 patients (mean age 49) undergoing ASD closure with no history of migraine were randomized to receive dual antiplatelet therapy (aspirin + clopidogrel) or single antiplatelet therapy (aspirin + placebo) for 3 months following transcatheter ASD closure.
The primary efficacy outcome was the monthly number of migraine days within the 3 months following ASD closure. These were reduced from 1.4 in the placebo group to 0.4 in the clopidogrel group (P=0.04).
There was also a lower incidence of migraine attacks following ASD closure in the clopidogrel group—9.5% vs 21.8% with placebo (P=0.03).
In addition, among patients with migraines, those in the clopidogrel group had less severe migraine attacks. No patient in the clopidogrel group had moderately or severely disabling migraine attacks compared with 37% of the placebo group (P=0.046).
There were no between-group differences in the rate of patients with at least one adverse event—16.7% in the clopidogrel group vs 21.8% in the placebo group (P=0.44).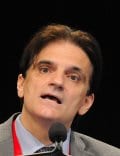 The researchers are continuing to follow patients in the study for up to 1 year. Rodés-Cabau said: "We want to know whether 3 months treatment is enough. In prior studies, most migraines subside over time. They do appear to be a direct consequence of the procedure. We believe the device is fully endothelialized by 3 months, and it is rare to see migraines at 5 or 6 months, but we are interested in studying in which patients the migraines persist and in whom they disappear."
Mechanism?
On the mechanism, he noted: "We don't know the exact pathology underlying these migraines, but as clopidogrel showed benefit in this study, a prothrombotic mechanism is likely, although clopidogrel also has anti-inflammatory and vasoprotective effects."
He reported that several studies have showed an increase in platelet aggregation in migraine patients or during migraine episodes, and there is also a relationship between migraine and stroke. However, two randomized studies of antithrombotic therapy—one with clopidogrel and one with warfarin—were both negative. But it is thought that in this patient group, the closure device generates a thrombotic phenomenon.
Rodés-Cabau raised the question of whether the results could be extrapolated to the pediatric population. He said: "I cannot make recommendations on this because we enrolled only adults in our study, but the problem of ASD is the same in children and the same devices are used for closure, so I would think more centers will start using clopidogrel in the pediatric ASD closure population, too. We will in our hospital."
Discussant of the paper at the AHA, Dr Jinnette Dawn Abbott (Warren Alpert Medical School of Brown University, Providence RI), noted that many centers have already adopted the practice of 3 to 6 months of dual antiplatelet therapy based on the time course of device endothelialization and adapting from practices with other devices such as stents and transcatheter aortic-valve implantation (TAVI) valves.
She said the mechanism by which ASD closure triggers migraine attacks is likely multifactorial. This could include microthrombi on the left atrial surface of the device with release of serotonin or cerebral embolization; atrial stretch releasing vasoactive substances; nickel release; and changes in ocular hemodynamics.
She added while dual antiplatelet therapy can reduce microthrombi, it is not surprising that it does not completely abolish migraine attacks.
Implications for PFO closure?
In the paper, the researchers point out that there is an association between interatrial shunts such as patent foramen ovale (PFO) and migraine, although trials of PFO closure have provided controversial results, with negative or borderline primary outcomes, but some positive secondary outcomes.
They write: "Although the pathophysiology linking interatrial shunts and chronic migraine headaches is probably different from the one linking ASD closure with new-onset migraines, the results of this trial should be considered when designing or analyzing the results of past, current, and future studies assessing the efficacy of interatrial shunt closure for the treatment of migraine."
Responding to this for heartwire , Dr Bernhard Meier (University Hospital, Bern, Switzerland) pointed out that the PFO-closure migraine data typically analyze the migraine status long after cessation of clopidogrel. He added that the randomized PFO-migraine trials (MIST, PRIMA, and PREMIUM) did suggest some benefits of PFO on migraine, and "it is well possible that the current trial would have confirmed this had migraineurs been included rather than excluded and had the follow-up been extended beyond the clopidogrel treatment period."
Rodés-Cabau replied that patients with migraine before the ASD closure in the current study were included in a separate registry study.
Also commenting for heartwire , Dr David Hildick-Smith (Royal Sussex County Hospital, Brighton, UK) noted that other unpublished studies suggest that prasugrel (Effient, Lilly/Daiichi-Sankyo) or clopidogrel responsiveness pre-PFO closure may determine responsiveness to PFO closure for migraine, and this is being tested in other ongoing studies.
This study was funded by unrestricted grants from Sanofi and St Jude Medical and a grant from the Foundation of the Quebec Heart and Lung Institute. Rodés-Cabau reports no relevant financial relationships. Disclosures for the coauthors are listed in the paper.
Heartwire from Medscape © 2015 Medscape, LLC

Cite this: CANOA: Clopidogrel Reduces Migraine After ASD Closure - Medscape - Nov 10, 2015.