ORLANDO, FL – A phase 2 study of the oral soluble guanylate-cyclase (sGC) stimulator vericiguat (Bayer/Merck) did not meet its primary end point of reducing N-terminal pro-B-type natriuretic peptide (NT-proBNP) in stable patients with worsening chronic heart failure and reduced ejection fraction when all doses were combined, but it did suggest safety and efficacy in its 10-mg subgroup[1].
The SOCRATES-REDUCED trial consisted of 456 patients randomly assigned to standard therapy plus placebo or one of four daily doses of vericiguat ranging from 1.25 mg to 10 mg. Primary analysis of improvement in NT-proBNP after 12 weeks of treatment in the pooled group of those receiving vericiguat at 2.5 mg, 5 mg, and 10 mg was not statistically different from those who received placebo.
However, in prespecified secondary analysis, the 10-mg subgroup had significantly greater reduction in NT-proBNP than the placebo group (P=0.048), as well as greater improvement in LVEF (P=0.02).
In addition, any adverse event was actually greater in the placebo group vs the 10-mg group (77.2% vs 71.4%, respectively), as was any serious adverse event (39.1% vs 31.9%).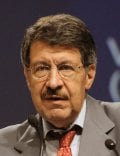 "Although the primary end point was not achieved compared with placebo, patients receiving the high dose of vericiguat experienced greater improvements," lead author Dr Mihai Gheorghiade (Northwestern University Feinberg School of Medicine, Chicago, IL) said to attendees at a press briefing here at the American Heart Association (AHA) 2015 Scientific Sessions, adding that a large, phase 3 study is now warranted. The study results were simultaneously published in the Journal of the American Medical Association.
Moderator and former AHA president Dr Mariell Jessup (Hospital of the University of Pennsylvania) voiced caution about the results, noting that that while vericiguat isn't yet ready for prime time, it shouldn't be completely dismissed.
"I think there's some promise there, although I was a little disappointed in the trial results," she told heartwire from Medscape. "Still, I think it's a necessary first step."
Moving Forward
Participants in SOCRATES-REDUCED were enrolled at 144 sites in 24 countries between November 2013 and January 2015. All had LVEF <45% within 4 weeks of a worsening chronic HF event, defined as congestion, increasing symptoms requiring hospitalization or an outpatient intravenous diuretic, and increased NP levels.
The patients were randomly assigned to receive vericiguat for 12 weeks daily at maximal doses of 1.25, 2.5, 5, or 10 mg (n=91 in each group) or to placebo (n=92). The three highest-dose groups started at 2.5 mg at baseline and were titrated up to the assigned targets.
The difference in mean NT-proBNP-level change between baseline and study end was not significant in the pooled vericiguat group vs the placebo group (P=0.15). However, a dose-response relationship was suggested in secondary analyses (P<0.02).
While the 10-mg group had significantly greater decreases in NT-proBNP levels (difference of means -0.25) vs placebo, there were no differences between placebo and any of the other three treatment dosing groups.
LVEF increased more at 12 weeks in the highest-dose group vs placebo (by 3.7% vs 1.5%), "which was a very early time point for this," said Gheorghiade.
In other exploratory end points, HF hospitalization by 12 weeks was lower in the 5-mg and 10-mg groups (9.9% in both) compared with the placebo group (17.4%), as was a composite of CV mortality or HF hospitalization (11%, 12.1%, and 19.6%, respectively). However, Gheorghiade noted that the study wasn't actually powered for clinical events.
There were no differences between those receiving 10-mg vericiguat and those receiving placebo for heart rate and systolic and diastolic blood-pressure changes or effects on renal function or troponin release.
Although there were more reports of treatment-related hypotension in the 10-mg group (15.4% vs 6.5%), this occurred for most of the members while still at the 2.5-mg dose before titrating up to 10 mg. Only two patients stopped their participation because of hypotension, neither of who were in the 10-mg group.
Gheorghiade said it's too early to say whether there's a place for this drug yet. "But with these results, it wouldn't be very wise to not move forward."
A First Step
"I do think lowering NT-proBNP is probably an indication that things are going all right," moderator Jessup said. "But we can't use [the findings] as anything other than a first step. And I think we do need to move on to a new trial."
She noted that she didn't see any signal that the investigators should go back to the drawing board. In fact, "I think it's worthwhile to continue to explore," especially in this particular patient population, concluded Jessup.
Douglas and Jessup reported no relevant financial relationships. Disclosures for the coauthors are listed in the article.
Heartwire from Medscape © 2015  Medscape, LLC

Cite this: Vericiguat Misses Primary End Point of Lower NT-proBNP in Chronic Heart-Failure Patients - Medscape - Nov 09, 2015.