ORLANDO, FL – Significant gender disparities exist between women and men in the field of cardiology when it comes not only to salaries but also job characteristics and specialization, according to new research[1].
The study of 2679 US cardiologists showed that 53.1% of the 229 women vs 28.2% of the 2450 men specialized in general/noninvasive cardiology and 11.4% vs 39.3%, respectively, had an interventional subspecialty.
The mean salary for women was $400,162 (median $394,586) vs $510,996 (median $502,251) for men.
Women worked significantly fewer half-days than men (387 vs 406, respectively, P=0.001), and fewer women worked full-time (79.9% vs 90.9%, P<0.001). Still, "based on measured job and productivity characteristics, the women in this sample would have been expected to have a mean salary that was $31,749 higher than that actually observed," note the investigators.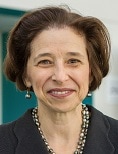 Senior author Dr Pamela Douglas (Duke Clinical Research Institute, Durham, NC) told heartwire from Medscape that most studies have shown that women across professions are paid less than men, "so that wasn't a surprise." But they were interested in also examining and controlling for a wide spectrum of job factors.
"We were surprised to see how different job descriptions were between male and female cardiologists, and how few women actually worked part-time," said Douglas. "People say women are paid less because they don't work as hard or they take time off because they have families. But that's not true. Women are working long hours."
The findings were presented here today at the American Heart Association (AHA) 2015 Scientific Sessions and simultaneously published in the Journal of the American College of Cardiology.
Not Welcoming?
"Part of the genesis for the study was a continuing concern for the cardiology workforce," said Douglas. "Almost half of medical residents are female, yet we have plateaued at about 15% to 20% female cardiology fellows for at least 10 years. So we're missing out on a big chunk of the talent pool that could come into the profession."
She added that having a more diverse provider group would help give the best care for an increasingly diverse patient population. "To make sure that we're doing the best we possibly can for the profession, we want to make sure it's welcoming to everybody."
In the study, investigators assessed data collected by the cardiology-practice–based provider MedAxiom. Self-reports were filled out by 2679 cardiologists from 161 community practices in 2013. Of these, 56% of women and 39% of men were between aged 24 and 48 years at baseline, 29% and 35% were between 49 and 58 years, and 15% and 26% were 59 years or older.
A total of 67.5% of women vs 83.9% of men reported full on-call responsibilities, while 17.5% vs 7.2% reported doing no on-call. Women also had significantly fewer mean work relative value units (wRVUs; 7404 vs 9497, respectively) and fewer new patient office visits (167 vs 180).
Although women were less likely than men to implant pacemakers or perform catheterizations (both P<0.001), they were more likely to perform single-photon emission computed-tomography (SPECT) scans (P=0.04) and stress echocardiograms (P=0.01).
Interestingly, "for most of the services evaluated, procedure volumes were similar for men and women who had performed at least five of those services in the preceding year," write the investigators. However, the number of hospital visits, outpatient pacemaker checks, and catheterizations were fewer for women per physician annual volumes.
A "Workforce Issue"
There were no significant differences between the slope of association between compensation and wRVUs between women and men ($34.36 vs $32.47, respectively). However, a significant difference in the intercepts was found (P=0.03), suggesting "a difference in compensation by gender that was not fully explained by wRVUs," write the researchers.
The Peters-Belson analysis, which plugged data into a compensation model for men, showed that the women should have had a mean salary based on their productivity and other factors of $432,631—if they had been male. However, the analysis showed an actual salary for women of $400,882.
"Although some of the overall difference in salary . . . can be explained by differences in work performed, a substantial difference remains even after detailed measurement of procedural volumes, on-call coverage, and other work activities," write the investigators.
"The magnitude of the salary difference is remarkably constant when analyzed in different, independent ways," they add.
Douglas noted that the most important thing is recognizing that there's a problem. "People ask: What are women in cardiology doing about this? But this isn't about the women. This is a workforce issue for the profession to make sure we have the talent and diversity we need to be the best we possibly can."
In other words, she said, this isn't a men-vs-women issue; it's about how best to help the field. "Each individual practice or group should look very carefully at how they compensate all their people."
Douglas reports no relevant financial relationships. Disclosures for the coauthors are listed in the article.
Heartwire from Medscape © 2015 Medscape, LLC

Cite this: Pay, Types of Procedures, and Subspecialties Differ for Female vs Male Cardiologists - Medscape - Nov 08, 2015.