ORLANDO, FL – A follow-up protocol that included remote monitoring of patients with heart failure did not reduce hospital readmissions at 6 months compared with patients discharged from the hospital and treated with usual care, a new study shows.
In addition, the intervention, which included predischarge heart-failure education, regularly scheduled telephone coaching, and remote monitoring of weight, blood pressure, heart rate, and symptoms, did not have any significant effect on hospital readmission rates in the first 30 days or mortality rates at 6 months.
These are the main conclusions of the Better Effectiveness After Transition—Heart Failure (BEAT-HF) study, presented here today during the late-breaking clinical trials session at the American Heart Association (AHA) 2015 Scientific Sessions. Dr Michael Ong (University of California, Los Angeles), lead investigator, said that although there were slivers of optimism when looking at the data, overall the results do not support widespread use of the intervention.
"I think part of it is adherence," Ong told heartwire from Medscape. "When we look at the individuals who are adherent, they seemed to accrue substantial benefit from monitoring. In terms of the way we designed the study, it was designed as an effectiveness study. In small trials, we've already seen it's efficacious to give people these telemonitoring devices. We wanted to see what would happen if you gave them to basically everybody. Looking at these results, though, I don't think that this is the type of technology that we would necessarily recommend giving out to every single patient discharged from the hospital."
The remote-monitoring intervention included education and regularly scheduled telephone coaching calls with a registered nurse. Patients were called by the nurse 2 to 3 days after hospital discharge and each week for the first month (with monthly calls through 6 months).
Telemonitoring included a Bluetooth-enabled weight scale and blood-pressure/heart-rate monitor integrated with a text device that sent the information to a centralized call center for review. If predetermined thresholds were exceeded, the patient was called. Also, if significant symptoms were reported, the patient's heart-failure physician was notified and the patient was sent to the emergency department, if necessary.
The BEAT-HF Study
In total, 1437 individuals 50 years of age and older, all of whom were receiving treatment for decompensated heart failure, were randomized between 2011 and 2013. The mean age was 73 years, and more than 60% of patients had NYHA class 3 or 4 heart failure. Regarding the intervention, 83% of the 715 patients in the intervention arm used the telemonitoring equipment, resulting in 221,211 remote observations. Patients received a median of six calls during the 6-month study.
Despite the intervention, BEAT-HF investigators did not observe any significant effect on the 180-day readmission rate. Similarly, there was no significant effect on readmission rates at 30 days. Regarding mortality, the adjusted 30-day all-cause mortality rate was significantly decreased in the intervention arm, but Ong said that the difference was the result of deaths that occurred during the index hospitalization and not indicative of a benefit resulting from the telemonitoring intervention. The 180-day mortality rate was no different between the usual-care and intervention arms.
Individuals with better adherence to monitoring—defined as greater than 50% of days monitored—had a significantly lower rate of hospital readmissions at 180 days compared with those who monitored their weight, blood pressure, heart rate, and symptoms on less than half of the study days (41.3% vs 61.1%, respectively; P<0.001). Similarly, mortality at 180 days was significantly lower among heart-failure patients who completed more telephone calls with the nurses (>50% of calls completed) and monitored their risk factors and symptoms more diligently (>50% of days monitored).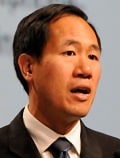 "People might be adherent to the intervention for a lot of different reasons," said Ong. He noted that since the study was designed, technology has evolved and become less obtrusive, such as heart-rate monitoring using a wrist watch, and this might help in future studies looking at potential advantages of telemonitoring. Still, Ong conceded that there remain difficulties in getting heart-failure patients even to perform basic aspects of self-care, such as daily weight and blood-pressure monitoring.
"There is still work that needs to be done to really understand how we can affect behavior change," said Ong.
Dr Mariell Jessup (University of Pennsylvania, Philadelphia), who was not involved in the trial but moderated the press conference during which results were presented to the media, agreed that getting patients to change their behavior remains challenging.
"I think we have to find out what's going to work in all these patients without seeing them in the clinic all the time," she said. "It might be there's one more piece to the study by Dr Ong that will be the magic formula, or this hope of being able to manage patients remotely will be just that, a false hope, and we'll have to come up with something else."
Jessup noted that even in the Post-Myocardial Infarction Free Rx Event and Economic Evaluation (MI FREEE) trial, in which copayments for MI medications were removed, only about half of patients adhered to treatment. "It's possible we have an effective way of monitoring patients, but if patients don't answer the phone, then it's not going to be an effective treatment for everyone," said Jessup.
Ong reports no relevant financial relationships.
Heartwire from Medscape © 2015 Medscape, LLC

Cite this: BEAT-HF: Remote Telemonitoring in HF Patients Fails to Reduce Hospitalizations - Medscape - Nov 08, 2015.