BARCELONA, Spain — Eastern Europe is far from reaching HIV targets set by UNAIDS to put the world on track to end AIDS by 2030, experts reported here at the opening of the 15th European AIDS Conference.
"In Eastern Europe, the situation is of significant concern," said Michel Kazatchkine, MD, the United Nations secretary-general's special envoy for AIDS in Eastern Europe and Central Asia. "This is the only region of the world where the AIDS epidemic continues to grow."
The epidemic in Eastern Europe is fueled by people who inject drugs, and the percentage treated is low compared with the rest of the world (35% vs 65%), he reported.
"I doubt that Eastern Europe will be in a position to reach targets by 2020," he said.
The 90-90-90 plan states that by 2020, 90% of those infected with HIV should know their status, 90% of those should be on antiretroviral therapy, and 90% of those should be virally suppressed. If the 90-90-90 targets are achieved, AIDS could be eliminated as a public health threat by 2030, according to UNAIDS.
This is the only region of the world where the AIDS epidemic continues to grow.
Even in Western Europe there is a struggle to decrease numbers, said Dr Kazatchkine, and those countries have access to the best treatments, universal health coverage, a societal climate tolerant of HIV/AIDS, and nongovernmental organizations that build peer-support networks. "It has everything to win the battle. Yet, if you look at Europe, the epidemic has been stable; it has not been decreasing significantly in the past 10 or 15 years. In fact, it has been increasing among men who have sex with men."
Having the best health systems in place isn't sufficient. Countries across Europe must increase efforts in prevention and treatment, he said.
However, he added, "I believe the targets of 90-90-90 should be achievable in Western Europe and Central Europe."
Switzerland has already achieved numbers of 81% diagnosed, 71% on antiretroviral therapy, and 68% virally suppressed, he reported.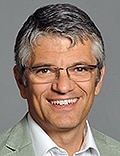 Many Eastern European countries are starting to get a handle on the number of new infections and the prevalence and incidence of HIV and AIDS, said Manuel Battegay, MD, from the University Hospital Basel in Switzerland, who is president of European AIDS Clinical Society and global conference chair.
"There are some countries where tremendous efforts are starting but the goal will be very difficult to reach," Dr Battegay said.
"There are some countries in Western Europe that are close to reaching it, especially in Germany, Denmark, Switzerland, and other countries," he said. However, "countries like Ukraine and Russia, where treatment programs — in particular for drug addicts, but also for men having sex with men — are not at the stage to reach the goal."
One of the biggest problems is late testing, especially for men who have sex with men. Healthcare providers are not testing patients frequently enough, said Dr Kazatchkine. Innovations such as the self-test, which has just recently started to be sold in very limited pockets of Europe, will be one of the solutions, he said.
The self-test has been sold in some pharmacies in France in the past few months, but "it's not cheap" — about €28 (US$31), he told Medscape Medical News.
"People use the self-tests to overcome their resistance to going to a conventional testing center," he pointed out. "For people who feel isolated or fear stigma, I think this should be very, very helpful."
According to World Health Organization guidelines, released September 30, antiretroviral therapy should be started for anyone with HIV, regardless of CD4 cell count, and daily oral pre-exposure prophylaxis is recommended for anyone at substantial risk for infection.
Dr Kazatchkine said he welcomes these guidelines. It is expected that removing the limitations on which patients get antiretroviral therapy will increase the number of people eligible for treatment — from 28 million to all 37 million people living with the virus around the globe.
It is an important step in the substantial work ahead. "Europe is not done with AIDS, and there's no room for complacency," he said.
Dr Kazatchkine and Dr Battegay have disclosed no relevant financial relationships.
15th European AIDS Conference. Presented October 21, 2015.
Medscape Medical News © 2015 WebMD, LLC

Send comments and news tips to news@medscape.net.
Cite this: Europe Struggles to Meet UNAIDS 90-90-90 HIV Targets - Medscape - Oct 22, 2015.