SAN FRANCISCO, CA — Treatment with the late-sodium-current blocker ranolazine (Ranexa, Gilead Sciences) does not improve outcomes in patients with chronic angina and incomplete revascularization after undergoing PCI, suggests new research[1].
The multicountry RIVER-PCI trial of more than 2600 of these patients showed that those who received 1000 mg of oral ranolazine twice a day had no significant difference in the combined primary end point of ischemia-driven revascularization or hospitalization without revascularization compared with those who received matching placebo.
There were also no between-group differences for the individual components of the end point or for any major secondary end points, such as sudden cardiac death, CV death, or MI. In addition, the patients in the ranolazine group had more drug discontinuations due to adverse events, such as mild dizziness and nausea (14.3% vs 10.6%, respectively, P=0.004).
"Ranolazine did not prove to be the answer for these patients," Dr Giora Weisz (Shaare Zedek Medical Center, Tel Aviv, Israel) told heartwire from Medscape. His results were presented here at TCT 2015 and simultaneously published in the Lancet.
Dr Sanjit S Jolly (McMaster University, Hamilton, Canada) told heartwire that the trial was testing a new concept of whether an antianginal event agent can be an effective preventive strategy. "Really, the only data we have is about beta-blockers, but they and other antihypertensive agents have other effects," he said.
"However, this drug had no impact on clinical outcomes," said Jolly, who was not involved with this research. "It doesn't encourage the use of antianginal agents and probably makes us focus more on antiatherosclerotic therapies as a preventive strategy."
Common Occurrence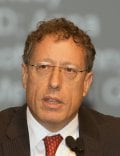 Weisz reported incomplete revascularization after PCI is "very common and can occur up to 80% of the time." However, it's linked to increased mortality and repeat hospitalization and revascularization.
"We have a vicious cycle of 'ischemia begets ischemia.' It aggravates itself," said Weisz. Myocardial ischemia activates late sodium (Na) channels "that cause intracellular calcium overload. That results in increased [left ventricular end-diastolic pressure] LVEDP, which further reduces regional blood flow and increases O2 demand, resulting in more ischemia. Ranolazine is a piperazine derivative that inhibits the late Na channel."
In RIVER-PCI, 2619 patients were enrolled between November 2011 and May 2013 at 245 centers in Israel, the US, Europe, and Russia and were randomly assigned to receive either ranolazine (n=1332) or placebo (n=1297). All had incomplete revascularization, which was defined as "one or more lesions with >50% diameter stenosis in a coronary artery >2 mm in diameter."
The most commonly reported reason given for the incomplete revascularization was that "medical therapy is an accepted approach" (47.8% of the ranolazine group vs 44.9% of the placebo group), followed by "the extent of [incomplete revascularization] is unlikely to be clinically significant" (17.9% vs 19.6%, respectively) and "PCI of lesion would have a low likelihood of acute success" (11.7% of each group).
In addition, 44% of each treatment group had three-vessel disease, 33% of each had untreated chronic total occlusion, and 14% of each were post-CABG.
High Event Rates
A total of 26.2% of the ranolazine group and 28.3% of the placebo group hit the primary composite end point at a mean follow-up of 643 days, which was not a significant difference (hazard ratio [HR] 0.95). Still, Weisz noted this shows that incomplete revascularization is associated with a very high event rate. Also, "approximately half of the ischemia-driven revascularization procedures were performed on lesions that were left untreated."
There were no significant between-group differences for first ischemia-driven revascularization by itself (15.3% vs 15.5%, respectively), ischemia-driven hospitalization without revascularization (15.3% vs 17.9%), CV death (1.6% vs 1.6%), sudden cardiac death (0.5% vs 0.9%), or MI (8.4% vs 9.0%). There were also no differences in outcomes found in any prespecified subgroup.
Similar findings were shown for safety events, with both treatment groups having no significant differences in MACE, all-cause mortality, stroke, and CHF hospitalization.
There were more reports of transient ischemic attacks in the ranolazine group than the placebo group (1.0% vs 0.2%, HR 4.36; P=0.02). However, Weisz said that the actual numbers were so low, "we think they may be due to chance."
More of the ranolazine group also discontinued study drug use for any reason than did the placebo group (40% vs 35.7%, P=0.006). These high rates in both groups, noted Weisz, may have contributed to study bias.
"We tried to figure out why this study was negative. Why did ranolazine, despite having an anti-ischemic effect, not show any benefit on ischemia-driven parameters? One study limitation was that we didn't mandate evidence of ischemia," he told heartwire.
"Also, it could be that the lesions that made the patients eligible to be included in the study were in relatively small vessels, with a small amount of myocardium, and were not significant." A third option was that incomplete revascularization by itself "might not be a prognostic factor. It could just be a surrogate for severity and burden of atherosclerotic disease."
New Avenue of Investigation
Still, Jolly summarized that this study showed ranolazine is not right for this purpose. "As a preventive strategy, in patients who have been unvascularized, I think this doesn't prevent ischemia-driven revascularization," he said. "But ranolazine is effective in patients with refractory angina, which is a separate indication."
"I think this raised some very important clinical and pathophysiological questions, as it looked at possible characteristics of this drug to see if it might work in this group of patients," discussant Dr Richard Horton, editor in chief of the Lancet, said at a late-breaking clinical-trial session at TCT.
Moderator Dr Gregg W Stone (New York-Presbyterian Hospital/Columbia University Medical Center) agreed and called the study "a beautiful, well-done presentation" with disappointing results.
"If nothing else, this trial has basically opened up a new avenue of investigation that is necessary in a high-risk group," said Stone. "I don't think we as physicians think very much as to what we're leaving behind. But we could certainly improve the quality of life for our patients if we come up with solutions. Whether it's other anti-ischemic medications or other approaches, I think we clearly need to start considering possibilities."
The study was funded by Gilead Sciences and the Menarini Group. Weisz receives institutional research grants from and serves on the medical advisory boards of AngioSlide and Corindus, as well as serving on the medical advisory boards of AstraZeneca, Calore, Medtronic, Medivisor, and MI Medical Incentives. Disclosures for the coauthors are listed in the article. Jolly reports no relevant financial disclosures.
Heartwire from Medscape © 2015 Medscape, LLC

Cite this: RIVER-PCI: No Benefit of Ranolazine After Incomplete Revascularization After PCI - Medscape - Oct 20, 2015.