BARCELONA — The results of three new phase 3 studies with the new anti–B cell humanized antibody ocrelizumab (Genentech) in multiple sclerosis (MS) were the major talking point here among delegates at last week's Congress of the European Committee for Treatment and Research in Multiple Sclerosis (ECTRIMS) 2015.
Both the OPERA I and II studies in relapsing-remitting MS and the ORATORIO trial in primary progressive MS were described as "ground-breaking" in their own ways.
The OPERA studies suggested ocrelizumab may be a highly effective agent in relapsing-remitting MS but without the serious adverse effects seen with other, similarly potent agents.
And the ORATORIO trial is the first phase 3 study to show a slowing of disability progression in primary progressive MS.
In his summary of clinical highlights of the ECTRIMS meeting, Jaume Sastre Garriga, MD, Hospital Vall d'Hebron, Barcelona, Spain, described ocrelizumab as a "game changer."
"In relapsing-remitting MS it has shown a significant reduction in relapse rate and heavy suppression of inflammation as shown by reduction in gadolinium-enhancing lesions, without serious side effects as yet," he said. He added that the primary progressive result would reinvigorate research into this condition.
Professor Giancarlo Comi, Università Vita-Salute San Raffaele, Italy, who was involved in the ocrelizumab studies, told Medscape Medical News, "The impressive efficacy and safety seen in the OPERA studies suggests that ocrelizumab could be used very early in the disease process and may completely change the paradigm of how we treat relapsing-remitting MS. And the ORATORIO study suggests the benefit may also extend to primary progressive MS."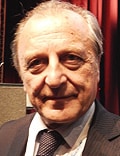 Lily Jung Henson, MD, Piedmont Physicians, Atlanta, Georgia, who was not involved in the current studies, referred to the OPERA results as "amazing."
"The NEDA [no evidence of disease activity] data are very impressive. And so far it looks very well tolerated. If anything, it has a better safety profile than β-interferon. It is not often that you come out of a session thinking that looks really exciting," she said in an interview.
On the ORATORIO trial, she added: "The results are wonderful news. It will be interesting to see what the adverse events may be with long-term follow-up, but at the end of the day, we may finally have something to offer our primary progressive MS patients."
Relapsing-Remitting MS
OPERA I and II were two identical studies. Each randomly assigned 828 patients with active relapsing-remitting MS to ocrelizumab, 600-mg intravenous infusion every 6 months (the first dose being given as two 300-mg infusions 15 days apart) for 2 years, or interferon β-1a, 44 μg subcutaneously three times a week.
The primary endpoint — annualized relapse rate at 96 weeks — showed a 46% to 47% reduction with ocrelizumab.
Table 1. Annualized Relapse Rate at 96 Weeks
| | | | | |
| --- | --- | --- | --- | --- |
| Study | Interferon β-1a | Ocrelizumab | Reduction (%) | P Value |
| OPERA I | 0.292 | 0.156 | 46 | <.0001 |
| OPERA II | 0.290 | 0.155 | 47 | <.0001 |
Both studies also showed a 40% reduction in 12- and 24-week confirmed disability progression and a 94% to 95% reduction in T1 gadolinium-enhancing lesions on MRI.
Table 2. T1 Gadolinium-Enhancing Lesions
| | | | | |
| --- | --- | --- | --- | --- |
| Study | Interferon β-1a | Ocrelizumab | Reduction (%) | P Value |
| OPERA I | 0.286 | 0.016 | 94 | <.0001 |
| OPERA II | 0.416 | 0.021 | 95 | <.0001 |
Brain volume loss was reduced by 23.8% with ocrelizumab vs interferon, and the number of patients with NEDA increased from 25% with interferon β-1a to 47% with ocrelizumab.
The most common adverse effect was infusion-related reactions, which occurred in about 28% of patients receiving ocrelizumab. Eleven patients (1.3%) withdrew because of an infusion-related reaction during the first dose.
Serious adverse events did not differ between the ocrelizumab and interferon groups, and there were no opportunistic infections or cases of progressive multifocal leukoencephalopathy (PML).
Primary Progressive Data
ORATORIO enrolled 732 patients with primary progressive MS who had an elevated cerebrospinal fluid IgG index or one or more oligoclonal bands. Patients were randomly assigned 2:1 to ocrelizumab (600-mg intravenous infusion every 24 weeks) or placebo. All patients received methylprednisolone before each infusion to minimize adverse effects. Patients received a minimum of five doses over a total of 120 weeks.
Patients had a mean age of 44 years, roughly half were male, and mean time from diagnosis was 3.3 years.
The primary endpoint of progression of clinical disability (on the Expanded Disability Status Scale) sustained for at least 12 weeks was reduced by 24% in the ocrelizumab group (P = .0321), and sustained 24-week disability progression (a secondary endpoint) was reduced by 25% (P=.0365).
Table 3. ORATORIO: Other Secondary Endpoints at 120 Weeks
| | | | |
| --- | --- | --- | --- |
| Variable | Placebo | Ocrelizumab | P Value |
| Change in time to walk 25 ft from baseline (%) | 55 | 39 | .04 |
| Change in T2 lesion volume from baseline (%) | 7.4 | –3.4 | <.0001 |
| Rate of brain volume loss (% loss from baseline) | –1.1 | –0.9 | .02 |
Presenting the results, Xavier Montalban, MD, Autonomous University of Barcelona, Spain, said, "This is very new data. It only became available 2 weeks ago. I'm very happy with these results as we have been looking for something positive for primary progressive MS for many years."

As in the OPERA studies, ocrelizumab appeared to be quite well tolerated. The main adverse effects were infusion reactions, which led to discontinuation in only one patient. Overall adverse effects, including infections, were similar to those seen in the placebo group. Death occurred in 0.4% of placebo patients and 0.8% of ocrelizumab recipients; malignancies occurred in 0.85% and 2.3%, respectively.
Dr Montalban said a complete safety analysis, including the imbalance of malignancies, was underway.
Lessons Learned
ORATORIO investigator Jerry Wolinsky, MD, University of Texas, told Medscape Medical News that the lessons had been learned from previous studies in primary progressive MS. "In other studies there was a hint of an effect in certain groups — patients with oligoclonal bands (signaling immunoglobulins in spinal fluid) and in patients who were younger at the time of diagnosis.
"So we specified that for this study all patients had to have oligoclonal bands and to be early after diagnosis. So we enriched the population a bit. But this drug clearly has a different mechanism of action and that is certainly also a factor in the results we found. It is one of the most powerful anti-inflammatory drugs we have."
Professor Comi said it would be important to look in post hoc analyses to see whether the effect on disability progression is related to the anti-inflammatory effect.
"We need to understand if the effect of the drug is strongly influenced by the effect on those patients who have MRI activity. It does have powerful anti-inflammatory effect — we saw that in the OPERA results. We need to know if this effect we see in primary progressive MS is due to the anti-inflammatory actions."
Ralf Gold, MD, Ruhr University, Bochum, Germany, told Medscape Medical News, "It is a little bit surprising that most of effect appeared in first 6 months — this suggests it is mediated by a major effect on inflammation. But the effects were preserved later on. We have to wait for further subgroup data to be published to know what's going on but I'm optimistic we will finally have a treatment for primary progressive MS."

Alan Thompson, MD, University College Hospital, London, United Kingdom, was more measured. "This is an important milestone in that it is the first positive trial in primary progressive MS, but the effect on disability was modest. The question of what impact this will have in the real world will need to be considered," he said.
Dr Thompson suggested the current results with ocrelizumab in primary progressive MS may be similar to those seen with the β-interferons in the 1990s. "It is the first step. This drug is hitting something that is meaningful but it is the extent of that meaning we're not sure of. Hopefully we can follow this with more agents with different targets."
Focus on Safety
On the overall safety data, Stephen Hauser, MD, University of California San Francisco School of Medicine, chair of the OPERA studies, noted that there are now a total of 11,000 patient-years of data on ocrelizumab, including the rheumatoid arthritis population in which it was first tested (at higher doses).
He reported that opportunistic infections increased in the rheumatoid arthritis studies, but these have not yet been seen with the lower doses used in MS.
Dr Hauser believes the drug's favorable adverse effect profile is probably related to the fact that ocrelizumab interferes with the immune system in a very narrow range, specifically targeting circulating B cells expressing the CD20 antigen.
"It doesn't affect B cells in the lymph nodes or spleen and the stem cell pool is not depleted so B cells can be repopulated. The majority of B cells in the body are unaffected, including the antibody response so patients are not immunosuppressed," he said.
Dr Wolinsky, however, voiced a note of caution.
"There is a time when we should not be giddy about how good a drug looks because there might be late-emerging complications. Natalizumab also appeared very safe when it first came into the market place — it look longer to see the PML. Having said that, from what we've seen so far ocrelizumab does look like a very clean drug."
The studies were funded by Genentech (Roche). Dr Sastre Garriga has received compensation for consulting/speaking from Merck Serono, Biogen, Teva, Almirall, Genzyme, and Novartis. Dr Comi has received compensation for consulting and/or speaking from Teva, Novartis, Genzyme, Merck Serono, Biogen, Bayer, Almirall, Serono Symposia International Foundation, EXCEMED, Chugai, and Receptos. Dr Jung Henson receives speaker fees from Novartis and Genzyme. Dr Montalban has received speaking honoraria and travel expenses for scientific meetings; has been a steering committee member of clinical trials or participated in advisory boards of clinical trials in the past years with Bayer Schering Pharma, Biogen Idec, Merck Serono, Genentech Inc, Genzyme, Novartis, Sanofi-Aventis, Teva Pharmaceuticals, GSK, F. Hoffmann-La Roche Ltd, Almirall, the National MS Society, and Multiple Sclerosis International Federation; he is also editor for Clinical Cases for the Multiple Sclerosis Journal. Dr Wolinsky has received compensation for service on steering committees or data monitoring boards for Novartis, F. Hoffmann-La Roche Ltd, Genzyme, and Teva Pharmaceuticals; consultant fees from AbbVie, Actelion, Alkermes, Athersys Inc, EMD Serono, Forward Pharma, Genentech Inc, Genzyme (Sanofi), Novartis, F. Hoffmann-La Roche Ltd, Teva, and XenoPort; research support from Genzyme, Sanofi, the National Institutes of Health and the National MS Society through the University of Texas Health Science Center at Houston (UTHSCH) and royalties for monoclonal antibodies out-licensed to Chemicon International through UTHSCH. Dr Gold has received research support and honoraria from Bayer HealthCare, Biogen Idec, Merck Serono, Novartis, and Teva. Dr Thompson has disclosed no relevant financial relationships. Dr Hauser serves on the scientific advisory boards for Annexon, Symbiotix, and Bionure; he has also received travel reimbursement and writing assistance from F. Hoffman-La Roche Ltd. for CD20-related meetings and presentations.
Congress of the European Committee for Treatment and Research in Multiple Sclerosis (ECTRIMS) 2015. Abstracts 246 and 2368.
Medscape Medical News © 2015 WebMD, LLC

Send comments and news tips to news@medscape.net.
Cite this: 'Ground-Breaking' Ocrelizumab Data Dominate ECTRIMS - Medscape - Oct 16, 2015.