SAN FRANCISCO, CA — For patients undergoing transcatheter aortic-valve replacement (TAVR) via the femoral artery, the use of bivalirudin (Angiomax, the Medicines Company) did not significantly reduce the risk of bleeding, nor did it use reduce the risk of ischemic events compared with the use of heparin[1].
Although investigators observed a trend toward lower major bleeding at 48 hours with bivalirudin, the difference did not reach statistical significance.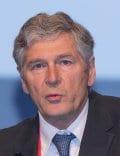 Speaking with heartwire from Medscape, lead investigator Dr Thierry Lefèvre (Institut Hospitalier Jacques Cartier, Massy, France) noted bivalirudin, which has a half-life of 25 minutes, was selected as possible alternative to heparin to reduce the risk of bleeding that can occur in TAVR. Lefèvre said they had powered their study with the expectation of much higher rates of major bleeding in the heparin-treated patients, and this might explain the lack of bivalirudin benefit compared with heparin.
The results of the study, known as BRAVO 3, were presented here during the late-breaking clinical-trials session at TCT 2015 and published simultaneously in JACC: Cardiovascular Interventions.
The BRAVO 3 Study
In total, 802 patients with aortic stenosis undergoing transfemoral TAVR were randomized to therapy with bivalirudin or unfractionated heparin during the procedure. Bivalirudin was administered as an initial bolus of 0.75 mg/kg followed by continuous infusion of 1.75 mg/kg per hour. The continuous intravenous infusion was stopped immediately after the valve was implanted. Heparin was administered to achieve an activated clotting time (ACT) greater than 250 seconds.
All patients were prescribed aspirin for at least 12 months after TAVR and clopidogrel 75 mg/day for a time period defined by their hospital.
For the co–primary end point, major bleeding within the first 48 hours or before hospital discharge was defined as Bleeding Academic Research Consortium (BARC) >3b. The second co–primary end point was the rate of net major adverse cardiac events (MACE) within 30 days, which was defined as a composite of all-cause mortality, MI, or stroke plus major bleeding.
Major bleeding occurred in 6.9% of the 398 patients treated with bivalirudin and 9.0% of the 404 patients treated with heparin. Despite the trend, the difference in risk between the two treatments was not statistically significant (relative risk [RR] 0.77; 95% CI 0.48–1.23). Other measures of bleeding, including severe, life-threatening, or major bleeding, showed no advantage of bivalirudin.
After 30 days, major bleeding plus MACE occurred in 14.4% of the bivalirudin-treated patients vs 16.1% of the patients who received heparin (RR 0.89; 95% CI 0.64–1.24). The results were similar when data were analyzed in the "per-treatment" population.
The investigators report an increased risk of acute kidney injury with bivalirudin, mainly stage 1 injuries, which is documented by an increase in serum creatinine >26 μmol/L or a 1.5 to 2.0-fold increase from baseline.
Given the equivalency between the two pharmacotherapies, Lefèvre said BRAVO investigators believe bivalirudin could be an alternative to unfractionated heparin in patients undergoing transfemoral TAVR.
In an editorial[2] accompanying the published study, Dr Sunil Rao (Duke University Medical Center, Durham, NC) notes that data from the PCI setting suggest bivalirudin can reduce bleeding risks compared with heparin, but the reduction is dependent on a number of procedural factors, such as access site and whether unfractionated is used in combination with a GP IIb/IIIa inhibitor.
More importantly, Rao challenges the conclusion that bivalirudin can be a reasonable alternative to heparin because the cost difference between the two drugs is so large. One special situation might be in the patient who has heparin-induced thrombocytopenia (HIT). Another group might be patients who require very large or repeated doses of heparin to maintain a therapeutic ACT, such as in overweight or obese patients.
"Other than these specific conditions, there is no question that until further data are available, unfractionated heparin is the preferred agent for TAVR," writes Rao.
Very Low Bleeding Rates
Speaking during the late-breaking session, moderator Dr Marty Leon (Columbia University Medical Center, New York) praised the investigators, noting that at the time BRAVO 3 was established, major bleeding complications were a significant hazard and a disproportionate contributor to all-cause mortality in patients undergoing TAVR.
"What we've seen, interestingly, is a transformation of the field," said Leon, noting that operators perform TAVR predominantly via the femoral artery (vs transapical) and have access to smaller sheaths, for example. "As a result, bleeding complications with conventional therapy have gone way down."
Dr Jeffrey Popma (Beth Israel Deaconess Medical Center, Boston) told heartwire that the use of protamine, which varies in use from practice to practice, could reverse the antithrombotic effects of heparin and reduce the risk of bleeding. Overall, he said the bleeding rates in BRAVO 3 were "phenomenal," much lower than would be expected.
Lefèvre said they do not have data on the use of protamine in BRAVO 3 but noted that in his practice, standard care is to administer it just after stopping intravenous heparin and before closing the femoral artery.
Speaking during the morning press conference, session moderator Dr Ajay Kirtane (Columbia University Medical Center, New York) polled the assembled panelists, a veritable who's who of TAVR researchers and implanters, including Popma, Roxana Mehran (Mount Sinai Medical Center, New York), and Dr Samir Kapadia (Cleveland Clinic, OH), about their use of heparin or bivalirudin during TAVR. All eight experts said they go with unfractionated heparin.
The study was funded by the Medicines Company. Lefèvre reports no relevant financial relationships; disclosures for the coauthors are listed in the paper. Rao reports consulting for Medtronic, Terumo Interventional Systems, and the Medicines Company.
Heartwire from Medscape © 2015  Medscape, LLC

Cite this: BRAVO 3: Bivalirudin No Better Than Heparin in TAVR - Medscape - Oct 15, 2015.