SAN FRANCISCO, CA — Patients at high risk for bleeding following PCI treated with a novel drug-coated polymer-free stent (BioFreedom, Biosensors) had significantly better safety and efficacy results when compared with patients treated with a similar bare-metal stent[1].
In the LEADERS-FREE trial, presented at the late-breaking clinical-trials session at TCT 2015 by Dr Philip Urban (La Tour Hospital, Geneva, Switzerland), patients treated with both stents received just 1 month of dual antiplatelet therapy (DAPT).
The primary safety end point—a composite of cardiac death, MI, or stent thrombosis—occurred in 9.4% of patients treated with the BioFreedom stent and 12.9% of patients treated with a bare-metal stent, a difference that was statistically significant (P=0.005 for superiority).
Speaking with the media, Urban made no bones about how much of an impact he expects the findings to have on physicians who treat patients at high risk for bleeding. "I hope this stent will change practice as soon as next week, and people will start using it in these patients on a regular basis," he said.
The LEADERS-FREE study was published in the New England Journal of Medicine to coincide with the late-breaking clinical-trials session.
Growing Patient Population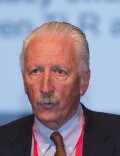 Patients in the LEADERS-FREE study were selected based on their high risk for bleeding events, a group that is typically excluded from clinical trials. On average, patients were older, with a mean age of 76 years, and had significantly more comorbidities, including kidney failure, cancer, need for major surgery, or anticoagulation.
In total, the LEADERS-FREE investigators enrolled 2466 patients to a bare-metal stent (Gazelle, Biosensors) or to the polymer-free BioFreedom stent. The investigational stent—which is approved in Europe—is a drug-coated stent with umirolimus (also known as biolimus A9) coated directed onto the abluminal metal surface of the device. The stent transfers the umirolimus, which is an extremely lipophilic sirolimus analog, into the vessel wall over a period of 30 days.
The absence of a polymer and drug carrier is meant to eliminate the risk of late thrombotic events in patients who are not capable of taking DAPT for 6 or 12 months, as recommended by the US and European guidelines.
Patients eligible for the study had coronary artery disease with a clinical indication for PCI. Speaking with the media, Urban said the clinical guidelines for treating these high-risk bleeding patients aren't entirely precise, with physicians recommended to use either a bare-metal stent with 1 month of DAPT or to use a second-generation drug-eluting stent with shortened 3-month course of DAPT.
Regarding the primary safety end point, the investigators report that use of BioFreedom stent reduced the risk of cardiac death, MI, or stent thrombosis by 29% compared with the bare-metal stent. The reduction was driven by a statistically significant 32% reduction in MI. Regarding efficacy, there was also a statistically significant reduction in clinically driven target lesion revascularization (TLR) with the polymer-free drug-coated stent, with investigators reporting a 50% reduction in TLR with the new stent.
To heartwire from Medscape, Urban said the difference in MI between the two stents was most notable on PCI-related MIs associated with restenosis (type 4C using the third universal definition of MI). There was also a difference in the rate of the so-called spontaneous MIs, although Urban noted that given the age and comorbidities of the patients, spontaneous MIs were likely labeled as such because they did not make it to the catheterization laboratory.
Primary and Secondary End points
| | | | |
| --- | --- | --- | --- |
| End point | BioFreedom, n=1221 (%) | Bare-metal stent, n=1211(%) | P |
| Cardiac death, MI, or stent thrombosis (primary safety end point) | 9.4 | 12.9 | 0.005 |
| Clinically driven target lesion revascularization (primary efficacy end point) | 5.1 | 9.8 | <0.001 |
| Cardiac death | 4.2 | 5.3 | 0.20 |
| MI | 6.1 | 8.9 | 0.01 |
| Probable or definite stent thrombosis | 2.0 | 2.2 | 0.75 |
Urban noted that high-risk bleeding patients represent a rapidly growing population. In LEADERS-FREE, 64% of patients were classified as high risk for bleeding based on their age, with age 75 years used as the cutoff to identify patients. While the exact number of patients who might be considered high risk for bleeding ranges, Urban said 15% to 20% appear to fall into the high-risk category.
"Talking to some colleagues from Japan the other day, they thought there'd be a lot more than that because they have a larger elderly population," said Urban. "And the baby boomers—and I'm one of them, unfortunately—we're gradually reaching this age, so the number will increase. So say 15% to 20% and growing."
Dr David Cohen (Mid America Heart Institute, Kansas City, MO), who was not affiliated with the trial, said the number of patients at high risk for bleeding could be as high as 40%. Dr Ori Ben-Yehuda (University of California, San Diego) pointed out that bleeding is associated with mortality and that there is a correlation between the risk of bleeding and cardiovascular/ischemic events.
"Our sickest patients are in a quandary," said Ben-Yehuda.
Speaking with the media, Dr Marco Valgimigli (Swiss Cardiovascular Center, Bern, Switzerland) said the data challenge the conventional treatment of using a bare-metal stent in these high-risk patient populations. Although the BioFreedom stent is not available in the US, it has been available in Europe since January 2013.
"It's a good stent," Valgimigli told heartwire . "It's associated with a slightly higher late loss than other contemporary drug-eluting stents." The bottom line, he added, is that if a physician decides that a 30-day course of DAPT is required, then this is a stent that would do the job.
Heartwire from Medscape © 2015  Medscape, LLC

Cite this: Polymer-Free Drug-Coated Stent Superior to Bare-Metal Stent in High-Risk Bleeding Patients - Medscape - Oct 14, 2015.