BARCELONA, Spain — New this year at the 15th European AIDS Conference will be discussion around the UNAIDS worldwide goal to eliminate AIDS and Europe's role in achieving it.
The ambitious 90-90-90 plan is designed to ensure that 90% of people living with HIV know their HIV status, 90% of people living with HIV have access to antiretroviral therapy, and 90% on treatment have viral suppression by 2020.
Another highlight will center on what is next, given the results of the 35-country Strategic Timing of Antiretroviral Treatment, or START, trial. It was stopped early after it became clear that for asymptomatic HIV-infected patients with CD4 counts above 500 cells/mm³, beginning antiretroviral therapy immediately after an HIV diagnosis cuts the risk for AIDS or other serious illnesses in half, as reported by Medscape Medical News.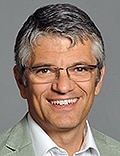 The disparities in treatment access and political support in European countries continue to hold up unified progress across the treatment cascade, said Manuel Battegay, MD, from the University Hospital Basel in Switzerland, who is president of European AIDS Clinical Society (EACS) and the global conference chair.
"One of the main goals of our society is to have training and education so the standard of care is increased," he told Medscape Medical News.
"There are still countries where testing is associated with stigma and it is difficult to get care, where there are not enough specialists, and where the newest drugs are not yet available," he explained. In addition, "needle-sharing programs for people with intravenous drug use are very, very different across Europe."
Also highlighted at the conference will be a discussion of updated European guidelines for antiretroviral therapy, hepatitis C, comorbidities, and opportunistic infections, said José Gatell, MD, from the Clinical Institute of Medicine and Dermatology in Barcelona, who is the local conference cochair.
Several sessions and activities will address comorbidities, which are "an important problem in HIV because patients are getting older" and have been on antiretroviral therapy for a long time, Dr Gatell explained.
Pre-exposure prophylaxis, which is accepted and approved in the United States but is still under discussion in Europe, will also be discussed. The hope is that coverage at the meeting will contribute to the approval of pre-exposure prophylaxis, "making this practice the standard of care in selected populations," he added.
Debates on controversial topics — such as whether to vaccinate for human papillomavirus (HPV) and whether there is progress on a cure for hepatitis B — will also be presented.
And again this year, there will be an official association between the conference and the 17th International Workshop on Co-morbidities & Adverse Drug Reactions in HIV. Topics addressed during those sessions will include the association between the prevalence of hypertension in HIV-infected patients and changes in body composition, and the effect of immediate and delayed antiretroviral therapy on lung function decline and bone mineral density.
Scholarship Named for Colleagues in Crash
One of the aims for the conference is to motivate the younger generation of HIV/AIDS researchers to lead, Dr Battegay said.
To that end, the EACS has granted scholarships to 76 delegates in memory of renowned AIDS researcher Joep Lange, MD, and his partner, Jacqueline van Tongeren, who were among the 298 passengers lost when Malaysia Airlines flight 17 was shot down over Ukraine.
Dr Lange "is one person who has certainly inspired me to be in the HIV field," said Dr Battegay. He "showed us that even if it seems complicated and complex," you have to pursue your goals.
Dr Battegay and Dr Gatell have disclosed no relevant financial relationships.
Medscape Medical News © 2015 WebMD, LLC

Send comments and news tips to news@medscape.net.
Cite this: Impact of START Trial Center Stage at European AIDS Meeting - Medscape - Oct 14, 2015.