Despite the existence of guidelines that stress the importance of genetic counseling, most women in the United States who undergo BRCA genetic testing do not receive any, according to a study published online October 1 in JAMA Oncology.
"Women with a susceptibility to hereditary breast and ovarian cancer face a high lifetime risk of 24% to 86% for breast cancer and 16% to 67% for ovarian cancer," senior author Rebecca Sutphen, MD, of the University of South Florida Morsani College of Medicine, Tampa, told Medscape Medical News.
"Professional guidelines recommend consultation with a professionally trained, board-certified genetics clinician for genetic counseling, and yet we found that less than 40% of women actually received such counseling from a genetics professional," Dr Sutphen said.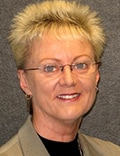 Lack of physician recommendation was the most commonly reported reason for not getting genetic counseling.
"Increased awareness, education, access, and policies that mandate that health insurers must provide coverage for genetic counseling as a preventive service with no out-of-pocket costs to the patient could improve the referral rate," Dr Sutphen said.
"Most of the research about BRCA testing has come from academic centers, while the majority of people undergoing testing receive their care in the community setting, and we don't know much about their experience," she said, explaining why she and her group decided to conduct their study.
They used deidentified data provided by the health insurance provider Aetna on all BRCA genetic testing request forms that had been completed by healthcare providers and that had been submitted for women insured by Aetna during a 1-year period.
The researchers also mailed surveys to each of the women.
Their study, dubbed the American BRCA Outcomes and Utilization of Testing (ABOUT) study, analyzed data from 11,159 women for whom BRCA testing was ordered by their physicians between December 2011 and December 2012.
All women received surveys, but only 34.7% completed the questionnaires.
"Aetna's commercial health plans do cover genetic counseling services by a professional genetics clinician, either in person or by telephone," Dr Sutphen noted.
The majority (an estimated 53.3%) of the women undergoing BRCA testing did not have a personal history of breast or ovarian cancer. An estimated 43.3% had a personal history of breast cancer, 2.9% had a personal history of ovarian cancer, and 0.5% had a personal history of both cancers.
The physicians ordered comprehensive BRCA testing for 3628 of the women. Most of the women were white non-Hispanic (69%), were college educated (81.4%), were married (75.8%), and had higher incomes (55.4%).
Of these women, 596 (16.4%) did not meet testing criteria.
Of the women who underwent comprehensive testing, mutations were identified in 161 (5.3%).
The analysis of the data showed that 36.8% of the women (n = 1334) reported receiving genetic counseling from a genetics professional.
Patients of obsetricians and gynecologists had the lowest rates of referral (n = 130 women; 12.3%).
"Women who reported that they received genetic counseling from a trained genetics professional reported greater satisfaction, understanding, and demonstrated greater knowledge than those who did not," Dr Sutphen said.
Obamacare Allows for Genetic Counseling
Physicians should be telling their patients that under the Affordable Care Act, genetic counseling is a preventive service that should be offered to all women who have a personal or family history of breast or ovarian cancer, Dr Sutphen said.
"Women need to be aware that they have this option, and also that they have access to the counseling. They should receive genetic counseling prior to testing, and if healthcare providers don't have the expertise available in their practice to provide it, they should offer a referral to a trained genetics professional," she said.
A lack of qualified genetic experts might be one reason for the lack of refferals, Dr Sutphen added.
"We suspect that one reason the reported rate of referral to a trained genetics professional was relatively higher among oncologists than among ob/gyns is that cancer facilities typically have trained genetics professionals on staff," she said.
"We are pursing additional research in this area," Dr Sutphen said.
"We are currently collaborating with Aetna among women undergoing BRCA testing who are newly diagnosed with cancer, and we will be evaluating health claims data to look at additional important outcomes regarding their cancer surgeries, treatment, screening, and prevention," she said.
In an accompanying editorial, Steven Narod, MD, from the Women's College Research Institute, Toronto, Canada, writes: "The article by Armstrong et al tells an interesting story, but it is a story of the recent past told from a particular point of view, and given the rapid pace of change, it is a story that may not be a relevant guide for the future."
Dr Narod adds: "It is disingenuous to think that we can maintain the status quo in terms of universal 1-on-1 pretest counseling if we are to fully realize the technical advances in genetic sequencing and apply these to the practice of personalized medicine."
Dr Narad writes that the thing to do is to test as widely as possible to find as many carriers as possible.
"To do this, we need to find adequate alternatives to 1-on-1 counseling and focus our attention on those with positive test results. We need to expand our research programs to gain a better understanding of the meaning of each test result," he concludes.
The study was funded by the Aetna Foundation, with in-kind support from the American Cancer Society and FORCE (Facing Our Risk of Cancer Empowered). Dr Sutphen is the chief medical officer of InformedDNA, a national provider of telephone genetic counseling services. Dr Narod has disclosed no relevant financial relationships.
JAMA Oncol. Published online October 1, 2015. Full text, Editorial
Medscape Medical News © 2015 WebMD, LLC

Send comments and news tips to news@medscape.net.
Cite this: Most Women Get No Counseling After BRCA Testing - Medscape - Oct 08, 2015.