NATIONAL HARBOR, MD — Even Thoratec's HeartMate II left ventricular assist device (LVAD), which had been something of a hit with Dick Cheney and thousands of less famous patients with end-stage heart failure, still posed a distinct risk of complications long associated with pumps of various designs. But an early 50-patient, 6-month experience with the company's successor LVAD, the HeartMate 3, hints at inroads against some of those complications, which include hardware-related thrombosis and infections, clinically important hemolysis, and device failures prompting replacement.
Indeed, those complications didn't happen in the HeartMate 3 CE Mark Trial, observed Dr Ivan Netuka (Institute for Clinical and Experimental Medicine, Prague, Czech Republic), presenting the study here at the Heart Failure Society of America 2015 Scientific Meeting. Risks of other adverse events such as bleeding were either consistent with experiences with the HeartMate II or other LVADs, sometimes lower than expected, he said.
The study met its prespecified primary end point, with a 92% rate of survival at 6 months, marginally exceeding an 88% benchmark based on the HeartMate II. Consistent with the broader LVAD experience, "functional status and quality-of-life scores showed progressive and sustained improvement," with 83% of patients in NYHA class 1–2 within 6 months, Netuka said. To get into the study, patients had to be in NYHA functional class 3B or 4 with an LVEF not higher than 25%.
For perspective, mortality at 6 months is generally low on most LVADs. However, according to Netuka, the absence of pump thrombosis in the trial is a noteworthy contrast to the 6% to 12% rate of the complications seen in "current continuous-flow devices." The study continues to follow patients for at least 2 years.
"A Green Light for Going Forward"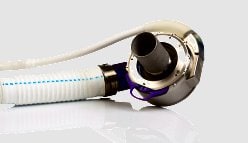 The study has some obvious limitations, including the small cohort, nonrandomized design, and limited statistical power, observed Dr Marvin Konstam (Tufts Medical Center, Boston, MA) as the invited discussant following Netuka's presentation. Konstam wasn't involved in the study.
"This is an important first step and represents a green light for going forward, having met the performance goal in this small study," Konstam said. "But it's important to avoid overinterpretation of the numerical values of any particular event, because the confidence intervals around those numbers are enormous."
Still, the device's novel design features were specifically intended to overcome the classic LVAD risks, he observed, and "the technology advance that this device represents is a step in the right direction to overcome the problems that we face when we implant LVADs in patients."
Some of those features include the ability to set an "artificial pulse," based on abundant evidence that pulsatile flow is more physiologically friendly than the continuous flow common with contemporary pumps. Also, the device's magnetically levitated (mag-lev) and magnetically propelled rotor represents essentially its only moving part. Both features, Konstam said, "may have an impact potentially on both LVAD thrombus as well as stroke."
"A Potentially Disruptive Innovation"
For sure, said Dr Mandeep R Mehra (Brigham and Women's Hospital, Boston, MA), "this is a hypothesis-generating experience." Still, he told heartwire from Medscape, it comes from 10 participating centers in six countries, which all followed the same anticoagulation protocol and other management strategies well established for the HeartMate II, and there was no pump thrombosis. "Zero is a very encouraging number."
Also striking, he said, was that the patients' mean levels of lactate dehydrogenase (LDH), a broad physiologic-stress marker commonly tracked in LVAD patients, which jumped as expected within the first week after implantation, fell to about baseline levels after 3 months and stayed there.
"That in itself is a very important observation that we have not seen before," according to Mehra, one that is very relevant to the HeartMate 3's prospects for success. LDH is "used all the time" and "determines our thresholds for admitting patients, for heightened anticoagulation, and for assessments in an effort to prevent transition from threatened pump thrombosis to thrombosis." Typically with LVAD implantation, "the LDH levels will never return to baseline, they will always rise and then sit at a certain level."
That, along with a lack of pump malfunctions, he said, represents "the strongest signal that there is potential for a disruptive innovation." Mehra wasn't involved in the CE Mark trial but is close to the HeartMate 3 as a principal investigator for the MOMENTUM 3 study that is just getting under way. The trial is randomizing patients to receive either the HeartMate II or HeartMate 3, with a planned enrollment of >1000 patients who would be followed for 2 years.
The CE Mark Study
Its patients averaged 59 years old; 90% were male, and 54% were getting the device officially as bridge to transplantation and the rest officially as destination therapy. In addition to the four patients who died during follow-up, two of which were from non–device-related causes, two patients went on to undergo heart transplantation.
Contrasting with the lack of apparent thrombosis, there was still a risk of bleeding and some strokes. "The vast majority of events occurred in the first 30 days," Netuka said. Two of the four ischemic strokes were in the first 30 days after pump implantation; both hemorrhagic strokes were much later.
Of note, there were four gastrointestinal bleeds, for a rate of 8%, compared with a corresponding rate of 11% to 25% in the literature for continuous-flow LVADs, he said.
Bleeding Complications and Strokes in the HeartMate 3 CE Mark Trial
| | | |
| --- | --- | --- |
| Complication | Pump implant day 0–30 (%) | Pump implant day 0–180 (%) |
| Any bleeding event | 30 | 38 |
| Bleeding requiring surgery | 12 | 14 |
| Gastrointestinal bleeding | 4 | 8 |
| Any stroke | 4 | 12 |
| Ischemic stroke | 4 | 8 |
| Hemorrhagic stroke | 0 | 4 |
In his talk, Konstam struck a cautiously optimistic note about the new device but took issue with the study investigators' claim that stroke and bleeding outcomes, in particular, were "better than expected."
For starters, he said, its patients "appeared to be less ill than the broad INTERMACS population," referring to the large US database of LVAD recipients and using the disease-severity grading system based on its patients. In the CE Mark trial, about 40% had been in relatively mild INTERMACS grade 4, while 10% were in more severe INTERMACS grade 2. The corresponding rates for INTERMACS registrants are about 15% and 36%, respectively, according to Konstam, "So clearly this [HeartMate 3] population does not represent the typical population receiving ventricular assist devices in the United States."
And although "the really positive finding is that there were no events of clinical hemolysis, LVAD thrombus, or a requirement of reimplantation, by my read of the INTERMACS numbers, one might expect that the annual GI bleeding rate to be on the order of 15%"—that is, similar to annualized rates in the current study.
Also, he proposed, "the stroke numbers are a bit higher than would be expected. Looking at INTERMACS data I might expect the annual stroke rate to be in the neighborhood of 8%." In the current study, "it was 12% in 6 months," arguably a higher annual rate.
"I would not make too much out of this," Konstam said. "I would not cast this observation as being definitive by any stretch of the imagination. It's just to say that the strokes going forward will be important to watch, as they would be anyway."
The HeartMate 3 CE Mark Trial was sponsored by Thoratec, which St Jude Medical has announced it is buying. Netuka discloses receiving honoraria for speaking and serving as a consultant or advisor for Thoratec. Konstam discloses serving as a consultant or advisor for Merck, Novartis, Amgen, Johnson & Johnson, Arbor, Mast, and Cardioxyl. Mehra discloses consulting for research with Thoratec, Heartware, St Jude Medical, Boston Scientific, Medtronic, Johnson & Johnson, Teva, and Stealth Biopeptides.
Heartwire from Medscape © 2015  Medscape, LLC

Cite this: New HeartMate Pump: Early Data Hint at Fewer Classic LVAD Risks - Medscape - Sep 28, 2015.