VIENNA ― Characterizing genetic mutations in cancers that have metastasized to the brain may reveal targets for effective treatment that are not present on the primary tumor, suggest US study findings.
An analysis of brain metastases from 100 patients using novel computational techniques presented here at European Cancer Congress (ECC) 2015 and published simultaneously in Cancer Discovery demonstrated that more than half had mutations that were potentially amenable to targeted therapies.
"Brain metastases represent an unmet need in current cancer care," lead researcher Priscilla Brastianos, MD, a neuro-oncologist and director of the Brain Metastasis Program at Massachusetts General Hospital, Boston, commented in a release. "More than half of the patients diagnosed with brain metastasis will die within a few months."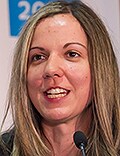 She continued: "When brain metastasis tissue is available as part of clinical care, we are suggesting sequencing and analysis of that sample. It may offer more therapeutic opportunities for the patient."
"Genetic characterization of even a single brain metastasis may be superior to that of the primary tumor or a lymph node biopsy for selection of a targeted treatment."
Peter Naredi, MD, PhD, professor of surgery at Sahlgrenska University Hospital, in Gothenburg, Sweden, and scientific co-chair of ECC 2015, commented in a release: "In my view, Dr Brastianos and colleagues very elegantly show what we mean with precision medicine, how genetic profiling can support our understanding of the metastatic process and how it opens up different pathways for treatment.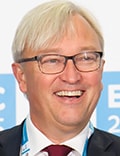 "It is not enough to rely on the characteristics of the primary tumor, because brain metastases have other specific gene alterations, and in many patients, this gives us better treatment alternatives."
However, it remains to be seen the extent to which the current findings can be applied to clinical practice, because a number of questions remain concerning the degree to which targeted therapies can exploit the mutations in the brain metastases identified in the study, a discussant of the presentation pointed out.
To determine how genetically different brain metastases are from their primary tumors, Dr Brastianos and colleagues studied tissue samples collected during routine clinical biopsies from 104 adults with cancer.
The biopsy samples were taken from the primary tumor, brain metastases, and normal tissues in each participant. In addition, metastatic tissue was available from sites outside the brain.
The team then developed novel computational tools to perform an integrated analysis of somatic mutations and copy number alterations. "This analysis allowed us to estimate the clonal architecture of matched primary tumors and metastases and to reconstruct the phylogenetic tree, relating subclones from each patient," Dr Brastianos explained.
"Across all our samples and phylogenetic trees, we found the data were consistent with branched evolution, meaning we detected a common ancestor shared by the brain metastasis and the primary tumor, but there was further divergent evolution between the primary tumor and the brain metastasis."
For example, one primary renal cell carcinoma sample showed the mutations VHL p.L188P, PBRM1 p.T43fs, and MTOR p.K1452N, all of which were also seen in the related brain metastasis. However, the brain metastasis also had the mutations PIK3CA p.E542K and CDKN2A/B Del.
Analysis revealed that 53% of cases of brain metastasis had what the researchers termed "clinically actionable" genetic alterations that were not detected in the primary tumor biopsy sample.
In 52% of cases, the mutations were associated with sensitivity to cyclin-dependent kinase inhibitors, whereas in 43% of cases, the alterations were sensitive to inhibitors of the PI3K/AKT/mTOR cell cycle regulation pathway.
Interestingly, the results showed that mutations in distal metastases were not reliable genetic surrogates of metastases in the brain. Dr Brastianos asked: "How is this important clinically? If one were to exclusively sample the primary tumor or regional lymph nodes for selection of the appropriate target, one may miss potentially actionable alterations in the brain."
Discussing the implications of the findings, she said: "Whether targeting metastases in the brain will improve overall survival in these patients remains unknown.
"I think what's very interesting in this study is that there was tremendous genetic heterogeneity in the brain metastases compared to the primary tumor, which was surprising.
"Historically, it's been unclear if the differential responses [to therapy] that we see in the brain with a primary tumor have been attributable to genetic heterogeneity, and this study shows this may, in fact, contribute to this differential response we see."
Discussing the findings after Dr Brastianos's presentation, Michael Brada, MD, DSc, professor of radiation oncology at the University of Liverpool, the United Kingdom, said the study was "excellent" and "and gives us a better understanding of the metastatic process."
Taking a clinician's perspective, he observed that one of the most important considerations is whether a metastatic event occurs early or late in the lifetime of the primary tumor, because that has an impact on the likely success of targeted therapy.
The current study may therefore be helpful in identifying early and late events, because the number of mutations observed in a metastatic site is a function of time as well as cellular behavior and so gives clues as to the timescale of an individual metastasis.
Dr Brada said that at this stage, "I find it very difficult to know what the pattern is" from the presented data, "but I would guess that it's likely to be a mixture" of early and late events.
Although this gives some potential for targeted therapy, he pointed out that, "like anything in cancer, there's heterogeneity, so they'll be some that will be targetable and some that won't be targetable; some where we can interrupt the pathway, and some where we can't."
The second question arising from the current research, Dr Brada continued, was one that repeatedly came up during questions from the floor, namely: "There are a number of metastases; are they heterogeneous, or do they come from a single dormant cell that happened to have the properties to lodge in the brain?"
Noting that there is not enough information available on a number of metastatic sites in the study, he said: "I think the answer is probably, again, a mixture of both."
Dr Brada continued: "Certainly in Europe, it's unlikely that there'd be surgery on many of the metastatic sites, and it's difficult to justify biopsies. But from the picture that we've seen, they are more likely to be more mono- than multiclonal."
He said that if it is possible to determine that the metastases are single-cell-related or that the cells have very distinct properties, "it allows us to target them at the time when they are dormant."
The final question for Dr Brada is whether the mutations identified in the study will indeed translate into the metastases being targetable. "That's the kind of raison d'être for us clinicians," he said, adding: "There are a number of questions that were raised which are important, and I think Dr Brastianos knows, and we all know, that there are a number of challenges to this."
Those challenges include the existence of multiple targets within each cell, the enormous heterogeneity of the cells within the brain, and the heterogeneity of systemic diseases seen in the patients.
He concluded: "But certainly it's an avenue to explore, and just because there is heterogeneity doesn't mean we shouldn't be trying."
The research was supported by a grant from the US National Institute of Health. The authors and commentators have disclosed no relevant financial relationships.
European Cancer Congress (ECC) 2015: Abstract 2905. Presented September 27, 2015.
Cancer Discov. Published online September 27, 2015. Abstract
Medscape Medical News © 2015 WebMD, LLC

Send comments and news tips to news@medscape.net.
Cite this: Mutations in Brain Metastases Raise Hope for Therapy - Medscape - Sep 27, 2015.