VIENNA ― Although patients with advanced oropharyngeal and hypopharyngeal cancers often fear an operation, and may decline it because of how it will affect speech and swallowing, new registry data show that survival is improved if they undergo surgery.
The finding comes from an analysis of Taiwanese registry data.
"We found that primary surgery was associated with better overall cancer survival in most subset analyses, which suggests that surgery may provide a survival benefit," said Chih-Tao Cheng, MD, a medical researcher at the Koo Foundation Sun Yat-Sen Cancer Center, in Taipei City, Taiwan
However, only around half of patients underwent operation, he told delegates here at European Cancer Congress (ECC) 2015.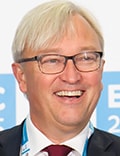 "Many patients do not agree to surgery because of a fear of functional impairment, such as the impact on speech and swallowing. This study suggests that avoiding surgery may significantly reduce their chance of survival," Dr Cheng commented in a statement.
Peter Naredi, MD, PhD, professor of surgery at Sahlgrenska University Hospital, in Gothenburg, Sweden, and scientific co-chair of ECC 2015, said that the study highlights "several important questions."
Noting that the treatment for these advanced cancers is "troublesome" and the risk for impairment large, he added in the release: "It clearly shows how important it is to bring these patients to a multidisciplinary treatment board to discuss the best treatment."
The study indicates that surgery must be prioritized as a treatment option for these patients.
"The study indicates that surgery must be prioritized as a treatment option for these patients. I also hope that these results will make it easier to recruit patients into future randomized trials so we can learn what the best treatment option is."
Lisa Licitra, MD, chief of the Head and Neck Cancer Medical Oncology Unit and the Head and Neck Research Programme at the Istituto Nazionale Tumori, in Milan, Italy, described the surgical treatment of advanced head and neck cancer as a "well-recognized weapon" that is very often followed by radiotherapy with or without chemotherapy, followed by a risk assessment based on pathology samples.
Dr Cheng pointed out that the use of surgery has declined, owing to the emphasis on organ preservation, "although this doesn't necessarily mean functional preservation," he noted in his presentation.
Concurrent chemoradiotherapy (CCRC) has become the standard approach for inoperable head and neck cancers and is even being used for cancers in which surgery is possible.
"With the improvement of surgical techniques, including minimally invasive procedures, there's a need to revisit the various treatment options and look at the overall survival of different treatment groups," he noted.
Details of the Registry Data
Because recruitment to randomized, head-to-head clinical trials comparing primary surgery and CCRC for advanced oropharyngeal and hypopharyngeal cancer has proven difficult, Dr Cheng and colleagues extracted data from the Taiwan National Health Insurance Claims and Taiwan Cancer Registry databases.
They identified 2387 oropharyngeal and 2315 hypopharyngeal cancer patients newly diagnosed between 2004 and 2009, following them until 2012. The current analysis focuses on 1698 patients with oropharyngeal cancer and 1619 with hypopharyngeal cancer, all of whom had stage III or IVa disease.
The team found that radical surgery was performed on 35.29% and 37.63% of stage III and stage IVa oropharyngeal cancer patients, respectively. For hypopharyngeal cancer, the respective figures were 54.52% and 48.85%.
Overall disease-free survival at 5 years among stage III oropharyngeal cancer patients was 59% for those who had surgery vs 48% for those who did not. The respective survival rates for stage IVa oropharyngeal cancer were 51% and 40%.
Five-year survival for stage III hypopharyngeal cancer was 54% among patients who had surgery and 33% for those who did not. For stage IV disease, the survival rates were 39% and 26%, respectively.
In all cases, differences in overall 5-year disease-free survival between patients who underwent all surgery, including radical surgery, and those who did not were significant.
The results stood even after taking into account a range of confounding factors, although the difference between those who did and did not have surgery was no longer significant for stage III oropharyngeal cancer.
Dr Cheng concluded his presentation by saying: "Primary surgery is associated with better overall and disease-free survival, even after controlling for some potential confounders for stage IVa oropharyngeal cancer and stage III and IVa hypopharyngeal cancer."
Perhaps we should take primary surgery as one of the treatments of choice.
"The clinical implication of this study is that perhaps we should take primary surgery as one of the treatments of choice when it comes to advanced-stage oropharyngeal and hypopharyngeal cancer," he added.
Summarizing, Dr Licitra observed: "Treatment decision making requires very strong collaborative working in experienced multidisciplinary teams. Indeed, patient outcomes have been reported repeatedly to be better in centers treating a high number of these patients."
"These data further underline the need to perform prospective research to elucidate the role of surgery and radiotherapy within the curative treatment approaches," she added.
This study was funded by the health and welfare surcharge on tobacco products in Taiwan. A surcharge of approximately €0.5 (US$0.56) is added to each packet of cigarettes, with the aim of discouraging smoking. The money collected is used in cancer prevention and healthcare. The authors have disclosed no relevant financial relationships.
European Cancer Congress (ECC) 2015: Abstract 2804. Presented September 26, 2015.
Medscape Medical News © 2015 WebMD, LLC

Send comments and news tips to news@medscape.net.
Cite this: Surgery Boosts Survival Chances for Advanced Throat Cancer - Medscape - Sep 26, 2015.