Clinical Presentation
A healthy 6-year-old boy presented to the ophthalmology clinic after being referred for a formal ophthalmologic evaluation of pigmented retinal spots found by an outside physician. The child had no previous visual or ocular problems and was developmentally normal; he was born at term without complications. His paternal great grandfather died from stomach cancer. No family history of ocular diseases was reported.
On ocular examination, his visual acuity was 20/20 bilaterally with visual fields full and intact bilaterally. He was orthotropic with normal pupils. Extraocular movements were full and he was orthophoric. The anterior segment examination was normal bilaterally.
On dilated fundus examination, the right eye had multiple slate gray retinal pigment epithelium (RPE) lesions grouped in several sectors in the superotemporal, temporal, and inferotemporal regions (Figure). The left eye had no similar lesions and was otherwise normal on dilated fundus examination.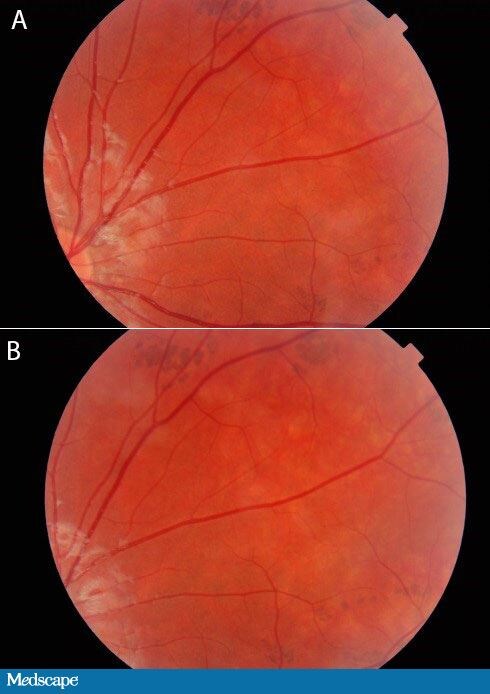 Figure. Two retinal images of the right eye, showing grouped pigmented lesions in the superior portion of the retina.
Medscape Ophthalmology © 2015  WebMD, LLC

Any views expressed above are the author's own and do not necessarily reflect the views of WebMD or Medscape.
Cite this: Kathryn A. Camero, Kimberly G. Yen. A Chance Finding of Pigmented Retinal Spots - Medscape - Sep 25, 2015.