STOCKHOLM ( updated with commentary ) — Patients with type 2 diabetes and established cardiovascular disease receiving the glucose-lowering agent empagliflozin (Jardiance, Boehringer Ingelheim/Lilly), a sodium glucose cotransporter-2 (SGLT-2) inhibitor, were less likely to die than those taking placebo in the large, much-anticipated EMPA-REG OUTCOME study, hailed here as a landmark trial.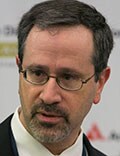 The benefit on survival was seen regardless of the cause of death — empagliflozin prevented one in three cardiovascular deaths, with a significant 38% relative risk reduction in cardiovascular mortality, as well as a significant 32% relative reduction in all-cause mortality.
CV death was one component of the primary composite outcome, which also included nonfatal myocardial infarction (MI) or nonfatal stroke. It was the CV mortality benefit, however, that primarily drove the reduction in this end point.
"Empagliflozin is reducing death, the ultimate outcome," senior author of the study, Silvio Inzucchi, MD, of Yale Diabetes Center, New Haven, Connecticut, told Medscape Medical News. "This is a first in my lifetime — a diabetes drug trial that has shown improved outcomes in high-risk cardiovascular patients."
This is a first in my lifetime — a diabetes drug trial that has shown improved outcomes in high-risk cardiovascular patients.
Dr Inzucchi was given multiple rounds of applause as he presented the findings of EMPA-REG OUTCOME here at the European Association for the Study of Diabetes (EASD) 2015 Meeting, The study was also published simultaneously in the New England Journal of Medicine, by a team led by Bernard Zinman MD, director, Diabetes Centre, Mount Sinai Hospital, Toronto, Ontario.
Dr Inzucchi, who is senior author on the trial, also noted that "the separation of the event curves happened extremely early, within 3 months [of patients taking empagliflozin], and I don't know of any other therapy that does that."
He admitted, however, that the investigators "don't understand our findings," because empagliflozin did not seem to have any significant effect on MI or stroke, so "this may not be an atherosclerotic effect. If it were, we would expect to have seen an effect on MI and stroke.
"Most good trials raise more questions than they answer, but it may be that we have had the treatment of diabetes wrong for 50 years," Dr Inzucchi controversially observed. "We can control the glucose, but [we have been doing that] without controlling the calorie excess," he continued. By causing glucose to be excreted in the urine, empagliflozin may be aiding this, "and we may have to rethink our strategy."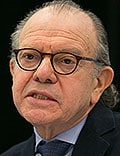 Asked to comment, cardiologist Marc Pfeffer, MD, PhD, of Brigham and Women's Hospital, Boston, Massachusetts, who was not involved in the trial, told Medscape Medical News: "I am very impressed — this is a quality study that addressed all the issues, and it all falls into place. This is a very important trial in an area where they did what we would all like to see — they gave diabetes patients a better prognosis."
Does the way you lower HbA1c also have an impact? This trial says yes, that we have an additional way to help people.
And while Dr Pfeffer agreed that "death was the greatest signal," he said that he is reassured by the signals across all of the important cardiovascular outcomes. "Everything looks solid. I have nothing but praise."
Regarding the issue of whether doctors have been treating type 2 diabetes correctly, he said, "the focus has been on glucose, and we kind of took our eye off the ball a bit on statins and blood pressure, etc, [at some point in the past], but I think that's now been corrected and we are focused on other risk factors."
"But does the way you lower HbA1c also have an impact? This trial says yes, that we have an additional way to help people," he said.
And the designated discussant at EASD, Hertzel Gerstein, MD, from McMaster University and Hamilton Health Sciences, Ontario, said: "EMPA-REG has identified a treatment, empagliflozin, that could save many lives and reduce much suffering. The results are unexpected and will open up new research.
"This may become first-line therapy for middle-aged people with type 2 diabetes at risk for cardiovascular events," he proposed, adding that this is "probably a class effect [of SGLT-2 inhibitors], but we can never be certain."
And Dr Zinman told meeting attendees: "My colleagues and I are really excited to see how the evidence we've presented today will affect diabetes guidelines" worldwide.
Empagliflozin Reduces Death Regardless of Cause
The life expectancy of people with type 2 diabetes at high cardiovascular risk is, on average, reduced by up to 12 years, with approximately half of all deaths in people with type 2 diabetes caused by heart disease. Addressing the burden of cardiovascular events is therefore viewed as the core of diabetes care, because, until now, no single diabetes medication has been associated with a reduction in mortality.
EMPA-REG OUTCOME is the latest cardiovascular-safety trial of new diabetes drugs designed to comply with the 2008 Food and Drug Administration (FDA) guidance on new glucose-lowering agents and is the first such trial to report with an agent from the SGL-T2-inhibitor class.
Similar trials with diabetes drugs from other classes have demonstrated only neutrality (ie, cardiovascular safety), but not superiority, including most recently the TECOS trial with the DPP-4 inhibitor sitagliptin (Januvia, Merck) and the ELIXA study with the injectable glucagonlike receptor (GLP-1) agonist lixisenatide (Lyxumia, Sanofi).
Empagliflozin is on the market in the United States and Europe, and this year, both the FDA and European Medicines Agency approved a product combining it with metformin, to be known as Synjardy.
In EMPA-REG, 7020 patients with type 2 diabetes and established cardiovascular disease (prior MI, coronary artery disease, unstable angina, stroke, or occlusive peripheral arterial disease), body mass index (BMI) of 45 or less, and estimated glomerular filtration rate (eGFR) of at least 30 mL/min/1.73m2 were randomized on a 1:1:1 basis to empagliflozin 10 mg daily or 25 mg daily or to placebo on top of standard care (including glucose-lowering therapy). Patients were treated at 590 sites in 42 countries.
The primary outcome was a composite cardiovascular end point — death from cardiovascular causes, nonfatal MI, or nonfatal stroke — and the trial continued until an adjudicated primary outcome had occurred in at least 691 patients. The median observation time was 3.1 years.
The key secondary composite outcome was the primary outcome plus hospitalization for unstable angina.
The outcomes for the two empagliflozin groups were pooled, and the results show that the primary outcome occurred less frequently in this pooled empagliflozin group compared with placebo recipients (10.5% vs 12.1%; hazard ratio [HR], 0.86; P < .001 for noninferiority, P = .04 for superiority).
Empagliflozin did not reduce the rate of nonfatal MI or nonfatal stroke, however, so the difference in the primary end point was mainly driven by the 38% relative risk reduction in cardiovascular death.
However, death from any cause was also reduced in the empagliflozin group, a key observation, Dr Inzucchi noted, because "often we see that a drug reduces cardiovascular death, but there is a compensatory increase in noncardiovascular death, so you see a net neutral effect on overall mortality. But that's not what we see here.
"We saw fewer deaths after MI, fewer deaths in the setting of heart failure, fewer sudden deaths, and fewer deaths of unknown cause," he explained.
Thirty-nine patients would need to be treated with empagliflozin during a 3-year period to prevent one death, he added, noting that the reduction in cardiovascular death was consistent across subgroups of patients in the trial.
"We are focusing on high-risk patients, where study after study has been neutral, but we seem to have gotten it right this time."
EMPA-REG OUTCOME: Primary and Secondary CV Outcomes
| | | | | |
| --- | --- | --- | --- | --- |
| Outcome | Placebo, n=2333 (%) | Empagliflozin, n=4687 (%) | HR (95% CI) | P |
| Death from CV causes, nonfatal MI, nonfatal strokea | 12.1 | 10.6 | 0.86 (0.74–0.99) | Non-inferiority p<0.001 Superiority p=0.04 |
| Death from CV causes, nonfatal MI, nonfatal stroke, or hospitalization for unstable anginab | 14.3 | 12.8 | 0.89 (o.78–1.01) | Noninferiority p<0.001 Superiority p=0.08 |
| Death from any cause | 8.3 | 5.7 | 0.68 (0.57–0.82) | <0.001 |
| Death from cardiovascular causes | 5.9 | 3.7 | 0.62 (0.49–0.77) | <0.001 |
| Fatal or nonfatal MI, excluding silent MI | 5.4 | 4.8 | 0.87 (0.70–1.09) | 0.23 |
| Nonfatal MI, excluding silent MI | 5.2 | 4.5 | 0.87 (0.70–1.09) | 0.22 |
| Silent MI | 1.2 | 1.6 | 1.28 (0.70-2.33) | 0.42 |
| Hospitalization for unstable angina | 2.8 | 2.8 | 0.99 (0.74-1.34) | 0.97 |
| Coronary-revascularization procedure | 8.0 | 7.0 | 0.86 (0.72-1.04) | 0.11 |
| Fatal or nonfatal stroke | 3.0 | 3.5 | 1.18 (0.89–1.56) | 0.26 |
| Nonfatal stroke | 2.6 | 3.2 | 1.24 (0.92-1.67) | 0.16 |
| Transient ischemic attack | 1.0 | 0.8 | 0.85 (0.51-1.42) | 0.54 |
| Hospitalization for heart failure | 4.1 | 2.7 | 0.65 (0.50–0.85) | 0.002 |
| Hospitalization for heart failure or death from CV causes, excluding stroke | 8.5 | 5.7 | 0.66 (0.55–0.79) | <0.001 |
a. Primary end point
b. Key secondary end point
With regard to adverse effects, the investigators did not see any increased risk with empagliflozin vs placebo for two important adverse events recently linked to use of SGLT-2 inhibitors — diabetic ketoacidosis and fractures.
However, there was an increased rate of genital infections with empagliflozin compared with placebo (6.4% of patients affected compared with 1%; P < .001), a well-known side effect of SGLT-2 inhibitors.
What's Happening With Empagliflozin?
Dr Inzucchi said he and his fellow investigators can only speculate as to the mechanism by which empagliflozin is exerting its beneficial effects, but he has some theories.
There was a large and statistically significant 35% relative reduction in the end point of hospitalization for heart failure with empagliflozin, and "my gut tells me this is about osmotic diuresis," he explained to Medscape Medical News.
My gut tells me this is about osmotic diuresis.
There is a growing epidemic of heart failure in patients with diabetes and plenty of people with diastolic dysfunction who may progress to heart failure with preserved ejection fraction.
With empagliflozin, "we are probably treating mild heart failure or preventing it from developing, and therefore we may be preventing these patients from dying suddenly," he suggested.
In addition, SGLT-2 inhibitors have mild blood-pressure–lowering effects, of about 4/2 mm Hg, and produce a small amount of weight loss, of around 2 kg, he noted.
And "this is on top of standard therapy, so it may be that we are treating diabetes with a little weight loss, a little reduction in BP and uric acid, and some effects on the sympathetic nervous system," he hypothesized.
Dr Gerstein also mused on possible explanations for the EMPA-REG findings. They are very unlikely to be glucose related, he said, because the time to onset of the effect "was too rapid for a metabolic intervention," and, in any case, empagliflozin was not being added here to lower glucose, rather simply to assess its cardiovascular safety; the difference in HbA1c between the empagliflozin and placebo groups was only 0.4%.
It's also unlikely to be due to BP lowering or weight loss alone, both of which are "not huge" with empagliflozin, but "it's possibly due to the diuretic properties of the drug," he agreed, noting that "the large prompt effect size on cardiovascular death and heart failure is similar to results from other heart-failure studies."
There is also a suggestion of an interaction with older age, which may mean empagliflozin having an effect on left ventricular dysfunction, including subclinical occurrence, and propensity to serious arrhythmias.
And it's possible that all of these above effects are "interacting," he added.
Dr Pfeffer, who is an expert in heart failure and was lead author on the ELIXA trial, said he never tries to determine mechanisms from studies such as EMPA-REG but stressed that empagliflozin "is clearly showing benefit."
High Price of Newer Diabetes Drugs May Restrict Their Use
One issue that may restrict wider use of empagliflozin is cost, however.
Dr Inzucchi said that newer diabetes medications are now priced at "around $10 a day," at least in the United States, and the cost of such agents has been creeping up over the past few years.
The situation is frustrating, he said, "because you want to use these drugs, but the payers won't pay for them and the patients can't afford them."
Although money is undoubtedly being saved in the form of fewer hospitalizations for heart failure, lost productivity, and other outcomes, a proper cost/benefit analysis is undoubtedly required for EMPA-REG, he said.
"Is almost $4000 a year [per person] worth what benefit we are seeing here?" he concluded.
The study was supported by Boehringer Ingelheim and Eli Lilly. Dr Inzucchi has served as a consultant for Merck, Janssen, Transtech Pharma, and Regeneron/Sanofi; lectured for AstraZeneca; received research support from the National Institute of Diabetes and Digestive and Kidney Diseases, the National Institute of Neurological Disorders and Stroke, and Takeda; has served on clinical-trial steering committees for Boehringer Ingelheim, Lexicon, and Eisai; and served on data safety and monitoring boards for Novo Nordisk and Intarcia. Dr Zinman has received grant support to his institution and consulting fees from Boehringer Ingelheim, Merck, and Novo Nordisk and personal fees from Sanofi, Eli Lilly, Takeda, AstraZeneca, and Janssen outside the submitted work. Disclosures for the coauthors are listed on the journal website. Dr Pfeffer has received research grant support from Amgen, Celladon, Novartis, and Sanofi; consulted for Amgen, AstraZeneca, Bayer, DalCor Pharma UK, Genzyme, Lilly, the Medicines Company, MedImmune, Medtronic, Merck, Novartis, Novo Nordisk, Relypsa, Salix, Sanderling, Sanofi, Takeda, Teva, Thrasos, and Vericel. Brigham and Women's Hospital has patents for the use of inhibitors of the renin-angiotensin system in selected survivors of MI with Novartis; Dr Pfeffer is a coinventor. His share of the licensing agreement is irrevocably and unconditionally assigned to Rockford College.
N Engl J Med. Published September 17, 2015. Article
Medscape Medical News © 2015  WebMD, LLC

Send comments and news tips to news@medscape.net.
Cite this: Diabetes Drug Empagliflozin Cuts CV Deaths in Landmark EMPA-REG Trial - Medscape - Sep 17, 2015.