LONDON, UK — An early analysis of an ongoing study of the Nanostim LP leadless pacemaker (St Jude Medical) suggests that the cylindrical, self-contained battery/generator/electrode with a screw-in tip works acceptably well in patients who need long-term right-ventricular pacing[1]. The 4-cm long, 6-mm diameter device is percutaneously implanted in the right ventricle, ideally at the apex, and provides rate-responsive VVI pacing.
As such, the Nanostim would likely be appropriate in only a fraction of patients who use pacemakers, observers as well as its researchers acknowledge, but its potential advantages are attractive. Without the need for leads or a subcutaneous pocket, for example, those features of conventional pacemakers can't promote infections.
Of the nearly one million people per year worldwide who are implanted with standard transvenous-lead pacemakers for bradycardia or heart block, according to Dr Vivek Y Reddy (Mount Sinai School of Medicine, New York, NY), "somewhere between 15% and 30% are getting single-chamber ventricular pacemakers. So it is a small subset. Having said that, for those patients who require single-chamber ventricular pacing, this is a good alternative, I think."

And he said, "Of that 15%, once the device gets approved, we will put this device in the majority." About whether that will sit well with patients, he said, "My guess is that most patients who need a single-chamber pacemaker, at least my patients, seem to be interested in having a device that disappears inside of them, where they don't have an incision." Estimates based on prevalence of RV pacing and other factors in the device's short-lived experience, he said, put its battery's potential longevity at about 15 years.
Reddy reported an interim analysis of the ongoing nonrandomized LEADLESS II study, intended as the investigational-device-exemption (IDE) study the FDA will look at in considering market approval in the US, here at the European Society of Cardiology 2015 Congress and was lead author on its publication the same day in the New England Journal of Medicine. The device gained the CE Mark in 2013.
An Early Step
The Nanostim LP is designed to be delivered percutaneously to the right ventricular chamber and implanted in the apex, the distal tip of its cylinder consisting entirely of the helical active-fixation electrode. The opposite tip bears a small flange that can be snared by catheter should retrieval become necessary.
According to Dr Elliot Antman (Brigham and Women's Hospital, Boston, MA), who wasn't involved in the study, the early-stage device seems appealing and might be attractive to patients who don't want a body-contour bulge from a subcutaneous pocket. But a more intriguing advantage, he said "might be the MR-imaging compatibility, if in fact that can be worked out."
Dr Luigi di Biase (Albert Einstein and Montefiore Hospital, New York, NY) turned those features around. Most pacemaker manufacturers have an MR-compatible device. "So being able to do MRI is not the real advantage here. The real advantage is no pocket, maybe no infections." But, he said in an interview with heartwire from Medscape, there aren't much data on whether it really does avoid infections.
The device represents an important but still somewhat-experimental advance, according to Di Biase. The field is looking for ways for pacemakers to work without transvenous leads, which entail a number of risks, sometimes serious ones. This device represents an early step. "The technology's moving forward. But in real life, this is not going to affect many patients."
Total and Primary Cohorts
LEADLESS II entered 526 patients at 56 international sites who had standard indications for permanent single-chamber ventricular pacing; any with "preexisting" endocardial pacing or defibrillator leads were excluded. Just over half the patients had atrial fibrillation with atrioventricular block as the indication; about a third had bradycardia with infrequent pauses or syncope, and most of the rest were in sinus rhythm with high-grade AV block.
The current analysis looked at the first 300 patients to complete the prespecified 6-month follow-up, also called the primary cohort, and followed them for the primary safety and efficacy end points. They were, respectively: freedom from device-related serious adverse events out to 6 months; and a pacing threshold <2.0 V at 0.4 ms and sensing amplitude >5.0 mV.
Secondarily in the current analysis, the entire population of 526 patients who were enrolled as of June 2015 were assessed for other outcomes and followed for a mean of 6.9 months.
The device was implanted successfully in 96% of 526 patients. Of the 300 primary-cohort patients, 11 had unsuccessful implantation.
In short, Reddy said, the trial met its prespecified criteria for safety and efficacy. The rate of all complications was 6.5% in the total cohort. In the primary cohort, 93.3% of the 300 (P<0.001) met the primary safety end point at 6 months, with device-related serious adverse events in 6.7%. They included dislodgement with percutaneous retrieval in 1.7%, cardiac perforation in 1.3%, and pacing threshold elevation requiring percutaneous retrieval and replacement in 1.3%. Vascular complications were reported in 1.3%; the delivery catheter is 18 Fr, he pointed out.
"The complication rates were similar to those seen with conventional pacemakers," according to Reddy.
The percentage of ventricular pacing averaged 38.7 before hospital discharge and 51.6 at 12 months.
The primary efficacy end point was met by 90% of the 300 primary-cohort patients (P<0.007). For those with successful implantation who didn't meet the primary efficacy end point, reasons for missing it included inadequate pacing capture threshold in four patients and inadequate sensed R-wave amplitudes in 16.
Short Learning Curve
The rate of device-related serious adverse events averaged 6.8% for the operators' first 10 cases, compared with 3.6% thereafter (P=0.56), according to Reddy. "There were 100 operators in this trial, of which only one operator had prior experience with the leadless pacemaker."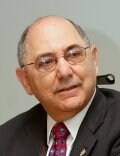 The complications in the study are "real" and "not something I want to minimize," he said when interviewed. "Although I do think the complication rate is going to come down with time."
Said Antman, "Like all devices, there is a learning curve. I was intrigued by the fact that most of the investigators had not actually implanted one. It's not unexpected that there would be this rate of perforation with a new device. I read these as slightly higher rates than I might expect with conventional lead-based pacing, so I would see that in time this might become more applicable."
Removal: How Does That Work?
The batteries will eventually fail, and "we've shown that you can remove the device after up to a year," according to Reddy. "But the real question is, what happens 5, 10, 15 years down the line? Would we retrieve the devices or simply abandon them and put in a second device? Nobody knows when we start looking out that many years," he said.
"My guess is, in some patients it will endothelialize over completely, in which case you just forget about it. I don't know if that's 20% or 80% or something in between."
Reddy discloses consulting for and receiving grant support from St Jude Medical. His past disclosures have also included consulting fees/honoraria from Biosense Webster, Medtronic, Biotronik, CardioInsight Technologies, Endosense, Sentreheart, ACT, Abiomed, Boston Scientific, and Coherex, and receiving research grants from Biosense Webster, Boston Scientific, and CardioFocus. Disclosures for the report's coauthors are on the journal website. Di Biase discloses being a consultant for Biosense Webster, Stereotaxis, and St Jude Medical, and receiving speaker fees and travel reimbursement from Medtronic, Atricure, EPiEP, Boston Scientific, and Biotronik.
Heartwire from Medscape © 2015 Medscape, LLC

Cite this: St Jude Leadless Pacemaker Shows Potential in US Premarket Study - Medscape - Aug 31, 2015.