LONDON, UK — Early treatment with mineralocorticoid-receptor antagonists (MRAs) doesn't improve clinical outcomes in patients without heart failure who had a recent MI, new research suggests[1].
The Aldosterone Lethal Effects Blockade in Acute Myocardial Infarction Treated With or Without Reperfusion to Improve Outcome and Survival at Six Months' Follow-Up (ALBATROSS) study randomized more than 1600 patients to treatment within the first 72 hours after experiencing an acute MI. It showed no significant differences between those receiving standard therapy alone or with the addition of an MRA regimen for the primary composite end point of death, resuscitated death, ventricular fibrillation/ventricular tachycardia, HF, or indication for implantable carotid defibrillator (ICD) at the 6-month follow-up.
In addition, most of the secondary end points saw no between-group differences. This included incidents of significant ventricular arrhythmia (6% vs 5.6%, respectively), new or worsening HF (5.6% vs 5.9%), or recurrent MI (1% vs 0.6%).
The take-away message is that the results "don't warrant extension of aldosterone blockade," principal investigator Dr Gilles M Montalescot (Pitié-Salpêtrière Hospital, Paris, France) told attendees here at the European Society of Cardiology (ESC) 2015 Congress.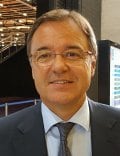 "The study was negative," he added to heartwire from Medscape. "Basically, in these patients, it's probably unwise to use this kind of strategy."
In prespecified subgroup analysis, there was a significant reduction in mortality in 1229 STEMI patients who had early use of MRAs. Although Montalescot said that gives a glimmer of hope for the treatment, he stressed that future studies will need to specifically focus on this patient group.
Still, session comoderator Dr Kim Williams (Rush University Medical Center in Chicago, IL) told heartwire that he was "very encouraged" about the reduced mortality in the large subgroup.
"I know that wasn't the primary focus, and so we need to do another randomized trial. But it's awfully convincing as it stands," said Williams, who is also the current president of the American College of Cardiology.
Due to Chance?
Montalescot reported that there have been "strong preclinical rationales and favorable clinical data from registries and small randomized studies" for using aldosterone blockade for MI patients.
For the current study, the researchers wanted to investigate these associations in a larger patient group and in a short treatment-initiation time. "These patients were randomized as early as possible. In some cases, they received treatment in the ambulance," said Montalescot.
A total of 801 patients were randomly assigned to standard treatment, and 802 received standard therapy plus an MRA regimen. That regimen included a 200-mg intravenous bolus of canrenoate followed by once-daily spironolactone at 25 mg for 6 months.
The mean age for both treatment groups was 58 years, and only 1% of each group had prior HF.
The hazard ratio (HR) between the groups for the primary composite end point was a nonsignificant 0.97 (P=0.81). There were also no significant between-group differences in all but 1 of the secondary end points.
More of the patients receiving the MRA regimen had hyperkalemia >5.5 mmol/L (3%) vs those receiving standard therapy (0.2%, P<0.0001). "This was expected, but the rate was still quite low compared with previous studies," noted Montalescot.
Overall, "ALBATROSS failed to show a benefit of aldosterone blockade initiated early in MI, when heart failure is in general not present," he added.
The HR for death in STEMI patients receiving the MRA regimen was 0.20 (95% CI 0.06–0.70, P=0.004). "This was the most important and intriguing end point, but literally speaking: this is hypothesis-generating," Montalescot said.
"It may be due to chance or it may be real. This is the largest study ever done with aldosterone blockade in MI [without HF]. And yet, we still need more research to confirm."
No Definite Conclusions
After Montalescot's hot-line presentation, session discussant Dr John McMurray (University of Glasgow, Scotland) said he was impressed with the large, investigator-designed and run trial.
"It was a very sound hypothesis and tried to answer an important clinical question," he said. However, he noted some concerns with the design. This included renal dysfunction as a key exclusion; the trial was open-label and not blinded, and it had a fairly unusual primary end point.
Montalescot answered that "the funny end point" came about because the trial was underpowered.
McMurray also questioned the finding of benefit in the STEMI patients and harm in the NSTEMI ones (HR 3.47, 95% CI 0.72–16.12). "Subgroup analysis is always underpowered, and it's more treacherous when the overall trial is underpowered."
And because "death was just one of many secondary end points, it's probably unlikely that this is a real effect," he said.
Overall, McMurray said, "we can't draw any definite conclusions about MRAs in these patients. That doesn't mean they aren't effective, but we don't know the answer to that question yet. Still, this trial is important and will help future investigators."
The study was funded by the French Ministry of Health and the Institute of Cardiometabolism and Nutrition. Montalescot reports receiving consulting fees from Acuitude, Amgen, AstraZeneca, Bayer, Berlin Chimie, Boehringer Ingelheim, Bristol-Myers Squibb, Brigham Women's Hospital, Cardiovascular Research Foundation, CME Resources, Conway, Daiichi-Sankyo, Eli-Lilly, Europa, Evidera, GLG, Hopitaux Universitaires Genève, Lead-Up, McKinsey & Company, Medcon International, Menarini, Medtronic, MSD, Pfizer, Sanofi, Stentys, the Medicines Company, TIMI Study Group, Universitat Basel, WebMD, Williams & Connolly, and Zoll Medical; and grant support from ADIR, Amgen, AstraZeneca, Bristol-Myers Squibb, Celladon, Daiichi-Sankyo, Eli-Lilly, Fédération Française de Cardiologie, Gilead, ICAN, Janssen-Cilag, Pfizer, Recor, Sanofi, and Stentys.
Heartwire from Medscape © 2015

Cite this: ALBATROSS: Aldosterone Antagonists 'Not Warranted' in MI Patients Without Heart Failure - Medscape - Aug 30, 2015.