Frances Oldham Kelsey, PhD, MD, the Canadian pharmacologist and physician chiefly responsible for keeping thalidomide off the US market, died in London, Ontario, on August 7, at the age of 101.
With the passing of Dr Kelsey, "our nation lost a true pioneer in public health and consumer protection," Stephen M. Ostroff, MD, acting commissioner of the US Food and Drug Administration (FDA), said in a blog post.
Dr Kelsey received a Bachelor of Science and Master of Science in pharmacology at McGill University in Canada. She received her PhD in pharmacology and eventually her MD at the University of Chicago, where she developed a keen interest in teratogens.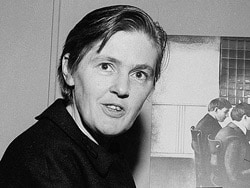 Dr Kelsey's career with the FDA began in 1960. One of her first tasks was to review an application by US pharmaceutical company Richardson-Merrell for thalidomide (Kevadon), a tranquilizer and painkiller with a specific indication to treat pregnant women with morning sickness.
Thalidomide was already available in Canada and dozens of other countries around the world, but Dr Kelsey had major concerns about its safety in pregnant women. She resisted intense pressure by the company to approve the drug and insisted on more safety studies.
Her efforts were well worth it. In the following years, Dr Kelsey was proven right, as evidence from Europe and elsewhere piled up linking thalidomide taken during pregnancy to births of deformed infants. Studies eventually showed that thalidomide crossed the placental barrier and caused the birth defects.
Near Miss on Thalidomide Fuels Change at FDA
"As a result of Dr Kelsey's expertise, diligence, and integrity, the drug was never approved in the United States and Americans were largely spared the tragic birth defects and deaths experienced by patients in those countries where thalidomide was available," Dr Ostroff said.
Dr Kelsey's actions on thalidomide won her the President's Award for Distinguished Federal Civilian Service by President John F. Kennedy. She was hailed as a heroine in a July 15, 1962, front-page article in The Washington Post, the author writing that Kelsey's action prevented the birth of "hundreds or indeed thousands of armless and legless children."
Her efforts on thalidomide fueled the passage of legislation giving the FDA greater oversight and regulation of pharmaceutical products, requiring drug companies to conduct phased clinical trials to demonstrate efficacy of a new drug, in addition to safety, obtain informed consent from participants, and report side effects to the FDA. The regulations also gave the FDA greater control over drug advertising.
The "near miss" on thalidomide and the laws it spurred "ushered in the modern era of science-based proof that the medicines we use are both safe and effective, a level of evidence that created a standard still in effect today," Dr Ostroff said.
In 2000, at the age of 87, Dr Kelsey was inducted into the National Women's Hall of Fame. She retired from the FDA in 2005, at age 90, after 45 years of service. In 2010, the FDA named the Kelsey Award for her, to be awarded annually to an FDA employee.
"Our nation owes a great debt of gratitude to Dr Frances Oldham Kelsey for her decades of service to public health," Dr Ostroff said.
More information on Dr Kelsey's life and career are in Autobiographical Reflections, which the FDA released on the occasion of her 100th birthday in 2014.
Medscape Medical News © 2015 WebMD, LLC

Send comments and news tips to news@medscape.net.
Cite this: Dr Frances O. Kelsey, Who Said No to Thalidomide, Dead at 101 - Medscape - Aug 17, 2015.