Clinical Presentation
A 42-year-old man with a history of Crohn disease presented to the gastroenterology clinic to establish care. He reported that he was diagnosed with Crohn disease via colonoscopy 8 years ago, preceded by several years of symptoms, and was treated successfully with oral mesalamine. Unfortunately, he lost his job and health insurance 3 years ago, at which point he was no longer able to afford his medication. He has been without treatment and follow-up ever since. He recently got a new job with health insurance and wanted to resume his treatment, as he was complaining of abdominal pain and bloody stool.
A diagnostic colonoscopy was performed prior to reinitiation of medical therapy, which found erythematous mucosa in the terminal ileum and a segmental area of moderately erythematous, friable, and ulcerated mucosa with spontaneous bleeding in the proximal ascending colon. The remainder of the colon was normal. Biopsies of the terminal ileum and the proximal ascending colon showed mildly active ileitis and fibropurulent exudate compatible with ulceration, respectively. The patient was prescribed a prednisone taper and mesalamine. At clinic follow-up 1 month later, the patient reported that he was feeling much better and was no longer having any pain or bleeding.
A repeat surveillance colonoscopy was performed 6 months later and found a large patch of nodular mucosa spanning at least 3 cm in the proximal ascending colon (Figure 1 and Figure 2). The terminal ileum and the remainder of the colon were normal in appearance.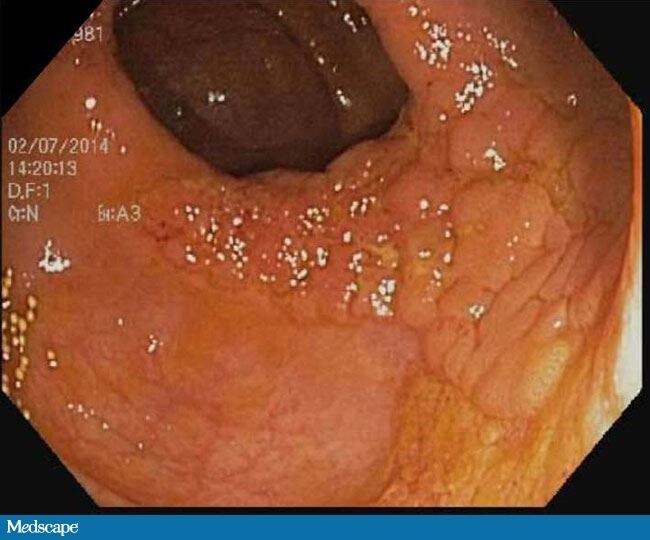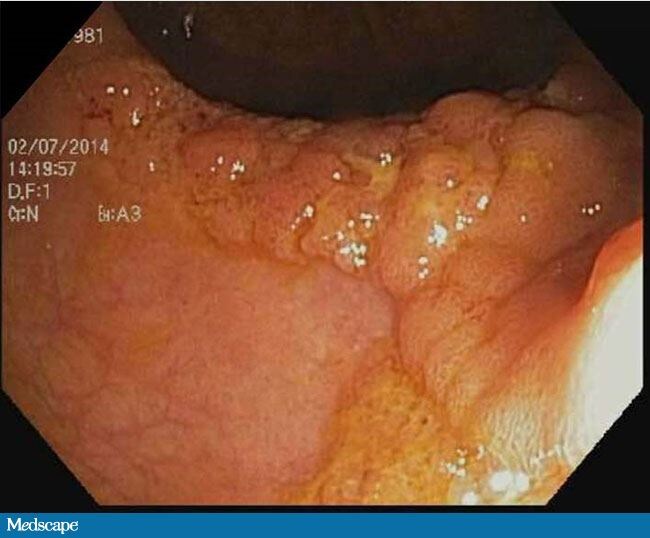 Medscape Gastroenterology © 2015  WebMD, LLC

Any views expressed above are the author's own and do not necessarily reflect the views of WebMD or Medscape.
Cite this: Arthur M. Barrie. A Proximal Ascending Colon Lesion of a Crohn Disease Patient - Medscape - Aug 13, 2015.