Editor's Note:
In early July 2015, a 40-member multidisciplinary team from plastic and reconstructive surgery, orthopaedic surgery, anesthesiology, and radiology at The Children's Hospital of Philadelphia (CHOP), Penn Medicine, and Shriners Hospitals for Children - Philadelphia collaborated to successfully complete the world's first bilateral hand transplant in a child. The 10-hour surgical procedure was performed in an 8-year-old boy, Zion Harvey, who had undergone amputation of both hands (and feet) at the age of 2 following a sepsis infection. That same illness had led to renal failure, resulting in a successful kidney transplant when he was 4 years of age. The child was therefore deemed to be an appropriate candidate for this first-in-the-world surgery, partly because his renal transplant necessitated his already taking lifelong immunosuppressive therapy. Medscape spoke with L. Scott Levin, MD, lead surgeon on the team that completed the operation, about the surgery and the long-term implications for the child.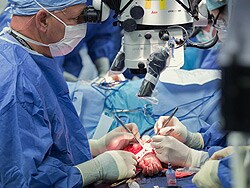 Medscape: In discussing the surgery, you have emphasized the preparation and training that the team went through to be able to adapt the hand surgery transplantation protocol to a child. How many hand transplants have been done on adults? Before Zion, what was the age of the youngest patient? Was there any new technique or technology that made it possible to do this on a child?

Dr Levin: The field of vascularized composite allotransplantation (VCA) is relatively young in the schema of solid organ transplant surgery. The first hand transplant was done in 1999. Until this point, all of the vascularized composite allotransplants around the world have been done only in adults, not even in adolescents. This was the first pediatric hand transplant.
The VCA community—transplant surgeons, orthopedic surgeons, plastic surgeons—is dovetailing and following what has occurred in solid organ transplant starting in 1954, when the late Nobel Prize winner Joseph Murray did the first kidney transplant. Dr Murray actually was a plastic surgeon, as am I. I'm both an orthopedic and a plastic surgeon.
The experience around the world includes ours at the University of Pennsylvania, a very credible and successful program in adults. These kinds of transplants, of course, involve immunosuppression and lifelong surveillance of patients such as is required in any other patient who has a heart, lung, or kidney transplant. We felt that we could translate all of our knowledge, experience, and planning of surgical details to successful transplantation in children. We spent well over a year preparing, rehearsing, organizing, and orchestrating so that when we found a donor for this little guy, Zion Harvey, who lost part of all four extremities at the age of 2 years, we would be able to do the first-ever hand transplant in a child. That's exactly what we did.
Medscape: When you say that you had a "match" for Zion's donor limbs, what does this entail with hand transplant? Is the process of determining donor match the same as it is for other organs?
Dr Levin: Not to the same degree. The match is related to the size of the hands, the color match, the blood type, and the usual human leukocyte antigen (HLA) match. The sizing, skin color, and blood type are the three main determinants.
Medscape: Even more important than the HLA match?
Dr Levin: Yes. HLA is important, and fortunately Zion was not sensitized to donor antigen. We did a very careful HLA screening. But even with a slight mismatch, VCA can be successful.
Medscape: The fact that Zion already required lifelong immunosuppression as a result of his kidney transplant factored into the decision to offer transplanted limbs. Are there other ethical concerns with adding new donor organs? Will his immunosuppression regimen need to change?
Dr Levin: We want to walk people before we sprint. He was the perfect candidate because he was already immunosuppressed. That being said, there were careful considerations given to his well-functioning kidney (which he received from his mother), with much discussion and support from the nephrology service at CHOP, specifically Sandra Amaral, MD, MHS, and our solid organ transplant leaders, Abraham Shaked, MD, PhD, and Mathew Levine, MD, PhD. All three of them have weighed the risk-benefit ratio and are managing his immunosuppression, which he will continue to receive both for his kidney and his hands. His immunosuppressive regimen was modified only slightly.
Medscape: Would there be reason to consider this type of surgery in a child who was not already on immunosuppressive therapy? Will this surgery eventually be offered to those kids?
Dr Levin: Absolutely. It's a quality-of-life operation; it is not a life-saving operation. But if you envision a child who goes through his or her life without arms or legs, the risk-benefit ratio of giving a child immunosuppression, which clearly we do all the time for solid organ transplants, may outweigh the liability of lifelong immunosuppression in children. It's a question that we're examining and that we intend to answer with our research program led by Wayne Hancock, MD, PhD and myself. We're doing work in our research lab, funded by the Department of Defense and the Wyss Foundation, to unlock the mysteries of the immune system so that we can provide safer and less toxic regimens of immunosuppression that would be very applicable in children.
Medscape: Setting aside rejection, what are the biggest risks associated with the transplanted hands? What, if any, impairments might continue in the donor limbs in terms of circulation, nerve conduction, strength, and mobility? Could there be residual lack of sensation or vascular abnormalities?

Dr Levin: We have a strong belief that Zion will regain sensation and feeling in his hands. He's using his own muscles to power the tendons in his new hands because the amputation level was at his wrist. All of those other body parts were there. He's already moving his fingers at less than 3 weeks following the transplant and can pick up small objects, such as a piece of foam or a crust of pizza, which he was eating the other day. He's been very readily functioning.
The risks, like in any transplant patient, are from the immunosuppression and include a higher risk for infections. Patients can also develop problems with their kidneys. These lifetime risks of immunosuppression are inherent to patients who have VCA as well as to those undergoing solid organ transplants. Zion has the same risk profile. The risk of losing circulation in his hands would be highly unlikely at this point in time.
Medscape: How do you expect growth to affect Zion's hands? Will they grow normally? How do you monitor this?
Dr Levin: We have every belief that these hands will grow because of our pediatric replantation experience. Replantation describes the reattachment of amputated hands and fingers and other parts after traumatic injury. We've done lots of pediatric finger, hand, and arm replants. In these parts that are traumatically amputated and reattached, the growth plates remain open and the hands will grow. We have every reason to believe that the growth centers in the bones that we transplanted from a donor to Zion will act the same way as in somebody who has had an amputation and subsequent replantation.
Medscape: What have you learned from adult hand transplant outcomes that you will apply to Zion's case?
Dr Levin: It is natural and expected that all patients will undergo some degree of rejection of the hands or the VCA components that are transplanted. We know how to recognize that. We know how to treat it. We obviously monitor—as will Zion's family—the hands for any sign of rejection, such as excessive swelling, rash, or skin changes. But this is basically an expected phenomenon in patients who have transplants.
Medscape: Are children more psychologically able to adapt to the idea of a transplant than adults?
Dr Levin: I think children, as a rule, are very adaptable to this kind of operation. Their brains are still developing, so in addition to reconnecting with a body image, the reinnervation of Zion's hands from his central nervous system will allow him, I think, to have pretty much normal feeling and tremendous function as time goes on. That is what we anticipate. We hope that's the case.
Medscape: In a video shown at the press conference announcing this successful surgery, Zion talks about getting a dog. It brings to mind infection risks. How do these affect the "normal" life of a child? Can he, indeed, have a puppy or other pets?
Dr Levin: Absolutely. Despite the fact that he's on immunosuppression, there are people with heart, liver, and kidney transplants who have dogs. We want Zion Harvey, and children like him who receive hand transplants in the future, to enjoy the kind of lives that other children enjoy. That's the whole reason why we've done this—so that he can basically feel normal again and do things like climb on the monkey bars and pet a dog with his hands. Those are our expectations and hopes.
Medscape: This, of course, speaks to your comment earlier, that this was a quality-of-life surgery. Would those same quality-of-life concerns allow you to someday offer a lower-extremity transplant, or do you think those concerns are much different than is the case with hands?
Dr Levin: I think the hand is much more complex, and we have excellent lower-extremity prostheses now. Again, the field of VCA may evolve, but there are several issues that have to be solved, particularly nerve regeneration and other factors that would go into making lower-extremity transplantation a reality.
It's very important that this hallmark case give hope to families and children with problems like Zion's, young children who have had accidents with firecrackers and lawnmowers, or other accidents that result in upper extremity loss. Also important are the children who are born with congenital absence of limbs or a congenital below-elbow amputation. There is promise and hope, now that we've demonstrated that this can be done in a child. The pediatric world will hopefully embrace this, and we'll figure out ways to go forward ethically and carefully to make this a reality and to give other children with limb loss their hands and quality of life back.
© 2015 Children's Hospital of Philadelphia and Medscape

Cite this: World's First Pediatric Bilateral Hand Transplant - Medscape - Jul 28, 2015.