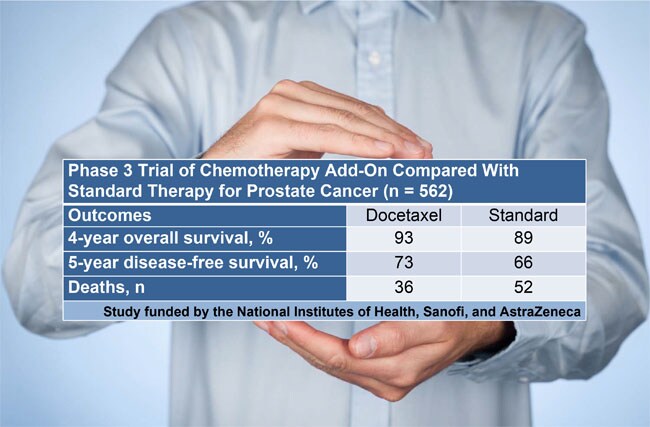 CHICAGO — Mounting evidence supports the addition of docetaxel to standard hormone and radiation treatment in men with high-risk prostate cancer. This latest comes from a federally funded phase 3 clinical trial presented here at this year's American Society of Clinical Oncology meeting.
The 4-year overall survival rates were higher with docetaxel than standard therapy. The add-on chemotherapy was given for 18 weeks, starting a month after radiation.
"This finding could improve outcomes for thousands of men," lead investigator Howard Sandler, MD, from Cedars-Sinai Medical Center in Los Angeles, said in a statement issued in advance of the news conference on the study. "We also expect to see an even bigger survival advantage over time," he said.
This finding could improve outcomes for thousands of men.
The paradigm for years has been to treat prostate cancer with hormone therapy until there is no response, and then to try chemotherapy. But these results and those from the 3000-patient British STAMPEDE trial suggest that a more aggressive approach might be appropriate.
"Chemotherapy carries a modest increase in side effects," Dr. Sandler added, "so it is important that physicians discuss the balance of benefits and risks with their patients."
"If you accept the notion that docetaxel is better used early, how early should we use it?" asked David Graham, MD, from Levine Cancer Center in Charlotte, North Carolina, in Medscape Oncology's live blog.
"Do we add it in with PSA-only recurrence after primary therapy? Do we wait until nonmarker-only disease is present? All of these are questions that will require trials to answer," he explained.
Cite this: Adding Chemo Boosts Prostate Cancer Survival - Medscape - May 30, 2015.