Washington, DC — ALA (5-aminolevulinic acid) fluorescence shows strong correlation with the degree of tumor cellularity in high-grade glioma brain tumors, but its negative predictive value is markedly less accurate.
"We found that 5-ALA correlated strongly with tumor cellularity in grade III tumors," said first author Darryl Lau, MD, a resident in the Department of Neurological Surgery at the University of California, San Francisco, who presented the research.
"Utilizing ALA as a guide to high-grade glioma surgery should be considered as a routine surgical adjunct."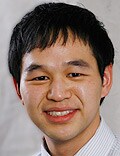 The new research was presented here at the American Association of Neurological Surgeons (AANS) 83rd Annual Meeting.
The prospective, phase 2 clinical trial involved 59 adult patients with prior diagnoses of or imaging showing high-grade gliomas (grade II, III, or IV), or imaging suggesting high-grade features. Gliomas grade II and higher are considered infiltrative.
The patients were given ALA, 20 mg per kg orally, 3 hours before surgery. Biopsies samples of the resection were obtained intraoperatively and graded on a scale of 0 to 3 based on ALA fluorescence intensity, with 0 being no fluorescence. The specimens were then sent to a blinded neuropathologist, who also graded the samples.
Among 211 biopsy samples from high-grade gliomas from the 59 patients, 175 were glioblastoma, 36 were grade III tumors, and 110 were recurrent tumors.
The highest ALA intensity level — 3 — correlated with tumor presence in 97.4% of cases, for an overall positive predictive value of 97.4%.
Importantly, the intensity level of 3 also correlated with 100% of grade III tumors and 93.8% of recurrent tumors.
"This tells us that with most highly fluorescent tissue, there is a good probability there is presence of tumor cells," Dr Lau said.
The negative predictive value, however, defined as the percentage of all biopsy samples taken from nonfluorescent tissue with no tumor, was not as strong — just 37.7%.
"With nonfluorescent tissue, there is poor test probability for an absence of tumor cells, so we can't technically rule out tumor even in the absence of ALA fluorescence," Dr Lau said.
Further examination of the biopsy specimens showed that an ALA fluorescence of level 3 strongly correlated with tumor cellularity of grade 3 in all tumor types (correlation coefficient, 0.65), including glioblastoma (0.66), high-grade tumors (0.65), and recurrent tumors (0.62).
"We know ALA fluorescence is a good marker of tumor presence but is not a good indicator for the absence of tumor when no fluorescence is present," Dr Lau said.
In commenting on the study, discussant Richard W. Byrne, MD, from Rush University Medical Center in Chicago, Illinois, noted that the study importantly highlights the limitation of intermediate levels of fluorescence with ALA.
"In biopsies with no tumor present, 35.4% showed some fluorescence," he said. "This is primarily fluorescence level 1 and it gives us some pause when we see that intraoperatively."
He added that an important issue to be further explored with ALA is an indication of which instances showed tumor fluorescence that were not visible in white light.
"These would be cases where tumor fluorescence would really demonstrate its greatest value. I look forward to seeing that data if it is available," Dr Byrne said.
While neuro-navigation and MRI have improved accuracy in resection, surgeons still currently rely on measures including gross visualization, tactile consistency (such as soft or hard), and clinical acumen in detecting high-grade gliomas, Dr Lau told Medscape Medical News.
"Neuro-navigation has become part of the gold standard in the resection of brain tumors, but it still can remain difficult to define the borders of tumor and normal brain," he said.
ALA is commonly used in Europe and is part of the standard of care there in many places. Dr Lau noted that the University of California (UC), San Francisco, had been granted permission to use 5-ALA as an additional guide in difficult cases.

A tumor showing ALA fluorescence.
"ALA is not yet the standard of care in the US but UC San Francisco is one of the few places in the country that has access to ALA and able to use it for the resection of gliomas," he said.
The study received no funding. Dr Lau has disclosed no relevant financial relationships. Dr Byrne has been a consultant for Stryker and Integra.
American Association of Neurological Surgeons (AANS) 83rd Annual Meeting. Abstract 815. Presented May 4, 2015.
Medscape Medical News © 2015 WebMD, LLC

Send comments and news tips to news@medscape.net.
Cite this: ALA Fluorescence Intensifies With Glioma Tumor Cellularity - Medscape - May 13, 2015.