WASHINGTON, DC — Brivaracetam, a selective, high-affinity synaptic vesicle protein 2A ligand, is effective in reducing seizure frequency in patients with refractory partial-onset seizures (POS) and is well tolerated with relatively low rates of discontinuation, results of a phase 3 trial suggest.
The investigational agent, an analogue of the already available antiepileptic drug levetiracetam, has gone through extensive development, including two phase 3 studies at doses ranging from 5 to 100 mg/day.
During the American Academy of Neurology (AAN) 67th Annual Meeting here, Pavel Klein, MD, director, Mid-Atlantic Epilepsy and Sleep Center, Bethesda, Maryland, reported on a confirmatory study comparing placebo and the drug at 100 mg/day and 200 mg/day.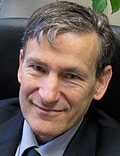 The study included 768 patients with pharmaco-resistant POS aged 16 to 80 years at 206 sites in countries across North and South America, Europe, and Asia, which makes it the largest interventional study of its kind to date. Participants had to have at least two partial-onset seizures with or without secondary generalization per month during the 3 months before screening and to have at least eight partial-onset seizures during an 8-week baseline period.
An exclusion criterion was concomitant use of levetiracetam or exposure to this drug within 90 days of enrollment. "This was because in the previous phase 3 studies, it appeared that patients who were concomitantly treated with levetiracetam derived little further benefit when they were treated with brivaracetam," said Dr Klein.
Patients were randomly assigned to one of three groups: placebo (n = 263), brivaracetam at 100 mg/day (n = 254), or brivaracetam at 200 mg/day (n = 251).
In addition to the 8 weeks of baseline, the study consisted of 12 weeks of treatment (started at full dose — 100 or 200 mg/day — with no up-titration), followed by a 4-week down-titration period or entry into an open-label follow-up study.
Most patients completed the study and went on to enroll in the extension study. In the placebo group, 93.5% completed the study and 90.1% entered the follow-up study. In the 100-mg group, 88.6% completed the study and 86.2% entered the follow-up study; in the 200-mg group, 89.6% completed the study and 87.6% entered the follow-up study.
The main reason for discontinuation was adverse events, which affected 3.8% of those in the placebo, 8.3% in the 100-mg, and 6.8% in the 200-mg group.
POS Frequency
For both doses of the drug, the co-primary efficacy outcomes were statistically significant (P < .001) compared with placebo. The percentage reduction over placebo in the 28-day adjusted POS frequency was 22.8% for the 100-mg group and 23.2% for the 200-mg group.
The other co-primary outcome — a 50% or greater responder rate for POS frequency — is required in Europe for approval. The study showed that this rate was 21.6% for placebo, which according to Dr Klein is "very much in the ballpark" of recent phase 3 studies of other anticonvulsants, 38.9% for the 100-mg (P < .001) and 37.8% for the 200-mg (P < .001) groups.
"As you can see, there's not much in the way of dose effect," commented Dr Klein.
The median percentage reduction in POS frequency was 37.2% for the 100-mg dose and 35.6% for the 200-mg dose compared to 17.6% for placebo (both P < .001).
Another secondary outcome was seizure freedom during the 12-week treatment period. It was 0.8% in the placebo, 5.2% (P < .003) in the 100-mg, and 4.0% (P < .019) in the 200-mg group.
"So both treatment groups were statistically significant compared to placebo," noted Dr Klein.
There were slightly fewer treatment emergent adverse events in the placebo group (59.4%) than in the other groups (68.4% and 66.8% for 100 mg and 200 mg, respectively). The most common adverse events (with an incidence of 5% or more) included somnolence, dizziness, fatigues, headache, and urinary tract infection.
The rate of serious adverse events leading to study discontinuation was "relatively low" according to Dr Klein. The rates were 3.8% in the placebo, 8.3% in the 100-mg, and 6.8% in the 200-mg group.
Two patients died, both in the 200-mg group. One death was a sudden unexpected death from epilepsy, and the other was of unknown cause.
"Both deaths were not considered by investigators to be related to the medication," said Dr Klein.
Psychiatric Effects
A meeting delegate asked about the rate of psychiatric adverse effects during the study. Dr Klein reported that for all psychiatric adverse events, the rate was 8% in the placebo group and 10% and 11% for the 100-mg and 200-mg groups, respectively.
The most common psychiatric adverse effect was anxiety, affecting 2% of those in the combined drug groups and 1% of those taking placebo. For depression, the rates were 0.4% and 0.8% for the placebo and combined drug groups, respectively.
Dr Klein presented these results previously at the American Epilepsy Society 68th Annual Meeting in December last year, reported at that time by Medscape Medical News.
Session co-chair Gregory Krauss MD, professor, neurology, Johns Hopkins, Baltimore, Maryland, wanted to know how patients in the study who had been treated in the past with levetiracetam fared compared with those who had not been treated with this drug.
"Both responded to brivaracetam in a statistically significant way across the primary efficacy measures, but the levetiracetam-naive patients appeared to respond better," Dr Klein later told Medscape Medical News. However, he pointed out that the study did not statistically analyze this.
Asked where else this drug may fit in a neurologist's "tool box," Dr Klein said that if and when it's approved, it could also be an adjunctive treatment for refractory focal epilepsy. "Animal and preliminary human data suggests that it may also be useful in primary generalized epilepsy, but the studies have not been done."
The study was sponsored, designed, and conducted by UCB Pharma. Dr Klein is a speakers bureau member for UCB Pharma, Eisai, and Sunovion; received consulting fees from UCB Pharma, Eisai, Sunovion, and Acorda Therapeutics; and received research support from Lundbeck, UCB Pharma, SK Life Science, and Marinus Pharmaceuticals Inc.
American Academy of Neurology (AAN) 67th Annual Meeting. Abstract S31.009. Presented April 22, 2015.
Medscape Medical News © 2015 WebMD, LLC

Send comments and news tips to news@medscape.net.
Cite this: Investigational Drug Effective in Partial-Onset Seizures - Medscape - May 11, 2015.