America's aging baby boomers are not exactly the picture of health, according to the Centers for Disease Control and Prevention's (CDC's) 38th annual report on the nation's health, which this year includes a special section focusing on the health of Americans aged 55 to 64 years, the heart of the "baby boom" generation.
Nearly 1 in 5 baby boomers has diabetes, 40% are obese, more than half take prescription medication for hypertension, and most will be covered by Medicare within the next 10 years, which poses challenges to the country's healthcare system, the report notes.
However, the report also finds that the overall death rate in this age group has declined during the past decade.
"Health, United States, 2014" includes 123 tables on key health measures from a number of sources within the federal government and in the private sector. Topics covered include birth rates and reproductive health, life expectancy and leading causes of death, health risk behaviors, healthcare use and insurance coverage, and health expenditures.
Between 2003 and 2013, life expectancy at birth, a measure often used to gauge the overall health of a population, increased 1.2 years for white women, 1.6 years for white men, 2.7 years for black women, and 3.4 years for black men, the report says.
For the period 1980 and 2013, life expectancy rose from 70.0 to 76.4 years for men and from 77.4 to 81.2 years for women. Racial disparities in life expectancy at birth persisted for both sexes in 2013 but continue to narrow. By 2013, life expectancy at birth was 78.1 years for black non-Hispanic women, 81.2 years for white non-Hispanic women, and 83.8 years for Hispanic women. The corresponding figures for men were 71.8, 76.5, and 79.1 years.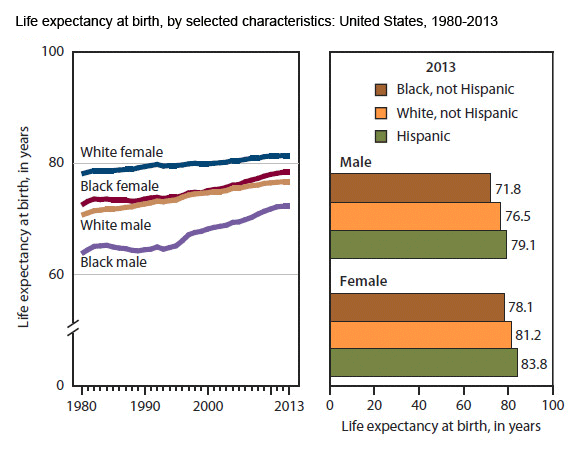 Most Americans with chronic diseases are living longer, with the exception of patients with Alzheimer's disease. Between 2003 and 2013, the overall all-cause age-adjusted death rate fell 15% among men and 13% among women.
During this 10-year period, age-adjusted death rates in men declined 34% for stroke, 27% for heart disease, 17% for cancer, and 11% for chronic lower respiratory diseases, but increased 6% for Alzheimer's disease and held steady for unintentional injuries. Among women, the age-adjusted death rates declined 34% for stroke, 31% for heart disease, and 14% for cancer, but increased 8% for Alzheimer's disease and 10% for unintentional injuries.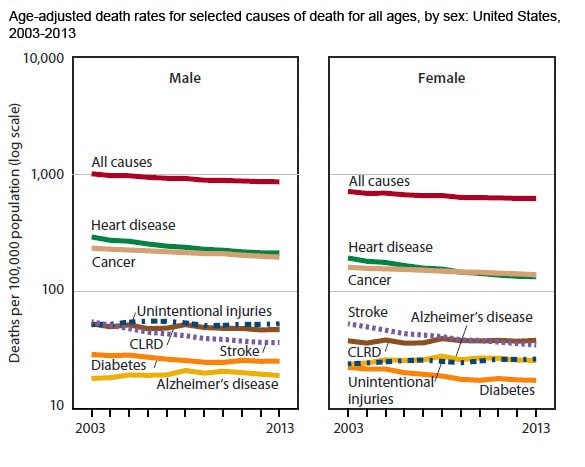 Footing the Bill
The report also finds that out-of-pocket spending for personal healthcare expenditures grew less rapidly than Medicare, federal and state Medicaid, and private insurance spending in the last 10 years.
Between 2003 and 2013, total personal healthcare expenditures grew from $1.5 trillion to $2.5 trillion. During this decade, the average annual growth in Medicare expenditures was 7.2%, for Medicaid (federal) it was 4.7%, for Medicaid (state) it was 5.7%, for private health insurance it was 4.8%, and for out-of-pocket spending it was 3.6%.
In 2013, private health insurance spending for personal healthcare expenditures was $846 billion, Medicare spending was roughly $550 billion, out-of-pocket spending was $339 billion, Medicaid (federal) spending was $237 billion, and Medicaid (state) spending was $174 billion. The remainder was paid by other types of insurance, payers, and programs.
Focus on Baby Boomers
As for the baby boomers, the report notes that these 55- to 64-year-olds have about 19 to 27 years of life expectancy remaining and are at growing risk of developing chronic conditions. Key findings for the baby boom generation include:
Chronic disease: Close to 19% had diabetes, about 40% were obese, 50% had hypercholesterolemia, and more than 51% had hypertension in 2009 to 2012. These figures are relatively unchanged from a decade earlier.

Prescriptions: In 2009 to 2012, nearly half (45%) of baby boomers took a prescription cardiovascular drug, nearly one third (32%) took a cholesterol-lowering drug, 16% used prescription gastric reflux medications in the past 30 days, 15% used a prescription analgesic, 13% used an antidiabetic agent, and 14% used a prescription antidepressant.

Living longer: All-cause death rates for baby boomers declined between 2003 and 2013; cancer death rates were higher than heart disease death rates in this group throughout the decade.

Stressed out: The prevalence of serious psychological distress was 22% higher in 2012 to 2013 (4.4%) than in 2002 to 2003 (3.6%), with no marked change in the prevalence of mild to moderate psychological distress (7.1% and 6.4%, respectively).

Hitting the gym: The percentage of baby boomers who got aerobic and muscle-strengthening activities at levels sufficient to meet federal guidelines was 23% higher in 2012 to 2013 than in 2002 to 2003. Those guidelines recommend adults perform at least 150 minutes a week of moderate-intensity or 75 minutes a week of vigorous-intensity aerobic physical activity, or an equivalent combination of moderate- and vigorous-intensity aerobic activity.

Kicking the habit: In 2012 to 2013, just more than 18% of baby boomers were current cigarette smokers, which is 8% lower than the percentage in 2002 to 2003 (19.7%). Those living below 100% of poverty in 2012 to 2013 were three times as likely to be current smokers as those at 400% or more of poverty (32.4% vs 11.2%).

Immunization: Close to half of baby boomers reported getting an annual influenza vaccination in 2013, up from 40% in 2003, whereas use of pneumococcal vaccinations for high-risk group members remained at similar levels (about one of three).
The full report is available on the CDC's website.
Medscape Medical News © 2015 WebMD, LLC

Send comments and news tips to news@medscape.net.
Cite this: Aging Baby Boomers Living Longer Despite Health Issues - Medscape - May 07, 2015.